Overview:
New technologies have allowed oil and natural gas exploration and production companies to significantly increase energy output. However, this new production is coming from rural areas like North Dakota and west Texas. Getting the oil and gas that is being produced in these areas to refineries and population centers requires pipelines and other infrastructure. Energy infrastructure companies have stepped up to build the required pipelines and terminals. Many of these companies are using master limited partnerships (MLPs) as a tax-advantaged vehicle to hold the pipeline assets. MLPs have received increased scrutiny after Kinder Morgan, Inc. (NYSE:KMI) announced it would buy its MLP entities Kinder Morgan Management LLC (NYSE:KMR), Kinder Morgan Energy Partners LP (NYSE:KMP) and El Paso Pipeline Partners LP (NYSE:EPB). The Kinder Morgan family of companies was a pioneer in the MLP space, and KMI's purchase has caused analysts to question the longevity of the MLP structure. However, other companies continue to set up new MLPs to reduce their cost of capital and take advantage of the tax savings. For the time being, KMI's purchases appear to be a one-off event not likely to mark the end of the MLP structure. MLPs continue to throw off significant distributions, and appear to have a long runway to grow due to infrastructure requirements from the North American Shale Revolution.
ClearBridge Energy MLP Fund Inc (NYSE:CEM) is a closed end fund focused on energy-related MLPs with long-lived assets and predictable cash flows. The fund is set to benefit from the infrastructure build-out needed to bring energy from the places it is produced to the places it will be used. Recently, CEM has seen its discount to NAV grow to the largest level since its launch. The current discount is 6.77%, and is much wider than the three-year average premium of 1.85%. CEM also offers a distribution of 5.6% at current levels. The current discount represents an attractive opportunity to add shares of CEM to a portfolio.
Key Investment Highlights:
Discount to NAV: CEM is trading at a 6.77% discount to NAV. Over the past three years, CEM has traded with an average premium of 1.85%. The current discount generates a one-year Z-Statistic of -2.34. The wide discount offers an attractive entry point for this fund that often has traded at a premium to NAV.
Attractive and Growing Distribution: CEM currently offers a 5.6% distribution. The distribution has grown each year since the fund was launched. CEM's focus on MLPs with growing earnings and distributions should bode well for further distribution growth.
Benefit from Energy Infrastructure Build-Out: As discussed above, the North American shale revolution has caused energy production to grow faster than current infrastructure can support. More infrastructure is needed and MLPs are stepping up to address this need. As MLPs grow, they increase their distributions, allowing CEM to grow its distribution over time as well.
Focus on Growth over Yield: CEM focuses on MLPs with the ability to grow their distributions instead of reaching for yield. This has caused the distribution to be lower than some competing products. However, this focus on growing distributions should allow CEM to avoid MLPs that cut their distributions and allow CEM to grow distributions over time.
Key Investment Risks:
Government Regulation: Building new pipelines requires a significant amount of permitting and environmental impact reviews. An example of the difficulties of putting in a new pipeline is the continuing debate over TransCanada's (NYSE:TRP) Keystone XL Pipeline. The debate over this new pipeline has been going on for years. Increased regulations or project delays cost the MLPs money and slow the growth rate. Significant increases in regulation could stop growth all together.
Changes in Tax Code: MLPs are pass-through entities that pay no tax at the MLP level. All taxes are paid by the holders that receive the cash flows. Pass-through entities have received significant amounts of review as congress looks for ways to raise revenues and reduce tax avoidance. If taxes change on pass-through entities or MLPs specifically, it would likely hurt MLP performance.
Interest Rate Risk: MLPs don't have high correlation with interest rates on a month-to-month or quarter-to-quarter basis. However, many investors hold MLPs for their distributions. If interest rates rise, fixed income investments would become more attractive and could cause investors to sell MLPs to buy bonds. MLPs also carry significant amounts of debt on their balance sheets. If interest rates rise, it creates a higher hurdle rate for new projects. If new projects can't be completed profitably, growth for MLPs would slow and prices would decrease.
Key Portfolio Metrics:
Premium/Discount: -6.77%
Z-Statistic -2.34
Market Distribution Rate: 5.59%
Current Quarterly Distribution: $0.405
Effective Leverage: 20.29%
Performance:
Using ETFs with a similar investment objective can give a good comparison to evaluate management's performance. The Alerian MLP ETF (NYSEARCA:AMLP) is an MLP ETF with a similar investment mandate and offers an appropriate performance hurdle. CEM has shown strong relative performance. Other than the past month, CEM has outperformed AMLP over all time periods reviewed.


Data as of 7/31/2014 Source: Morningstar
Premium/Discount: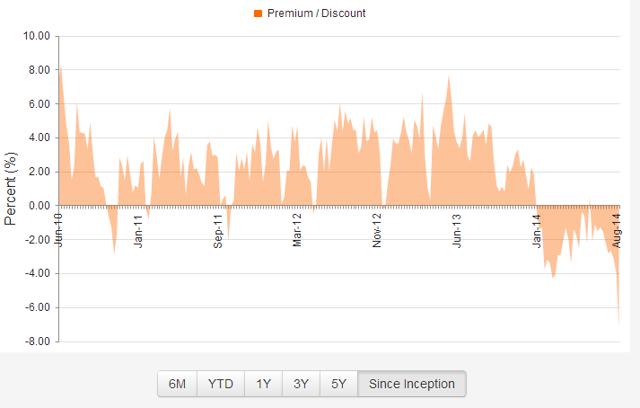 Click to enlarge
Source: CEFConnect
CEM closed 8/27/2014 at a 6.77% discount to the NAV, or underlying value of the portfolio. This is below the 52-week average discount of 0.64%. For most of its life, CEM has traded at a premium to NAV. The recent drop to a discount has opened up an attractive opportunity to buy shares of this strong fund.
Expense Ratio:
CEM pays 1.00% of daily managed assets to Legg Mason Partners Fund Advisor, LLC (LMPFA) as an investment advisory fee. ClearBridge, the fund's sub-advisor, is a wholly-owned subsidiary of Legg Mason and receives 70% of the net management fee paid to LMPFA. The fund also pays interest expense on the leverage employed. The annual expense ratio for CEM was 2.16% as of 5/31/2014. This fee is high, but a large part of it is due to leverage. It is important to note that exposure to MLPs isn't cheap, with ETFs charging close to 0.85% for exposure to MLP units.
Distribution:
CEM pays a quarterly distribution of $0.405/share. This equates to an annual distribution yield of 5.59% based on current market prices. The distribution is 5.25% based on NAV. Most of the past distributions have been considered return of capital due to the unique structure and accounting for MLP assets. Another point to note on the distribution is that CEM does not issue a K-1. Direct investment in MLPs comes with some tax headaches, including K-1 forms, that can increase the cost of filing taxes at year-end.
Leverage:
CEM employs leverage through a $200 million credit facility from State Street Bank and Trust Company. The borrowing rate for the facility is LIBOR plus any applicable margin. The facility also has a 0.15% commitment fee on the unused portion. For the six months ended 5/31/2014, the cost of the credit facility was 0.97%. The fund also uses term loans for additional leverage. The benefit of the term loans is that they are fixed rate notes. This means that the cost will remain the same if interest rates rise. The downfall is that they are more expensive than floating rate loans in the current low rate environment. The following table outlines the outstanding loans and their costs.

Click to enlarge
Source: Legg Mason
Total interest cost to the fund was 0.93% as of 5/31/2014.
Liquidity:
CEM is a large CEF with $2.16 billion in managed assets. Trading volume is also respectable, with 139,000 shares traded on average. This represents $3.8 million in daily volume at current prices. This is significant liquidity for a CEF and should allow investors to fill orders without problems. It is always wise to use limit orders to purchase or sell shares of closed-end funds, as the bid/ask spread can be wide.
Management:
CEM is sub-advised by ClearBridge, a well known subsidiary of Legg Mason. ClearBridge manages several MLP closed end funds. The management team has significant resources and has produced strong returns.
Portfolio:
Sector Allocation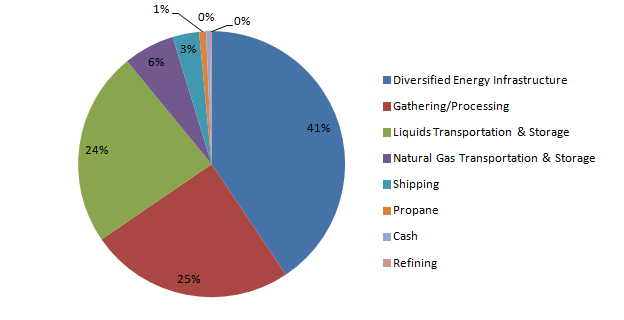 Source: Legg Mason as of 6/30/2014
CEM has exposure to many different segments of the MLP market. The majority of the fund's holdings are securities with stable, predictable, and recurring cash flows. This limits the volatility in the underlying securities and should allow for consistent distributions and distribution growth over time.
Top 10 Holdings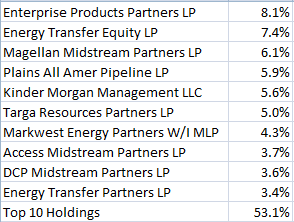 Source: Legg Mason as of 6/30/2014
CEM runs a concentrated portfolio with only 40 different holdings. The top ten holdings represent 53.1% of the portfolio. Turnover has been low with a 3% turnover rate as of 5/31/2014. The highest annual turnover since inception was 21% in 2013.
Strategy:
CEM's primary investment objective is to seek a high level of total return with an emphasis on cash distributions. Under normal market conditions, CEM will invest at least 80% of managed assets in MLPs in the energy sector. The fund focuses on MLPs with consonant and growing earnings and distributions.
Conclusion:
MLPs are seeing significant opportunities to build out infrastructure as new North American oil and gas fields increase production. These opportunities will drive MLP growth over the coming years. MLP growth will lead to higher distributions and higher prices for CEM's holdings, driving NAV higher. MLPs have received increased scrutiny since Kinder Morgan announced it was going to consolidate all of its entities under one security. However, KMI looks like a one-off action and MLPs should continue to offer attractive distributions and growth. CEM is a closed end fund that invests in MLPs and offers a 5.59% and growing distribution. CEM's focus on MLPs that offer predictable growth in cash flows and distributions should reduce portfolio volatility over time. Right now, CEM is able to be purchased at a 6.77% discount, close to the largest discount the fund has traded at since inception. A rising distribution and the predictable nature of CEM's holdings should cause the discount to close over time. The current discount offers an attractive opportunity to add shares of this MLP closed end fund.
Disclosure: The author is long CEM, KMI.
The author wrote this article themselves, and it expresses their own opinions. The author is not receiving compensation for it (other than from Seeking Alpha). The author has no business relationship with any company whose stock is mentioned in this article.