In a recent article, I discussed and analyzed many of the upstream MLPs, both big and small. Among this group, one of the clear standouts was Atlas Resource Partners (NYSE:ARP).
ARP was by far the cheapest of its peers, with a valuation at least 10% below the next cheapest stock. In addition, ARP offered a substantially higher yield, 12% versus the around 9% average. In the following article, I will take a closer look at ARP, and see whether or not this discount is warranted.
An overview of the Atlas family of stocks
Before I begin, a brief overview of ARP's and related companies' corporate structure is needed.
Atlas Resource Partners is an upstream, or E&P, MLP. This basically means that it owns primarily oil and natural gas production. Its areas of focus are in the Barnett Shale ("Texas"), the Appalachian Basin, the Raton Basin ("New Mexico"), the Black Warrior Basin ("Alabama"), the Mississippi Lime ("Oklahoma") and the Rangely Field ("Colorado"). As of June 2014, ARP owns or has an interest in over 13,800 producing wells, representing around 1.5 TCFE of net proved developed reserves.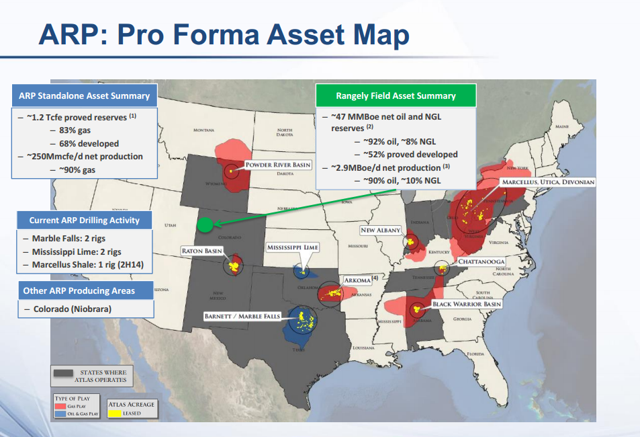 Click to enlarge
Atlas Energy (NYSE:ATLS) is the general partner of ARP, owning 100% of the GP interest and 28% of the LP interest. Furthermore, ATLS is also general partner of the midstream MLP Atlas Pipeline Partners (NYSE:APL), owning 100% of the GP interest and around 6% of the LP interest.
ARP's Achilles heel: incentive distribution rights
As a result of having a GP, ARP is subject to paying out incentive distribution rights, or IDRs, to ATLS.
What are IDRs? They basically entitle the GP to an increasing share of distributable cash flow, or DCF. The GP take usually starts out small enough, though it grows over time, up to 50% in some cases.
With ARP, quarterly distributions above $0.60 are now subject to this 50/50 split. At the moment, ARP pays distributions of $0.59 per quarter.
What does this mean? The net effect of IDRs is to significantly increase the cost of capital for the MLP.
In a recent example, the midstream juggernaut Kinder Morgan (NYSE:KMI) recently chose to merge its various MLPs, as the issue with IDRs was severely impacting growth. As shown below, Kinder Morgan Energy Partners (NYSE:KMP) would see less than half of the accretion per unit with the same investment.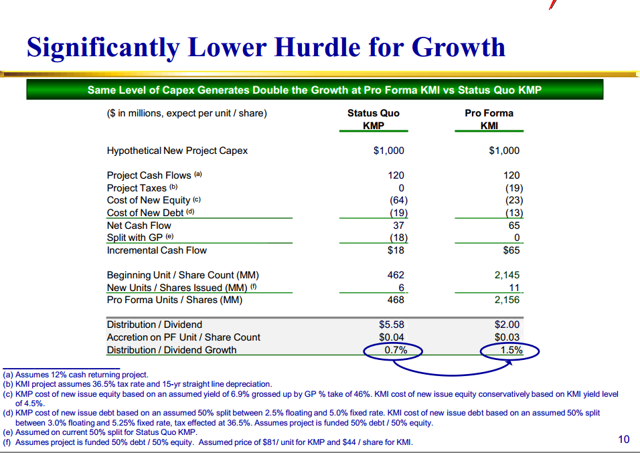 Click to enlarge
With ARP, the impact of IDRs on growth stands to be much worse. To demonstrate, suppose ARP wanted to increase its DCF by 4 cents (1 cent per quarter). To do this, ARP would in theory only need to generate an extra $3.3 million in DCF. However, due to the 50/50 split, the actual number is double this, or $6.6 million.
However, its gets more complicated. If ARP were to do an acquisition and fund it with equity, the cost of capital for such a transaction would be above its current 12% yield, more like 14% to 16%. For debt, the math is not much better, with ARP's blended interest rate in the 8.50% range (one note at 7.75%, another at 9.25%). In other words, for ARP to grow, capital projects and acquisitions are pretty much out of the question unless under very generous terms.
Conclusion
IDRs are generally not seen much in the upstream MLP sector, with the few MLPs that have them being in the minority. In addition, these few upstream MLPs with IDRs generally trade at large discounts to the others.
ARP's quarterly distributions are 1 cent away from hitting the 50/50 IDR threshold. Furthermore, with ARP's yield at 12%, growth via equity issuances seem out of the question.
As a result, unless a change in the corporate structure were to occur, ARP is going to be very hard-pressed to increase its distribution above the current level. This is, in my opinion, the reason for ARP's discount to peers.
Disclaimer: The opinions in this article are for informational purposes only and should not be construed as a recommendation to buy or sell the stocks mentioned. Please do your own due diligence before making any investment decision.
Disclosure: The author is long KMI.
The author wrote this article themselves, and it expresses their own opinions. The author is not receiving compensation for it (other than from Seeking Alpha). The author has no business relationship with any company whose stock is mentioned in this article.