The market news coverage is becoming increasingly polarized. On one side of the debate are those that believe the sky is the limit for stocks in the months ahead. With stocks reaching a fresh all-time high on Friday, this view has yet to be invalidated. On the other side of the discussion are those that expect a significant stock market pullback is not only imminent but also long overdue. Given the fact that we are soon entering what has historically been a tumultuous time of year for stocks, such expectations may soon be validated. Who is right? Only time will tell, but in working to identify the answer it is worthwhile to explore market history to see if we can identify clues as to whether the stock market is setting up for a major decline as we head into the fall of 2014.
The onset of fall has traditionally come with increased challenges for stock investors. In more than 140 years of stock market history, the only two-month period where stocks have averaged a negative total return has been during September and October. During these two months, stocks have lost an average -0.35%. Perhaps more importantly, twenty of the forty, or 50%, of worst two-month periods in market history have included either September or October if not both.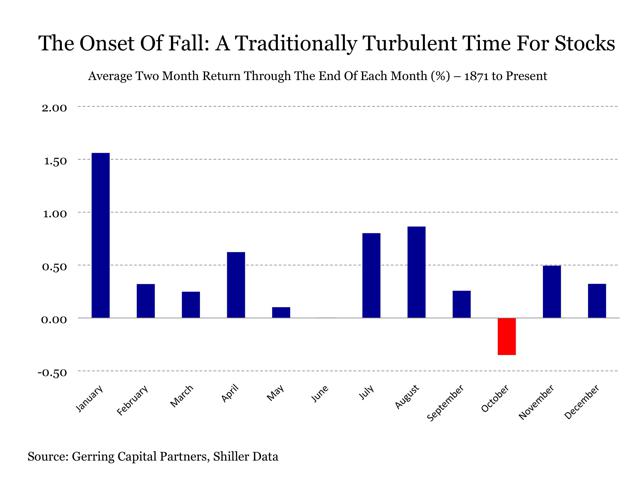 Thus, it is reasonable to consider the possibility that the onset of fall might once again bring with it a period of sustained market turbulence that has been absent for some time. In order to determine whether we are poised for a meaningful correction in the fall, potentially in the magnitude of -10% or more, it is worthwhile to look back on those past incidents to see if they share any similarities with the market set up today.
Exploring back through market history, 22 years stand out in particular for providing investors with a sustained correction in excess of -10% over a two-month period in the fall. These years include the following:
1873, 1876, 1907, 1929, 1930, 1931, 1932, 1933, 1937, 1946, 1957, 1973, 1974, 1987, 1990, 1998, 2000, 2001, 2002, 2007, 2008, 2011
One way to potentially determine whether the stock market in 2014 is setting up for a major autumn correction like the past years listed above is to examine how the stock market held up during the summer months prior to the turbulence that followed in the fall.
An important point becomes immediately apparent when conducting this analysis. In nearly all past instances of a major stock market correction in the fall, stocks were exhibiting signs of breaking down during the summer that preceded these corrections. For in the past when the stock market pulled back dramatically in the fall, in 16 of these 22 instances stocks were also down outright over the summer months from June to August. And in another 3 of these 22 past instances, stocks experienced at least one monthly decline over the June to August period.
The good news is that neither of these conditions has taken place in 2014. Not only have stocks as measured by the S&P 500 Index (NYSEARCA:SPY) advanced solidly this summer, but they have also moved higher in each of the last three months of June, July and August. In other words, it does not appear that stocks are setting up for a major correction as we head into the autumn of 2014 at least based on this criteria.
But the assessment here is not finished just yet. What about the remaining 3 instances where stocks experienced a major autumn decline after posting strong summer returns including consecutive gains each in June, July and August? These three exceptions took place in 1929, 1987 and 2000. These, of course, are among the most notorious years in stock market history, and in each past instance investors drifted steadily through the summer with the impression that all was well with the world. That is, of course, until the market reversed suddenly and relentlessly.
Bottom Line
The sanguine summer for stock investors in 2014 is not the typical historical set up for a major market correction in the fall. But investors should take caution at becoming overconfident at this juncture, as market history has also shown that in the rare instances when a major autumn correction arrives following a bright and sunny summer for stocks, the subsequent downside can quickly become painful and severe.
Disclaimer: This article is for information purposes only. There are risks involved with investing including loss of principal. Gerring Capital Partners makes no explicit or implicit guarantee with respect to performance or the outcome of any investment or projections made. There is no guarantee that the goals of the strategies discussed by Gerring Capital Partners will be met.
Disclosure: The author has no positions in any stocks mentioned, and no plans to initiate any positions within the next 72 hours.
The author wrote this article themselves, and it expresses their own opinions. The author is not receiving compensation for it (other than from Seeking Alpha). The author has no business relationship with any company whose stock is mentioned in this article.
Additional disclosure: I am long stocks via the SPLV and XLU as well as selected individual names. I also hold a meaningful allocation to cash at the present time.