The clear path to higher stock prices in the last year for exploration firms has been growing oil production while maintaining natural gas levels. The combination generates substantial revenue growth as the higher priced oil quickly becomes a larger part of income statement. While some peers have struggled to make the shift from natural gas, WPX Energy (NYSE:WPX) has finally reached the growth stage in the shift towards oil production.
Anybody reviewing the stock price of WPX Energy since the split from Williams Companies (NYSE:WMB) back in late 2011 can quickly tell that the transition was slow and tedious. WPX Energy spent the first month of independence trading around $18 and recently spent the Spring of 2014 trading in that very same range. Lately though, the stock has surged to new highs above $26 following encouraging signs that the shift towards oil drilling is finally paying off.
Oil Surge
The Q214 results were highlighted by a surge in oil production. Domestic oil production grew by 57% while revenue from oil surged 60% to reach $194 million, compared to only $121 million last year. WPX Energy is seeing significant growth in the Williston Basin in addition to continued success in the Gallup oil play. In fact, the San Juan Basin's Gallup play saw production surge 76% sequentially, though still on a relatively small base.
In general, WPX has improved results in both areas by at least 30% via either increased proppant or other methods. The success in the Gallup play is leading the oil explorer to increase capital spending by $100 million for the remainder of the year to accelerate drilling from 29 to 40 wells spud this year.
Total revenue is now 47% from liquids leading to the stronger than expected results. For the second consecutive quarter, WPX Energy easily smashed analyst estimates.
San Juan Gallup Acceleration
The Gallup play is surging from the increased production amounts from the newer wells. The play benefits from a low well cost of $5.2 million, thereby reducing the hurdle rate for production to be profitable. The 2014 30-day initial production rate is 626 boe/d with undoubtedly higher rates in the future as drilling methods improve. WPX Energy forecasts reducing well costs to $4.8 million by year end. Though the play only averaged 3.0 Mbo/d during Q2, the significant growth rate will make it material to operations soon enough.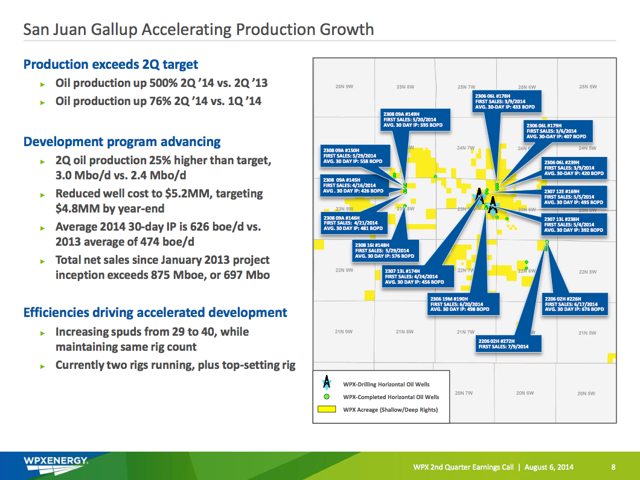 Surging Analyst Estimates
WPX Energy reported earnings of $0.06 for Q214 that easily smashed the analyst estimates of a $0.07 loss. This earnings beat followed the substantial $0.19 beat on the Q1 report. These continued earnings beats along with the better than expected oil production are causing analysts to dramatically increase estimates for 2015. Not only has the average estimate surged in the last 90 days from $0.20 to $0.66, but the high-end estimate is now $1.54.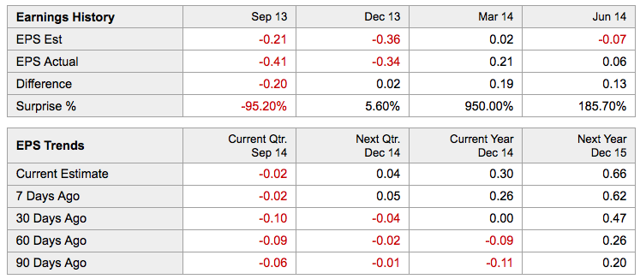 Source: Yahoo! Finance
Conclusion
At a market cap of $5.4 billion and limited debt for its proved asset base of 4.9 Tcfe, WPX Energy is one of the more attractive oil exploration and production firms around. Investors should look to load up on the stock before it gets too much higher.
Disclosure: The author is long WPX.
The author wrote this article themselves, and it expresses their own opinions. The author is not receiving compensation for it (other than from Seeking Alpha). The author has no business relationship with any company whose stock is mentioned in this article.
Additional disclosure: The information contained herein is for informational purposes only. Nothing in this article should be taken as a solicitation to purchase or sell securities. Before buying or selling any stock you should do your own research and reach your own conclusion or consult a financial advisor. Investing includes risks, including loss of principal.