China kicked off the pre-Christmas week with an unexpected bang. Rather than raise interest rates again, Beijing held its fire. Although reserve ratios at several banks were tightened, that didn't stop the party.
U.S. pundits missed the mark again. Most of them had been predicting a stiff interest rate hike by China to control inflation. I hope you ignored them.
As we expected, China did come out with new inflation figures over the weekend. The consumer price index (CPI) rose to 5.1 percent in November. That's a 28-month high. The Producer Price Index (PPI) also continued to climb.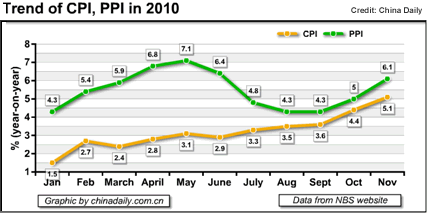 This was exactly the pattern that most pundits said China would react to with a hike in interest rates. The effect of that could be a slowdown in the Chinese economy, dragging down worldwide growth.
But Beijing did not hit the panic button. The long-awaited interest rate hike never materialized. Instead, the Shanghai Stock Market celebrated the absence of a rate rise with a 2.9 percent gain, the biggest jump since mid-October.
The rest of the world followed China's lead. In New York, the S&P 500 reached another high for the year.
But it wasn't a market-wide sweep. The equities that rose provide a good guide to the investments that will continue to gain with China's growth.
Finding Hotspots
We've come a long way in analyzing market movements since the legendary "Tale of the Tape" was considered supreme.
The best tool for spotting market trends at a glance is the increasingly popular "heatmap". A heatmap depicts the landscape of the market in colored blocks. The hottest areas shine bright green. Cold areas are black. And, the biggest losers are bright red.
This is the heatmap of the S&P 500 the morning after China's positive news.
click to enlarge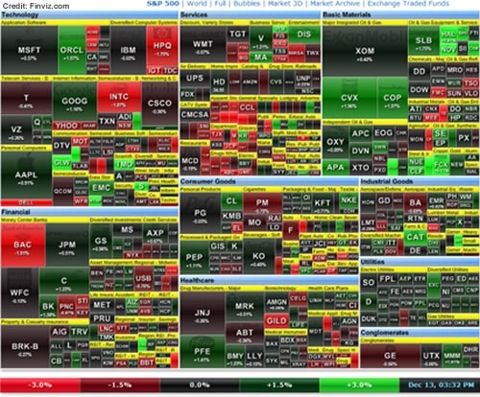 It's pretty obvious that most of the action is in the upper right corner, which represents basic material stocks, including oil, gold, silver and copper. You can drill down into the heatmap here for more details about the best performers.
Clearly, China is driving commodities, and companies that produce commodities worldwide.
Among the other strong performers for the day were companies that make a good portion of their profits selling into China. Caterpillar (NYSE:CAT) is an obvious standout in the industrial goods segment.
Beijing produced more news over the weekend, which also encouraged companies that do business in China.
Chinese industrial-output growth accelerated to 13.3 percent last month from a year earlier. Urban fixed-asset investment also picked up its pace, rising 24.9 percent during the first 11 months of 2010. And, all-important retail sales gained 18.7 percent in November.
But commodities and commodity producers were the biggest gainers.
What Shines Brightest?
It was gold that rebounded from its biggest weekly loss in a month following China's interest rate decision. Silver and palladium also climbed.
Palladium futures for March delivery gained 3.1 percent, to $755.10 an ounce. Platinum futures for January delivery rose 1.4 percent, to $1,698.30 an ounce. Silver futures for March delivery rose 3.1 percent, to $29.485 an ounce.
But gold and copper hold center stage. Goldman Sachs predicted that gold will climb to $1,690 an ounce next year and peak in 2012. Goldman says a raise in U.S. interest rates beginning next year will eventually end gold's multi-year bull run.
Copper has a much longer secure horizon thanks to China.
On Monday, copper rose to an all-time high of $9,235.25 a metric ton on the London Metal Exchange. (Aluminum, lead, nickel, tin and zinc also gained following China's announcement.)
Looking into the future, China is on track to triple its annual use of copper to 20 million tons by 2025. That's according to CRU, a London-based consultancy. In fact, China already tripled its copper consumption over the past decade, reaching 6.8 million tons.
But Chinese copper consumption still remains low compared to the U.S. and Japan. Copper consumption was just 3.9 kilograms per person in China last year, despite the nation's massive building boom. That compares to consumption of 6.5 kilograms per person in the U.S. and 8.6 kilograms in Japan.
Standard Chartered estimates that China's consumption will rise to 5 kg per person by 2015.
Do that math. That's 6.5 billion kilograms.
Perhaps the most telling comment about copper comes from Ben Simpendorfer of the Royal Bank of Scotland. Looking at China's accelerating copper use he told Bloomberg that China can't continue to increase consumption at the current rate, "because there aren't enough mines."
If the prediction is right, we're headed for a period of "peak copper", much like the long-feared price spike called "peak oil" when global production hits its limits.
Once again, China is providing leadership to global markets. According to the heatmap, copper and gold miners have very encouraging long term potential.
Disclosure: I have no positions in any stocks mentioned, and no plans to initiate any positions within the next 72 hours.