By Philip LAC
Europe - the Final Countdown
The profile of the Euro Stoxx 50 around its peak in June 2007 is remarkably similar to that of the Nikkei 225 around its peak in Dec 1989, and if history were to repeat itself, the Euro Stoxx 50 might have some way to go yet.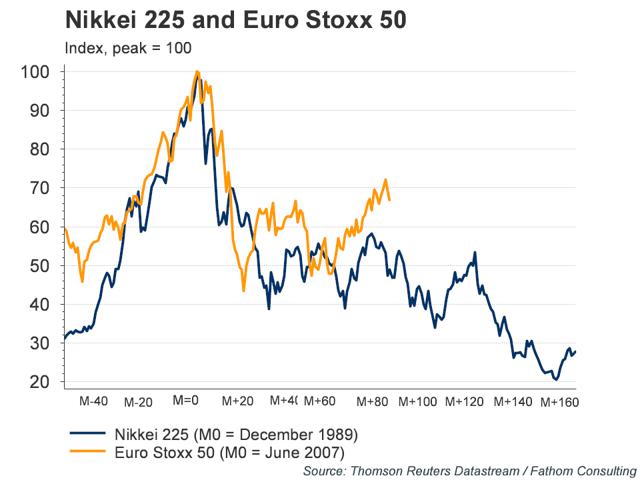 Click to enlarge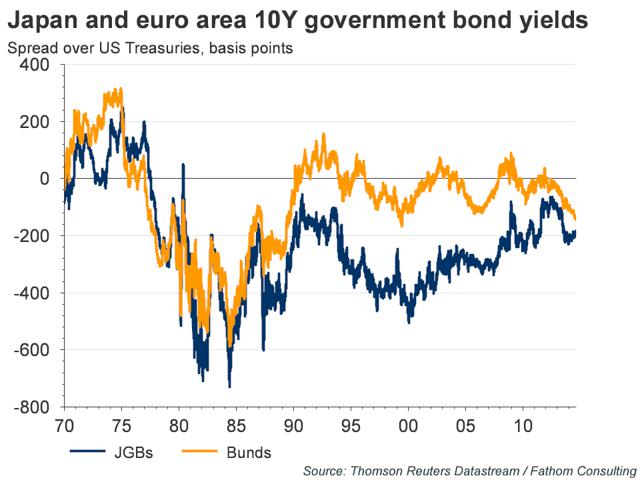 Click to enlarge
Until Japan's asset price bubble burst, yields on German Bunds and on Japanese Government Bonds (JGBs) had been closely correlated with each other. However, the prospect of low inflation and growth rates caused yields on JGBs to decrease steadily, whereas Bund yields started to move in line with those of US Treasuries (USTs). We have been forecasting for some time that Bunds would decouple from USTs and start moving more in line with JGBs. That process is now well under way, with Bund yields falling almost 100 basis points since the start of this year to a record low of less than 1%.
Debt
Japan began its two lost decades with a ratio of debt to GDP similar to that of the euro area today. Japanese government debt ballooned, driven by the combination of fiscal measures and reduced tax income. The huge absorption of Japanese government bonds by Japanese banks, which became the largest buyers of the sovereign securities, was mirrored by a steady decline in household savings.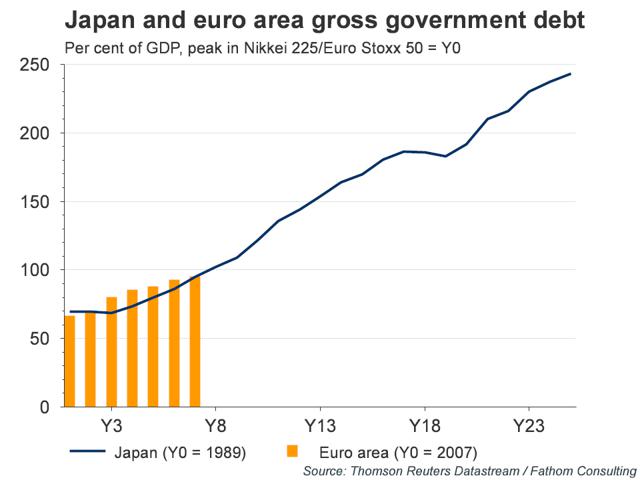 Click to enlarge
Europe on the edge of deflation
In a world of fiat money, a sustained reduction in the quantity of private sector credit is more or less a necessary and sufficient condition for a fall in the general price level. Bank lending to the private sector is falling more or less everywhere - not just in the troubled periphery but in Germany too. The path taken by total bank lending to the private non-financial sector in the euro area is strikingly similar to that seen in Japan 20 years previously. In Japan, private sector bank credit started to fall in 1997 - around seven years after the bubble collapsed. In most euro area countries, that happened three to four years after the peak in the Euro Stoxx 50. If the euro area is following the Japanese playbook, it has six more years of contracting bank lending ahead of it.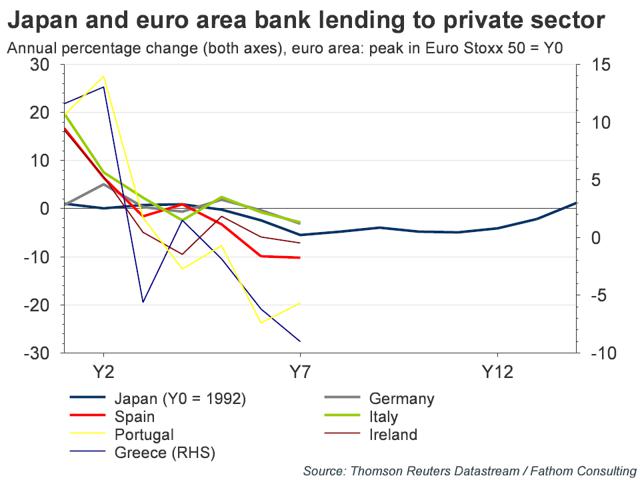 Click to enlarge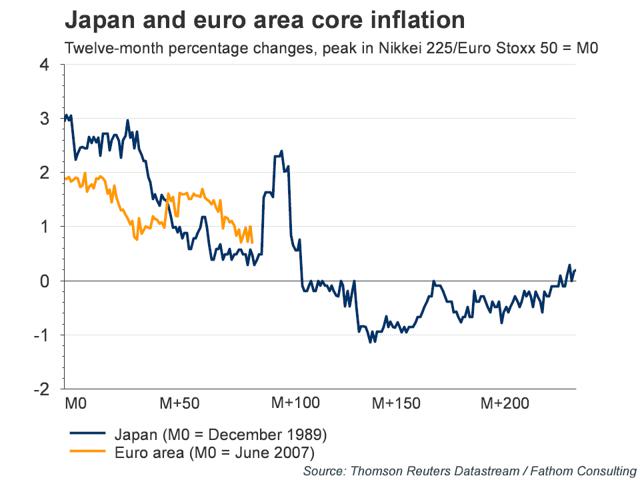 Click to enlarge
Falling bank lending has taken its toll on inflation. If we set aside the twelve months following the ill-advised increase in the rate of VAT that took place in April 1997, it took 94 months for Japan to move from the peak of its asset price bubble into deflation on the core CPI measure. It has been 86 months since the Euro Stoxx 50 peaked in June 2007 - taking the experience of Japan at face value would give the euro area another 8 months. Indeed, we see euro area headline inflation hitting zero in the early part of next year, as outlined in a recent 'Chart Of The Week'.
The underlying reason is the same - the broken banking sector
Some claim that austerity measures in the euro area have largely been responsible for the failed economic recovery. However, we do not agree. While austerity has not helped, it is the failure of the authorities to fix Europe's broken banking system that is holding the region back. Japan illustrates perfectly that fiscal policy is not always effective. Over almost two decades, Japan's fiscal measures failed to return the economy to a period of sustained recovery. Between 1992 and 2008, the total stimulus package was worth ¥206 trillion, or some 2% to 3% of GDP on average every year. Meanwhile, the delay by Japanese banks in writing-off of their accumulated non-performing loans (NPLs) curtailed bank lending, causing the continued low growth and inflation rates.
After the bubble burst in December 1989, equity prices and land prices dropped in Japan - even today they are some 60% below the peaks recorded more than 20 years ago. Inevitably, NPLs began to rise through the early 1990s.
The euro area is experiencing a banking crisis much like that of Japan in the 1990s and the 2000s. Although house prices have not fallen as sharply as they did in Japan, the euro area is riddled with zombie banks that cannot lend while NPLs, both corporate and household, together with the bonds of troubled sovereigns clog up their balance sheets. The lack of lending undermines the economy's overall productivity and hence output - a vicious cycle.
A country's productivity ultimately determines its potential output. After Japan's bubble burst, the growth rate of potential GDP plummeted from 4.0% in 1989 to 1.7% in 1994 and stands now at 0.7% - according to the OECD. The growth of euro area potential output was substantially lower than that of Japan going into the crisis, but it has shown a similar drop in relative terms. In both Japan and the euro area, potential growth approximately halved in the early stages of the crisis. The fall in euro area potential growth took place despite rocketing unemployment. By contrast, Japan's unemployment rate has stayed remarkably constant throughout its own crisis - a reflection in our view of a more rigid labour market. Of course, higher unemployment is not in itself an achievement, nor does it guarantee higher productivity growth, but it does suggest an opportunity for output to recover if productive investments can be made.
Non-performing loans lead to a non-performing economy
Despite the greater flexibility of its labour market the NPL burden has been rising across the euro area - based on IMF data, we estimate that, by the end of last year, NPLs across euro area banks amounted to over 6% of the region's total lending (all data on non-performing loans are taken from the IMF's Financial Soundness Indicators database). Using a comparable measure for Japan, we find that NPLs peaked at 9% of total lending in 2001. The NPL problem across the euro area as a whole has not yet reached Japanese dimensions, but it is approaching at an alarming pace. And the situation in Portugal, Ireland, Italy, Greece and Spain - sometimes referred to as the PIIGS - is already much worse.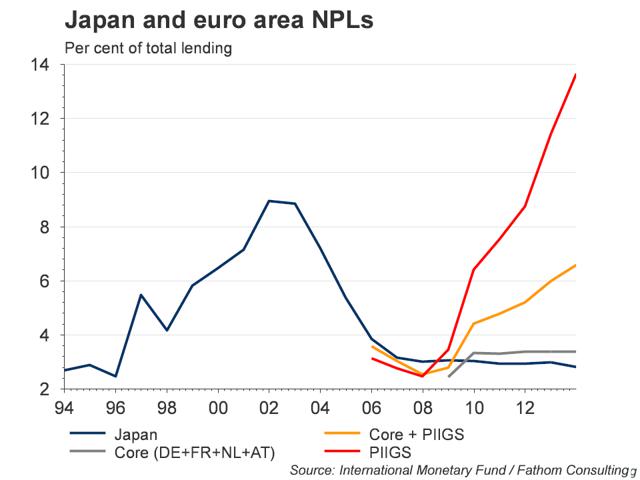 Click to enlarge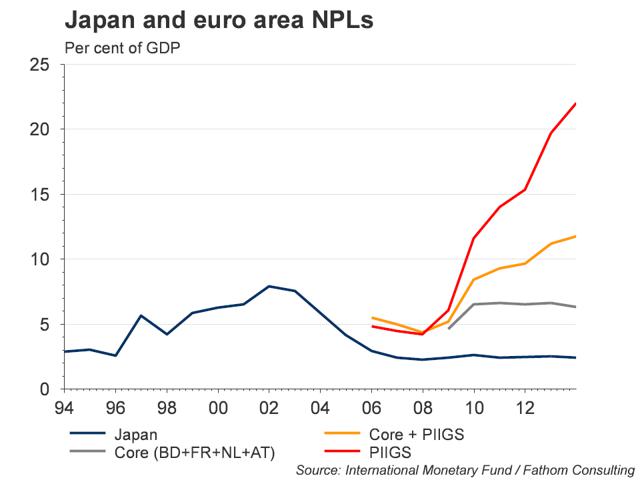 Click to enlarge
Expressing NPLs relative to total bank lending is a sensible approach if we are trying to figure out to what extent NPLs are preventing an economy's banks from lending. However, if one wants to know to what extent the sovereign, or indeed sovereigns may be on the hook, then NPLs as a proportion of GDP is a more useful metric. NPLs in Portugal, Ireland, Italy, Greece and Spain amount to 22% of the GDP of those five economies. However, we estimate that NPLs across the euro area as a whole amounted to a little over 10% of the region's GDP - already above the 8% of GDP that Japan reached in 2001.
Policy makers reacted by too little, too late
The response of policy makers in Japan is best characterised as 'too little, too late'. NPLs were not written down in earnest until the end of the 1990s, almost ten years after the Japanese asset price bubble burst. Only then did banks begin to recapitalise. The policy rate was lowered only gradually - and it was even increased briefly in August 2000 in the mistaken belief that the crisis was over. Quantitative Easing (QE), when it came in March 2001 - more than eleven years after the equity bubble collapsed - was conducted on a fairly small scale, in comparison to the more recent policies of the US Federal Reserve, and indeed the Bank of Japan under the present Governor Haruhiko Kuroda. The first wave of QE in Japan failed to address the problem of falling bank credit - bank credit did not bottom out until 2005, and it has risen only moderately since then. Additionally, and instead of boosting traditional business lending, Japanese banks, in an attempt to de-risk their balance sheets, became increasingly reliant on JGBs as a source of revenue.
Looking at Europe's response to the crisis, the measures implemented by the European Central Bank (ECB), namely Outright Monetary Transactions (OMTs) and (Targeted) Long Term Refinancing Operations ((T)LTROs), are not only 'too little', they also strengthen the link between banks and sovereigns - the link that caused the sovereign crises in the euro area in the first place. Sounds familiar?
So is the ECB doing a BoJ? So far, yes…
The BoJ showed us what can happen when policy makers dither before responding only half-heartedly to a banking crisis. The ECB has taken a similar path so far. The result is that the euro area is worryingly close to deflation. It took the BoJ more than eleven years to implement a meaningful programme of QE. It has been over seven years since the Euro Stoxx 50 started to drop in June 2007. It is probably not too late for the single currency bloc to avoid a deflationary period that is as prolonged as that experienced by Japan. However, the ECB must act soon. And indeed, our call that the ECB will eventually be forced to implement QE seems to be materialising - Mr. Draghi's speech at the gathering of central bankers in Jackson Hole represents the most recent indication of further monetary policy easing. We expect that the ECB's forthcoming round of QE will focus on Asset Backed Securities (ABS) and on German Bunds - the former to help channel funds to the SME sector and the latter to help reflate the core. In preparation for that, we anticipate changes in banks' risk weighting guidelines to make vanilla ABS a more palatable investment.
However, we argue that tailored policy measures to address the SME sector's financing difficulties (like the TLTROs) will not prove sufficient. And neither in the end will QE on its own - particularly if it is focused on ABS. In the US, purchases of ABS - whether by the Fed under QE, or by the Treasury under the Troubled Asset Relief Program (TARP) - worked because the troubled assets in question were ABS to start with. In the euro area, sovereign bonds and loans to domestic SMEs and other corporates represent the troubled assets. QE might address some symptoms such as high sovereign bond yields, but it cannot solve the underlying problem, which remains the broken banks.
To fix Europe's banks, a fully functioning banking union is required - common supervision, common resolution and a Europe-wide deposit guarantee. While some recent policy initiatives are steps in the right direction - the single supervisory regime, the upcoming Asset Quality Review and stress tests - in the end we will have to see widespread writing-off of bad debt. That and extensive banking recapitalisations will convince us that the European banking sector is fixed. Only a fiscal transfer from core to periphery - either direct or indirect - will signal the end of the euro area crisis.
Disclosure: The author has no positions in any stocks mentioned, and no plans to initiate any positions within the next 72 hours.
Business relationship disclosure: Alpha Now at Thomson Reuters is a team of expert analysts that are constantly looking at the financial landscape in order to keep you up to date on the latest movements. This article was written by Philip Lachowycz, independent commentator and analyst. We did not receive compensation for this article, and we have no business relationship with any company whose stock is mentioned in this article.