Investors should develop a roadmap to serve as a guide while researching prospective investments. The following list of six questions can help you get started on your investment research process and can be applied to any company. Let's take a look at Sonic (NASDAQ: SONC).
1) What does the company do?
When you buy shares of a company you become part owner of a business. Business owners should always understand what products and/or services their business sells.
Sonic and its franchisees operate 3,522 drive-in restaurants serving up burgers, tater tots, milk shakes and other tasty treats ordered and served in your car. Sonic represents the largest of this type of chain in the United States. Franchisees own 89% of Sonic's locations.
2) What do the fundamentals look like?
You should always look for companies that expand revenue and free cash flow and retain some of that cash for reinvestment back into the business and for difficult times. Companies that can do these things drive superior stock price appreciation over the long-term.
Over the past five years, Sonic saw its revenue, net income, and free cash flow decline 23%, 25%, and 24%, respectively (see charts below). The main culprit lies in the transformation of company owned stores into franchised stores resulting in lower revenue and net income. This move, however, improved operating and net profit margins since 2010. Free cash flow during this time frame was hurt by a spike in capital expenditures in 2013 due to remodeling and expansion initiatives. Subpar revenue and free cash flow resulted in subpar returns. Sonic gave shareholders a total return of 85% vs. 116% for the S&P 500 during that time.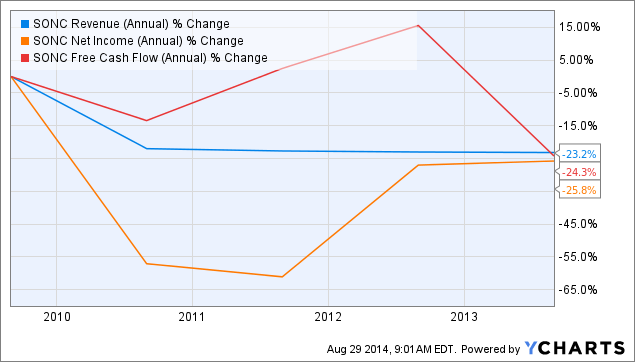 SONC Revenue (Annual) data by YCharts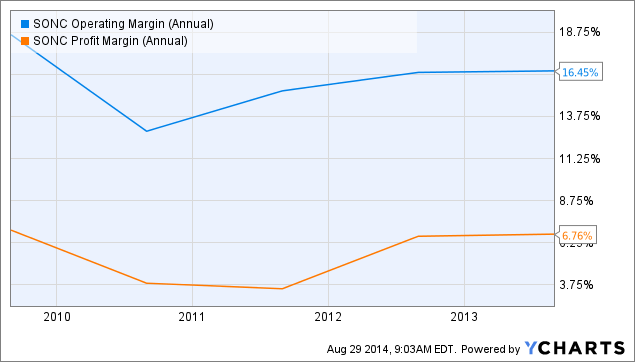 SONC Operating Margin (Annual) data by YCharts
SONC Total Return Price data by YCharts
So far in 2014, Sonic's revenue and net income increased 1% and 19%, respectively. Same store sales increases of 5% buoyed these improvements. However, free cash flow declined 41% during this time due to increased capital expenditures.
Sonic's balance sheet leaves much to be desired. Sonic's $35 million in cash equates to 61% of stockholder's equity; however, it pales in comparison to its long-term debt balance of $430 million which equates to an astounding 748% of stockholder's equity. Long-term debt creates interest that chokes out profitability and eats up cash. Investors should always look for companies with long-term debt to equity ratios of 50% or less. So far in 2014, Sonic's operating income only exceeded interest expense by 3 times. The rule of thumb for safety lies at five times or more.
Recently, Sonic started a quarterly dividend of $0.09 per share per quarter with the first payment due on November 21. This equates to $0.36 per share annually and translates into a dividend yield of 1.7%.
3) How much management-employee ownership is there?
Investors should always look for companies with huge ownership by its managers and/or employees. Managers who own a great deal of stock in the company they run will take better care to ensure that revenue and free cash flow are maximized.
According to Sonic's proxy statement, Chairman and CEO Clifford Hudson owns 2.8% of the company's stock, translating into roughly 643,000 shares or $13.7 million worth meaning that it's in his best interest to execute a strategy in the company's favor.
4) How does its "Report of Independent Registered Public Accounting Firm" stack up?
Every year, a publicly traded company employs external auditors to audit financial statements and internal controls. They check the financial statements for compliance with generally accepted accounting principles and determine whether the company maintains adequate internal controls. Sonic's auditors offered a positive "unqualified" opinion on the company's financial statements and indicated that Sonic maintained effective internal controls on a material level.
5.) What types of risk does it have?
Investors should always weigh the various risks surrounding a company such as geopolitical risk, competitive standing, and market price risk. Sonic operates exclusively in the United States which means that political risk is minimized. However, it operates in a highly competitive environment with many restaurant chains competing for customers' attention.
Sonic's market price risk is also high. It's overvalued on many measures. Sonic's P/E ratio clocks in at 29 times earnings vs. 18 for the S&P 500, according to Morningstar. Its forward P/E ratio registers at 21 vs. 17 for the S&P 500, while its earnings yield comes in at 3.5% vs. 5.5% for the S&P 500.
6) What does its forward analysis look like?
Look for Sonic to sacrifice more revenue and free cash flow growth in the name of margins, as it leans more and more on its franchise model. Also, due to its high valuations, look for severe market corrections before jumping into this stock. Finally, from a competitive standpoint there are better fish in the sea. Investors may want to take their investment dollars elsewhere.
Disclosure: The author has no positions in any stocks mentioned, and no plans to initiate any positions within the next 72 hours.
The author wrote this article themselves, and it expresses their own opinions. The author is not receiving compensation for it (other than from Seeking Alpha). The author has no business relationship with any company whose stock is mentioned in this article.