XOMA Limited (NASDAQ:XOMA) has gone through many problems in the past, causing its stock to fall down, down, down. But could XOMA be at a turnaround.
They got $35 million upfront from a French pharmaceutical company. That is 28% of the company's market cap, which is $124 million. Plus, there is up to $470 million in milestone payments. That is about 3.8 times the current value of the stock.
The stock recently has been falling after a sharp rise. I am betting that XOMA will jump back up. The drop seems unwarranted.
Investors seemed to be disappointed on the news from its current study on 052 XOMA. However, the study was designed to evaluate safety, which it did, and "was not designed to show statistically significant differences in measures of biological activity." The study "showed the potential treatment, labeled Xoma 052, was well tolerated" and "the drug showed a clean safety profile and a promising C-reactive protein reduction."
This should be good news, right?
Coming to conclusions about something the study was not designed to test is irrational thinking. Basically, there must be a control, something a study was designed to test so it can be compared, on every study. With the absence of a control, the data is meaningless.
The odds are very high that XOMA will rise either today or tomorrow. The stock has an MFI and RSI of 60. A MFI of 60 is its one-month low, as shown below. So odds are high it will reverse higher.
Click to enlarge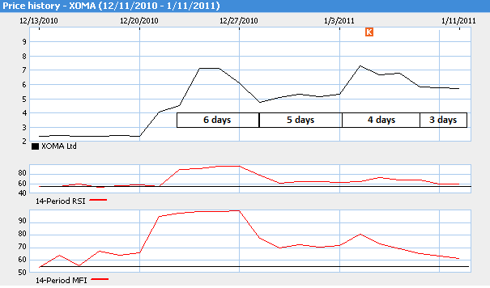 Also, notice the pattern in the number of days for each rise and subsequent base. If the pattern holds, we should be seeing a rise soon. However, this is just chart analysis and statistics. A real move would be on fundamental analysis noted at the top half of the article.
Fair Value Estimate: $12

Disclosure: I am long XOMA.