Capital Ladder Advisory Group (for which I am employed) has been outlining the Target Corp. (NYSE:TGT) story for investors and spectators over the last couple of years with details surrounding the company's operations. In this article, we will recap the most recently reported earnings cycle and offer some points of interest, as Target looks to rebound from its most recent failures. First things first, let's take a brief look at Q2 2014 results from the company.
Adjusted EPS of $0.78 and GAAP EPS of $0.37, a decrease of 20.6 percent from $0.98 per share in 2013.
Targets digital sales, including flexible fulfillment, grew more than 30 percent in the second quarter, approximately double the industry growth rate.
Second-quarter U.S. Segment transactions declined 1.3 percent, an improvement of one percentage point compared with the first quarter.
Canadian Segment sales increased 63.1 percent to $449 million from $275 million last year.
The Good… "Kinda"
If we are considering the positive or "good" aspects of Target's most recently reported quarter, it certainly came from its e-commerce and omni-channel business. This business segment continues to show strong results in the face of decreasing traffic at the company's brick and mortar locations. It's "kinda" a conundrum, isn't it? But this is a conundrum that all retailers are facing as e-commerce continues to grow year-after-year and as more and more consumers become better acquainted with this form of purchasing goods. As noted earlier, Target's digital sales business grew at over 30% during the quarter, approximately double the industry average. Of course, it is important to recognize that most big box retailers are seeing strong growth in digital/e-commerce business. Kohl's (NYSE:KSS) recently reported a similar growth rate for the company's e-commerce business during its Q2 2014 results. With this in mind, investors should appreciate that retailers are reporting increases off very low bases.
It's hard to definitively state if Target's guest traffic declines are a result of enhanced e-commerce sales presently. One thing is for certain, however, if any part of the company's store traffic declines is a result of shifting consumption to e-commerce traffic, it does not bode well for the company and its fixed costs related to brick and mortar stores. If I were a betting man, and I'm not, but if I were I would absolutely believe e-commerce is stealing brick and mortar traffic. Nearly every big box retailer is reporting declines in store foot traffic while simultaneously reporting higher e-commerce sales. It's hard to ignore these facts and even harder to detach or not correlate e-commerce sales growth from/with brick and mortar foot traffic.
Target is definitively dedicated to developing its e-commerce and omni-channel sales. In order to build on the current momentum in digital sales, Target has recently launched a new ad campaign focused on millennials that aims to expand the brand perception of Target from a brick-and-mortar destination to a total retailer experience. The campaign features three of Target's most prominent omni-channel initiatives, subscriptions, store pickup and Cartwheel. In June, the company simplified the Target.com shopping experience by rolling out free shipping on all orders over $50. Naturally, this is an action the company has taken to compete with other e-commerce sites, including Amazon.com (NASDAQ:AMZN) and Bedbathandbeyond.com (NASDAQ:BBBY). Additionally, Target has launched a new header to enhance navigation on the mobile landing page and continues to work to streamline mobile checkout to just two clicks.
Part of Target's developing omni-channel sales platform is the ship-from-store direct to the customer initiative. In-store pick-up is working well for the company, but this is an added feature to cover all sales channels and opportunities. For those who are of the understanding this is unique to Target, please dispense with that belief post-haste. Target is about 10 years late to the notion of utilizing its brick and mortar stores as fulfillment centers. Bed Bath & Beyond has been employing this sales strategy since 2002.
Target stated it is pleased with results from the 2nd quarter test of ship-from-store capability in the Boston, Miami and Minneapolis markets. As part of the test, some guests were offered the option of a $10 service to get same day delivery on Target.com for orders placed before 1:30 PM. The company plans to roll out standard ship-from-store capabilities to 35 additional markets.
The digital sales channel is a delicate one to say the least. Due to the relative newness for many retailers and the incomplete data for how it correlates to brick and mortar sales, retailers are resigned to making sure, at the very least, the consumer can access them regardless of the sales channel desired. The "ship to store and pick-up" channel gets the consumer to at least enter the store and Target has indicated that roughly 20% of these types of purchases result in additional shopping by the customer. Unfortunately, that leaves roughly 80% of shoppers using this sales channel that don't shop the store. I would think you need a more even mix to support your brick and mortar fixed cost structure, otherwise what is the point of storefronts? Moreover, most e-commerce sales carry a lower gross margin than that of store sales. The e-commerce channel over the coming years will likely be no different than the physical store presence - both will be highly competitive and both will likely continue to incur pricing pressure. Retailers know that right now, they are forced to compete in this arena if they want to access today's millenials demographic which will be a part of their customer base for years to come. This may result in further gross margin erosion, but retailers' choices are limited. For these reasons I reiterate, "the good… kinda."
I could certainly go down the list of new product initiatives the company outlined during the conference call, but what's the point? Having said that I will be brief in recapping some of the new product initiatives and conclude this segment with some even more brief analysis on the subject matter.
Altuzarra for Target will arrive on September 14. Designer and creative director, Joseph Altuzarra, created a limited edition fall collection of women's ready-to-wear lingerie, accessories and shoes, which will be available at most Target stores in the U.S. and Canada as well as Target.com.
In women's apparel, the fall assortment will reflect the number one current trend we call neo-traditional with feminine menswear inspired looks in plaids and florals.
In July, Target launched S Sport designed by Skechers. The S Sport label is a lifestyle brand targeted to appeal to the entire family with offerings in kids, men's and women's. Target has seen styles performing at 4 to 8 times the average of their shoe category. S Sport shoes for men, women and children are available at all U.S. and Canadian stores and at Target.com ranging in price from $25 to $40.
In housewares in September, Target will be featuring new products from some of the hottest national brands and small appliances with the introduction of the VertuoLine from Nespresso, single-serve blenders from Vitamix, and the new Keurig 2.0 line.
Alright, so here are some thoughts on these new product initiatives. First and foremost, since when is the idea of partnering with a well established fashion designer new to Target? Second, how many quarters in the last 3 years has the company reported negative comparable sales for the apparel category, and with continuous fashion designer partnerships? Thirdly, Target launched the Converse One Star collection with much the same praise and early results back in 2007 and we see that shoes department sales don't carry meaningful weight of total sales based on lackluster sales results from the company, even prior to the data breach. But I do see the need in adding national brands to the product mix for shoe department sales to improve; good move in my opinion - just not meaningful enough. Last but certainly not least are the small appliance initiatives. Truth be told, the company launched Nespresso nearly 6 months ago in the Southern region to no avail, as the price point was simply to high for the consumer and for a product that will compete directly with the Keurig 2.0. Speaking of Keurig 2.0 and the company Keurig Green Mountain (NASDAQ:GMCR), investors should consider another questionable decision made by Target recently. Target partnered with Keurig Green Mountain to license its Archer Farms coffee pods to be applicable with the new Keurig 2.0. Not that Target sold a meaningful amount of Archer Farm coffee pods, but now they won't even get the full sales benefit from any sales of its coffee pods, as they will share some of these sales with Keurig due to the newly formed relationship. I guess, just like the Sketchers partnership, the Archer Farms/Keurig deal is not meaningful enough. To be fair to Target, they once again had no choice in the matter related to Keurig 2.0. Keurig is phasing out the Keurig 1.0 brewers and the new brewers won't accept private label coffee pods. Therefore, if Target wanted any part of future coffee pod sales, they had to partner with Keurig. Like many retailers, Target seems to be forced into a lot of unfavorable circumstances presently.
The best part of the 2nd quarter for Target came in the 2nd half of the 2nd quarter. That sure was a mouthful! The company saw improving traffic trends, as the quarter carried forward and stated that the back-to-school shopping season was going well for the firm. Additionally, the month of August is presently showing a positive YOY comparable for sales. This positive comparable is proving to give Target's management team greater confidence going forward, as they are now guiding 3rd quarter U.S. sales in the range of 0-1 percent. It's important to recognize the company failed to achieve their 3rd quarter guidance from last year and with a lower store base.
Of some considerable importance is the company's dividend dedication. The Board approved a quarterly dividend increase during the quarter raising a 21% from $0.43 to $0.52.
The Bad
When looking at the totality of the company's reported results, one can't help but to notice the pretty nasty drop in earnings from a year ago. While the dramatic increase in Canadian sales looks great, unfortunately it comes with the incredibly negative EBITDA margin rate near minus 25% expectation for the full year. With respect to the Canadian sales, Target exhibited a gross margin rate of just over 18% in the second quarter and below initial expectations. As it pertains to comparable sales from Target's Canadian segment, they were down roughly 11% with only 48 stores qualifying in the comparable data set. With all things considered, the supply chain, pricing, in-stock, discounting and mismanaged inventory issues maligning the Canadian business segment, a low double digit negative comp isn't all that bad. But, let's not forget the negative EBITDA margin rate in Canada.
The U.S. segment was also under continued gross margin pressure during the 2nd quarter as the company cycled elevated promotions. In the U.S. segment, Target dropped gross margins by 100bps vs. the same period a year ago. When it was all said and done, and with all the promotional pricing events during the quarter, comparable sales in Target's U.S. business segment were basically flat, emphasizing the negative impact from gross margins and YOY decline in earnings. Target has suggested that although promotions remain elevated, they are not as elevated as they were during the 1st quarter of 2014. Not sure that brings much solace to investors, but nonetheless that was what the company offered during the quarterly conference call.
The Ugly
If ugly is what you are looking for in Target, look no further than the company's 3rd quarter and updated FY14 guidance. Target's management, inclusive of its new CEO Brian Cornell, expects to generate adjusted EPS, reflecting results from both the U.S. and Canadian operations of $0.40 to $0.50 during the 3rd quarter of 2014. In the U.S., they continue to expect an SG&A expense rate of about 20% for the full year and a gross margin rate between 29% and 30%. These expectations reflect year-to-date results along with anticipated YOY favorability in 4th quarter gross margin and SG&A expense rates as the company annualizes the impacts of the data breach in the 4th quarter of 2013. These updated expectations would put the full-year adjusted EPS in the range of $3.10 to $3.30 and roughly10% below the range provided just a quarter ago.
As an investor, some things are harder to ignore than others. But when a company has issued a rather bold, inexcusable misrepresentation regarding its customer service surveys, this is of great cause for concern even as it may be irrespective of operating results, although in the case of Target it certainly is not. During the conference call with analysts and investors, CFO John Mulligan stated the following:
On the store, hourly payroll, first on the extended hours, the investment there was immaterial to the quarter. Again, that was about half the stores adding one hour of operation, so not significant investment there, but with Tina Schiel, our Head of Stores, we continually talk about ensuring that we are striking the right balance between productivity in those stores and we are having great guest service results. And what we see today, our guest surveys, of course, are as high as they have ever been and the team continues to drive really strong expense control. So, we feel good about where we are today, but we constantly evaluate that.
Is that right Mr. Mulligan, or are you just as detached from the reality of your store operations as the failed 1st quarter EPS guidance and the initial 2nd quarter EPS guidance? Naturally, now you have had to offer a revision to your company's full-year guidance that would otherwise have failed to be achieved as well. So let's just look at the facts of the matter shall we? Cowen & Company issues consumer tracking survey data on a quarterly basis for a host of retailers including Target. While they offer a paid service, from time to time they offer the results of these surveys freely to the public as deemed relevant by the data-tracking firm.
In Cowen & Co.'s Consumer Tracking Survey, conducted quarterly and for the first time since Target's security breach news in mid-December, it found "meaningful decreases" in year-over-year customer satisfaction with both the total shopping experience and customer service in March. Satisfaction with the overall shopping experience at Target was down almost 2 percentage points in March, with declines "most acute" among middle-and-upper-income shoppers, analyst Faye Landes said, adding the higher-income shoppers are "key cohorts for Target" and a group more likely to hold credit cards than lower-income shoppers.
But wait! This survey was conducted during the 1st quarter so the company could have regained strong customer service performance in just the past few months, right? Well, that is certainly one way to irrationally and illogically dismiss the statements by Mr. Mulligan, as the company's sales performance remained flat YOY in the U.S., traffic remained negative YOY and discounts remained at an elevated level year-over-year. Let's not forget the company's own admissions related to its Canadian business segment which they cited issues related to in-stock levels being subpar and as they will be offering thousands of new items to the product mix and that we can't help to recognize they had the wrong product in Canada this whole time. Results in Canada sharply contrast the suggestion the consumer is satisfied in this region as well. Furthermore, we could summarily dismiss Mr. Mulligan's comments also if we choose to ignore that the company discounted children's apparel by 30%, higher than any other retailer in the big box retail segment, during the back-to-school shopping season.
As evidenced in the photos below, absent the inarguable data compiled by Cowen & Co., it is hard to imagine Mr. Mulligan was being forthright and completely honest with analysts and investors in suggesting guest surveys were at all-time high levels.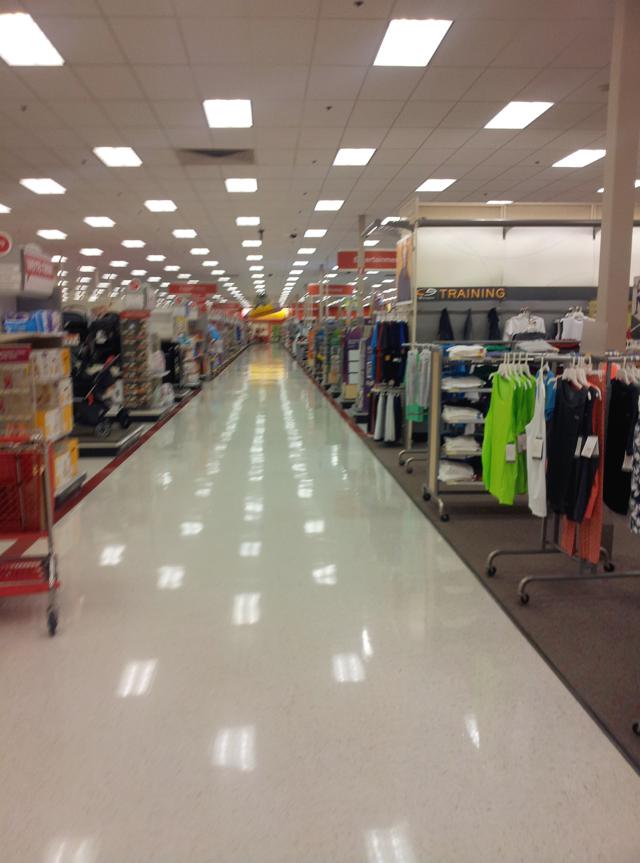 This photograph was taken during the middle of the day at a Target location in Houston, Texas. Maybe the customer in the picture filled out a survey that was favorable for the company. Wait, there is no customer to be found in this picture, not for the length of the entire sales floor. Let's see if there is a better example to offer readers and investors.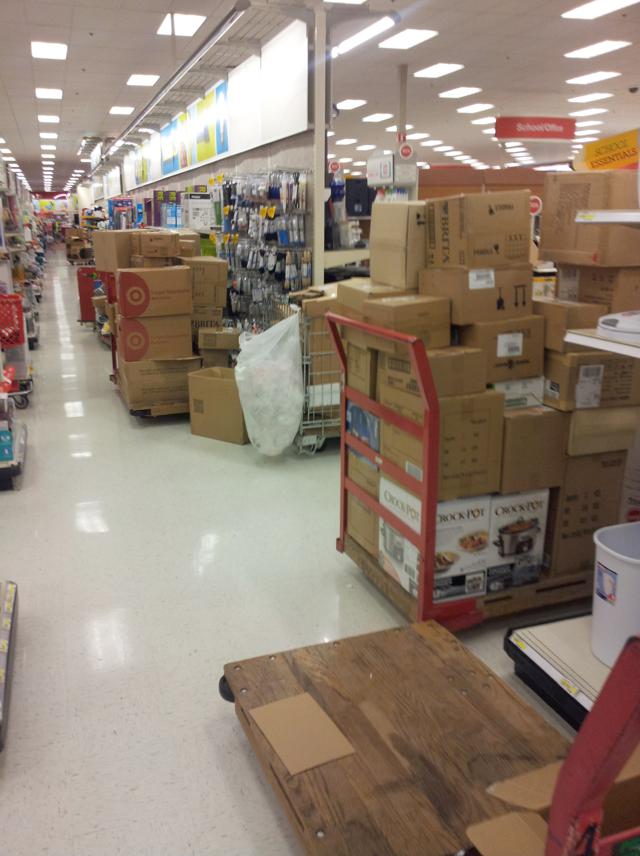 While this picture doesn't necessarily prove to provide the Target shopper with a favorable shopping experience it certainly adds less credibility to Mr. Mulligan's suggestions on guest surveys. Could you imagine trying to shop around a store in this kind of environment? No wonder discounts remain elevated. I hope a child doesn't attempt to ride that empty flat bed! Let's make one last attempt to justify Mr. Mulligan's comments.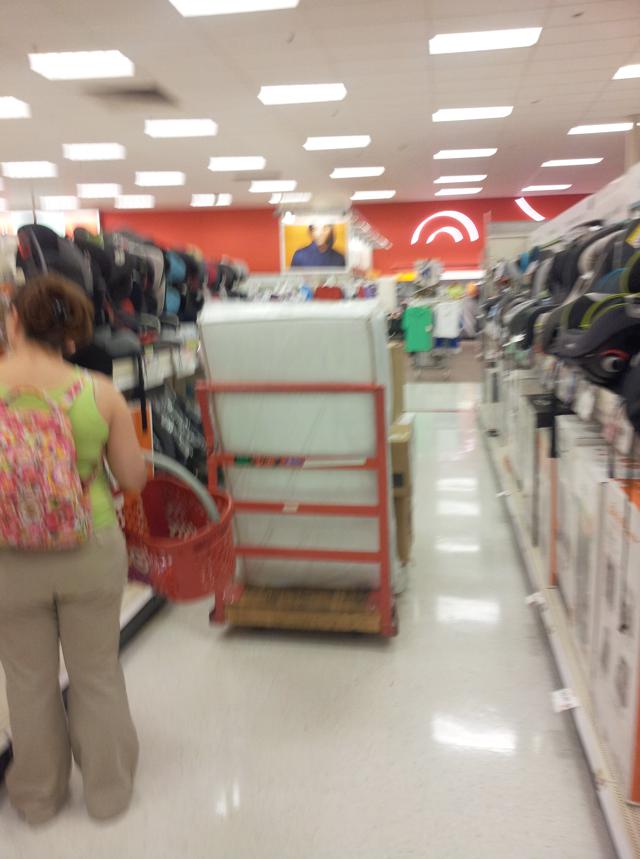 This photograph was taken right in the heart of Los Angeles. While at least we do have a guest shopper in this photograph, it does appear her shopping experience will be impeded to some degree by this flat bed of merchandise which is unattended by any store personnel.
If the photographs above aren't an ugly enough representation of impediments hindering guest traffic in stores, maybe Calvin Darden's recent sale of 4,000-plus shares of stock is ugly enough. Calvin Darden is a director of Target Corporation. He still maintains over 16,000 shares, but the obvious question is why did he dispose of roughly 20% of his share ownership.
In conclusion, Target is facing a lot of headwinds. There are a lot of wrongs to right for the company. The worst of the company's issues is probably behind them as they come up against easier sales comparisons in the back half of the year, highlighted by easy comparables in the 4th quarter. With that said, consumer spending remains constrained. Consumer spending in the month of July was down year-over-year for the first time in 6 months while incomes rose at there slowest pace since December of this year. Lastly, as proven by the litanny of retailers reporting gross margin erosion, there appears to be a race to the bottom with regard to promotional pricing in the retail industry.
Disclosure: The author is long BBBY.
The author wrote this article themselves, and it expresses their own opinions. The author is not receiving compensation for it (other than from Seeking Alpha). The author has no business relationship with any company whose stock is mentioned in this article.