One of the traits of a good contrarian investor is steadfast patience. These types of investments although they may be undervalued, can take much longer than one originally envisions to have sentiment improve on their prospects.
The upside is once it does they can turn into huge winners. Apple (NASDAQ:AAPL) is a perfect example. In summer of the last year the stock was in the middle of a nine month decline that brought the shares down under $400 (Pre-split) a share at one point. Stories on how Apple had lost its "mojo" were rampant in the media. A few successful product launches, a huge stock repurchase program and an initiation of a dividend payment later; the stock is 75% higher.
Transocean (NYSE:RIG) is one of my larger contrarian plays right now in the market. Sentiment on it and most other offshore drillers is quite negative due to worries about overcapacity and prospects for day rates. I have been slowly accumulating shares in recent months as the stock looks like it building a nice and solid bottom.
In addition, the stock provides a very large dividend yield which does make waiting for a turnaround much easier and is why I have this unusual name in my income portfolio. I am confident my patience will be rewarded with solid capital appreciation at the some in the near/medium future and I am collecting a solid yield in the meantime. The company is starting to see some positive catalysts so I am hopeful I will not have to wait too much longer.
Technical Support:
The company is treading water at levels where the stock has bottomed previously over the previous five years (See Chart).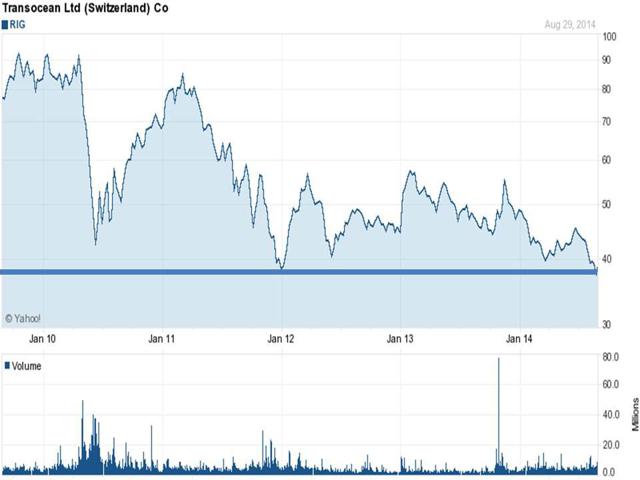 Dividend Floor:
The other feature that should continue to provide a floor to the stock at these levels it is high dividend yield. Transocean pays out an annual dividend of $3.00 a share in quarterly installments. This equates to a huge 7.6% yield annually at the stock's current price.
Positive catalysts:
In its earnings report earlier this month, Transocean easily beat top and bottom line expectations confirming sentiment might be a bit too negative on the name. Transocean beat bottom line estimates by almost 50 cents a share and revenue came in ~$60 million over the consensus as well. Fleet utilization did move down to 78% from 80% previously but overall day rates did tick up.
Mexico just passed legislation to open up its energy industry to foreign investment. Mexico barely has any rigs in its side of it's the Gulf of Mexico compared with the rigs employed on the United States side. Look for this to start to change in the years ahead boosting demand for Transocean's services given it is already a huge player in the U.S. side of the Gulf.
Transocean Partners LLC (NYSE:RIGP) became a public company one month ago. This newly established entity should provide Transocean with drop down opportunities which should help Transocean's capital structure. The company also put 8 U.K. mid-water rigs into an entity called Caledonia Offshore Drilling Company as the company continues to slough off non-core assets to concentrate on building a more modern and lucrative fleet.
Valuation:
Transocean has now easily beat earnings estimates three of the past four quarters. The stock trades at just over eight times this year's projected earnings, an over 40% discount to the overall market multiple. S&P has a "Buy" rating with a $50 a share price target. I think it may take 12-18 months to achieve this level of capital appreciation but the stock does seem like it is bottoming and the dividend compensates me for being patient. ACCUMULATE
Disclosure: The author is long RIG.
The author wrote this article themselves, and it expresses their own opinions. The author is not receiving compensation for it (other than from Seeking Alpha). The author has no business relationship with any company whose stock is mentioned in this article.