Bona Film (NASDAQ:BONA) reported Q2 ESP of $0.01 that was 3 cents below consensus while revenue of $45m (+59% y/y) beat by $0.8m. The company also guided Q3 net profit between $7-8m, slightly higher than consensus.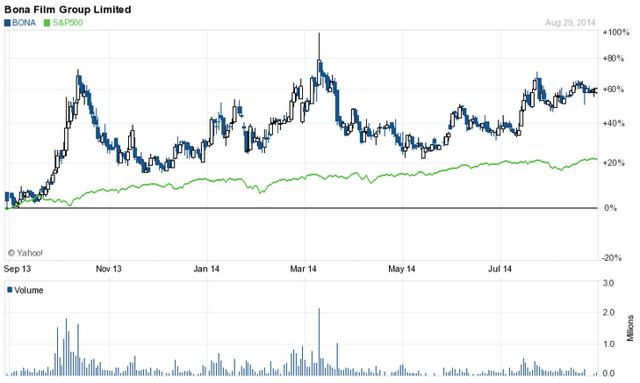 Click to enlarge
Movies and theater drove the beat
Movie theater and film distribution were the primary drivers behind the revenue beat. Film distribution increased revenue by 346% y/y to $25m driven by titles including "Overheard 3" and "To Love Somebody". Overheard 3 was the third installment of Bona's own Overheard franchise and the film generated over RMB307m in office receipts since opening on May 29th. The positive effects from the movie theater business also translated to decent movie theater revenue of $19.4m (+15% y/y).
Bona plans to distribute three films in Q3: "The Continent", "The White-haired Witch" and "Pomeii". For "the Continent" that was already released, the film generated box office gross receipts of RMB626m, while The White-haired Witch generated RMB387m from the box office. Finally, Pompeii generated RMB90m. The current box office receipts figures seems to support Bona's near-term growth. In my view, the long-term catalyst would be China opening up to more foreign films, where I believe Bona has an edge given its connections within the movie industry.
Pipeline looking good
"The Sword Master", directed to Derek Yee, is expected to finish principal photography in September and could potentially be another hit given that it is based on Gu Long's novels. Moreover, there is "Emperor Holiday" featuring five celebrity father-child pairing including singer-actor Jimmy Lin, actor Guo Tao, former Olympic diving champ Tian Liang and director Wang Yuelun. China's recent interest in seeing celebrity and their kids in reality TV shows have sparked considerable amount of interest in this area and this movie could generate decent box office revenue.
China's total box office reached RMB136m (+25% y/y) in the first half of the year, and Bona's domestic box office outperformed the overall market with a 39% growth rate so the company is certainly executing well in its movie theater and film distribution business. At 26x forward P/E and a solid pipeline, Bona looks reasonably attractive.
Disclosure: The author has no positions in any stocks mentioned, and no plans to initiate any positions within the next 72 hours.
The author wrote this article themselves, and it expresses their own opinions. The author is not receiving compensation for it (other than from Seeking Alpha). The author has no business relationship with any company whose stock is mentioned in this article.