Avago's (NASDAQ:AVGO) FYQ3 result beat on both EPS and revenue and the stock's positive reaction (+7.5% intraday) highlights that the street continues to underestimate Avago's earnings potential. Going forward, deleveraging, wireless growth and cost control will continue to drive this stock. I reiterate my positive bias.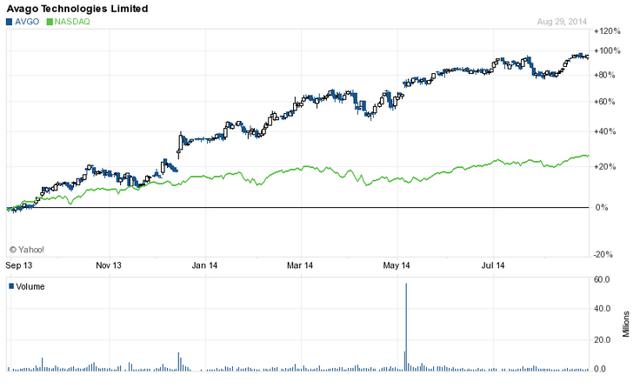 Click to enlarge
Consolidated revenue of $1.37b (+96% y/y) was on the upper-end of the guidance and handily beat consensus of $1.35b. When taking out the $104m revenue from discontinued ops, core revenue was ~$1.25b. Non-GAAP EPS of $1.26 (exclude share-based comp) also beat consensus $1.03. On guidance, Avago expects $1.52 - 1.57b (+18-20% y/y) in revenue, ahead of consensus $1.4b. EPS guidance of $1.67 was also significantly higher than consensus $1.22.
Wireless momentum continues
In my view, the wireless revenue ($364m, +26% y/y) momentum is sustainable in the near-term driven by order from Chinese OEMs and Apple (NASDAQ:AAPL) that offset the weakness from Samsung. Management pointed out that 2/3 of wireless growth comes out of increasing band count amid the 3G to 4G transition. But one thing is clear in that Avago stands to benefit from the shift towards LTE as rising number of handset OEMs introduce LTE-enabled devices. The current +60% q/q revenue guidance seems to be mostly due to new product launch at Apple and is above consensus expectations.
Enterprise and wired showing solid growth
Enterprise revenue of $404m was driven by strength in HDD, custom SSD and 3.5" desktop. This segment has been growing nicely and account for 32% of the total revenue. Management guided mid-single digit growth for the next quarter. Wired infrastructure revenue of $326m (+29% y/y) was driven by the strength in ASIC SerDes and Service Provider Routing. For this segment, management guided low-single digit growth next quarter.
Free cash positive
The company generated $220m of free cash this quarter and had $1.3b of cash on the books post the $310m used for PLX acquisition. A key focus will be to use the free cash on deleveraging which will fall ahead of share repurchase among the priorities.
Overall a solid quarter with strength across the key business segment. Reiterate my positive bias on the stock.
Disclosure: The author has no positions in any stocks mentioned, and no plans to initiate any positions within the next 72 hours.
The author wrote this article themselves, and it expresses their own opinions. The author is not receiving compensation for it (other than from Seeking Alpha). The author has no business relationship with any company whose stock is mentioned in this article.