Since last reporting on Bed Bath & Beyond's (NASDAQ:BBBY) recent performance and prospects for the future, Capital Ladder Advisory Group (for which I am employed) recently found more cause for concern at the home goods retailer. In this article, I will review past analytics surrounding the retailer and provide an update on current issues I have identified with the retailer.
Our biggest cause for concern with regard to Bed Bath & Beyond is the consistent gross margin erosion from the company that recently broke below 39% in the 2nd quarter of 2014 and seems to be accelerating on a year-over-year basis. Below is a chart recognizing the continuously deteriorating gross margin performance by the retailer:
| | | | | | | | |
| --- | --- | --- | --- | --- | --- | --- | --- |
| Margins | 2007 | 2008 | 2009 | 2010 | 2011 | 2012 | 2013 |
| Gross | 41.5% | 39.9% | 41.0% | 41.4% | 41.4% | 40.2% | 39.7% |
After maintaining gross margins around 41% through 2011, the company has witnessed deteriorating gross margins in both 2012 and 2013. In 2014, the trend continues as noted above and is exhibiting critical mass as identified by gross margin performance during the 2008 Financial Crisis. The important takeaway from this analysis is two-fold. First, regardless of the measures taken to support consumption in the United States, it appears to only be working in an environment where retailers are continuing to discount goods. Secondly and most importantly, this measure is clearly unsustainable as it refers to impending decreases in net profits.
Now let's take a look at our next reason for concern with Bed Bath & Beyond. Once again, the trend is undeniably concerning with regard to revenue growth.
| | | | | | | |
| --- | --- | --- | --- | --- | --- | --- |
| Growth Rates | 2008 | 2009 | 2010 | 2011 | 2012 | 2013 |
| Net Revenue | 2.26% | 8.61% | 11.88% | 8.46% | 14.89% | 5.40% |
The first aspect of the chart above that jumps off the page is certainly the jump in revenue growth from 2011 to 2012. Having said that, it is important to recognize what contributed to this revenue growth acceleration. In 2012, the company acquired nearly a billion dollars in revenues from its acquisition of Cost Plus World Market. Subsequently and naturally, in the following year, the company resumed its YOY revenue growth deceleration. In fact, from 2013 to 2014 the company's revenue growth rate is expected to come in with an increase of just 3.2 percent. This represents a revenue growth deceleration of more than 2% year-over-year.
While all retailers are now focusing on increasing store foot traffic, they are simultaneously working to develop their digit sales channels inclusive of mobile e-commerce sales. Here's the main issue that many individuals misappropriate with regard to Bed Bath & Beyond and all-things e-commerce related. At least 60% of Bed Bath & Beyond's product assortment is soft goods; towels, sheets, kitchen textiles, rugs and bedding. When it comes to these categories of home goods, the average consumer desires to touch and feel prior to purchase. Furthermore, the Home Furniture and Home Furnishings category for which BBBY largely participates in has far less e-commerce sales and sales potential than other categories such as Computer and Consumer electronics, Apparel and Accessories, Auto and Parts and Books/Music/Video. During all of 2013, e-commerce sales from home Furniture and Home Furnishing category totaled $17.7billion. For comparison sake, Apparel and Accessories e-commerce sales totaled $44.7 billion. Bed Bath & Beyond is in the wrong business when it comes to e-commerce sales. Of importance, the vast majority of Apparel and Accessory e-commerce sales come from shoes, jewelry and handbags.
E-commerce sales and data tracking firm eMarketer has forecast Home furniture and Home furnishings category e-commerce sales to grow at roughly 16.5% in 2014 and show decelerating rates of growth through 2018. The multitude of Bed Bath & Beyond's sales will likely come from its brick and mortar stores for the years to come. While the company operates off of a small e-commerce sales base, the growth rate will continue to look favorable, but it might also come at the expense of brick and mortar sales as indicated in its declining traffic results. This is further evidenced by fewer transactions year-over-year at storefronts.
My next concern and probably of equal importance to the company's gross margin performance is the continued retail discounting taking place. It seems as if the consumer is forcing upon retailers a promotional pricing environment that is endless and highly negative to the retailers. Kohl's (NYSE:KSS) showed another margin contraction during the 2nd quarter. Williams-Sonoma (NYSE:WSM) and Target (NYSE:TGT) both showed similar margin contraction during the 2nd quarter as well. Williams-Sonoma achieves some 50% of its sales through e-commerce channels and most every retailer is denoting and/or highlighting the gross margin impact from e-commerce sales that tend to be less profitable than brick and mortar sales.
The promotional pricing environment didn't end with the 2nd quarter of 2014. For Bed Bath & Beyond it seems to be maintaining, if not accelerating, here in the 3rd quarter of 2014. Take a brief overview of the photograph below.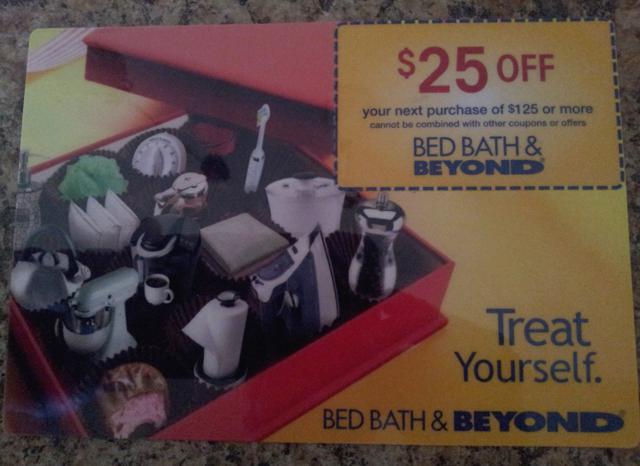 This photograph is of the company's latest attempt to draw shoppers back into stores with a roughly 20% discount card. I'm a healthy contributor to Bed Bath & Beyond's sales base as I received this mailing just last week. In conjunction with this discount, I also received another, separate 20% off single-item purchase in-store through e-mail notification. Based on these two examples, I now have the ability to make two separate transactions resulting in a discount of roughly 20 percent. To clarify and reiterate, these promotional offers have been made all in just two calendar weeks or 8 total days. Having said that, BBBY will certainly prove accurate in its attempt to get me in the door, but the evidence shows it comes at a cost to the retailer.
Many investors might be of the opinion that the second half of the year will prove to show greater consumer spending than the first half of the year, but early indications are to the contrary. The latest consumer spending data for the month of July showed a decline in consumer spending. Consumer spending dropped a seasonally adjusted 0.1% last month, the Commerce Department reported Friday. This represented the first drop in consumer spending in the last 6 months. Consumers bought fewer cars than they did in June and they spent less at department stores and other retailers. The good news in the latest Spending and Income data is that incomes rose another .2% during July. The bad news is that this was the slowest rate of income growth since December of this year.
I think thoughtful analysis would suggest that if positive consumer spending produced gross margin contraction for Bed Bath & Beyond during the previous 6-month period, it is safe to say that negative consumer spending will produce the same results for gross margins. Maybe this is part of the reason the company is seemingly increasing its promotional activity.
In conclusion and to summarize, Bed Bath & Beyond is exhibiting strong pressures to its gross margins, sales growth and store traffic trends. Measures the company is taking to benefit from omni/e-commerce channel sales may not offset decelerating brick and mortar sales as the company is heavily engaged in promotional pricing. Analysts expect the company to grow sales YOY by only 3.2% after growing sales above 5% in the previous fiscal year. If consumer spending does not accelerate into the second half of the year, analysts may need to revisit their revenue models for Bed Bath & Beyond. Investors may be wise to keep apprised of the greater consumer environment surrounding BBBY as the quarter progresses.
Disclosure: The author is long BBBY.
The author wrote this article themselves, and it expresses their own opinions. The author is not receiving compensation for it (other than from Seeking Alpha). The author has no business relationship with any company whose stock is mentioned in this article.
Additional disclosure: As part of a compensation packaged issued in 2003, I received stock grants from BBBY and maintain these in a passive account.