"Sogo shosha" in Japanese means general trading companies (better known as trading houses to westerners). They are entirely unique to the Japanese economy and the way in which business is done there. The seven largest trading houses are Mitsubishi Corporation, Mitsui & Co. (OTCPK:MITSY), ITOCHU (OTCPK:ITOCY), Sumitomo Corporation (OTCPK:SSUMY), Marubeni (OTCPK:MARUY), Toyota Tsusho (OTC:TYHOF) and Sojitz (OTCPK:SZHFF). They have representative offices in over 230 cities around the world. Virtually no city in the world (that matters) does not have representative offices of at least three of the big trading houses.
Japanese trading houses trade in both commodities and finished goods. At one end of the spectrum they supply large volumes of raw materials from large manufacturers or wholesalers to smaller distributors and retailers. On the other end, they act as an international sales force for medium- and small-sized companies without the ability to market and maintain distribution channels overseas. They also often act as the linchpin of large consortium contracts ranging from the building of shopping malls to railway and other property projects, coordinating the activities of banks, construction and logistics companies.
Here is the crux of it - Japanese trading houses are at the center of Japan's global economic reach as they handle just over half of the country's exports and two-thirds of its imports. So if you can figure out what is going on at the likes of Mitsubishi, Mitsui, Sumitomo, Marubeni, etc., you will figure out what is going on, or at least what is likely to happen to the Japanese economy, the Yen, the Nikkei, and perhaps even JGBs, i.e. any analysis of the Japanese stock market and Yen would be absolutely incomplete without a comprehensive analysis of the outlook for trading houses.
Granted, the behavior of the stock prices is not exactly a "comprehensive" analysis but that being said, stock prices do tend to lead "fundamentals" and accordingly the graph below is suggestive of something bullish in the wings.
Equally Weighted Index of Japanese Trading Houses Listed on the TSE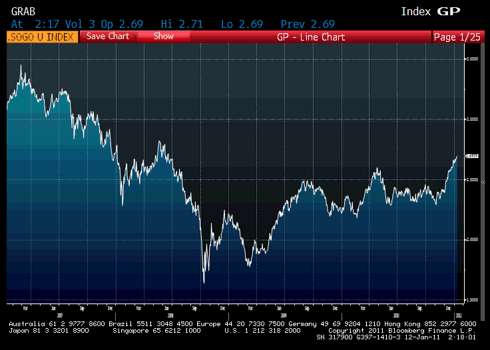 Click to enlarge
(Click to enlarge)
If you want to get your teeth into something a little more "concrete" then here is the graph of Sumitomo one of the larger trading houses.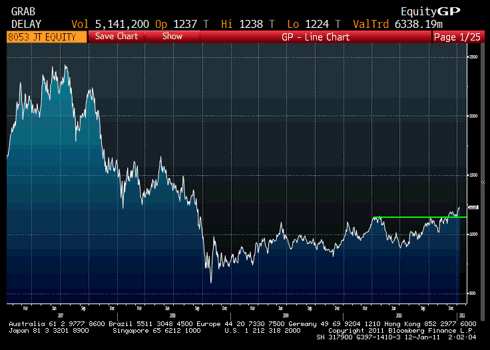 Click to enlarge
(Click to enlarge)

Yes I am aware the "big three" reasons as to why the mere hint of investing in Japanese stocks is likely to attract attention of men in white coats:
Immortal deflation
A rapidly aging population
Debt levels at 200% of GDP
But with the average listed stock on the Tokyo stock exchange supporting a price to book value just below 1x and allocations of funds to Japanese stocks by both domestic (Japanese) and international fund managers at record lows, you have to wonder what hasn't already been priced into stocks and how much more downside could one reasonably expect?
In any event, this is all well and good but what will be the catalyst for the beginning of a multi-year bull market in the Nikkei? My suspicion is that it lies with China and inflation. China is artificially keeping the Yuan low. Well, they have got away with it for a while now but it is fast catching up with them. Inflation is rocketing in China and it seems that they will soon be forced to substantially revalue the Yuan in order to combat inflation (food riots in China will spell big trouble). Automatically this will make Japanese exporters more competitive virtually overnight. I guess being long Japanese equities is the last thing you would have thought of as the best hedge against rising inflation in China and perhaps inflation on a global scale!
Perhaps Bernanke will prove to be the biggest godsend to the Japanese economy and investors in Japanese equities. Everything in this world is connected. Oh, and if you want to trade Japanese trading houses, at least the big five have ADRs.
Disclosure: I am long EWJ.
Additional disclosure: Long 8053, 8032, 8002 (Sumitomo, Mitsui, & Marubeni) on the Tokyo Stock Exchange