In early May, soon after April earnings, I presented a case predicting Apple's stock would hit fresh all-time highs. This was essentially a follow-up to a piece a year prior predicting a bottom for Apple (NASDAQ:AAPL). It only took AAPL under four months to deliver the fresh all-time high.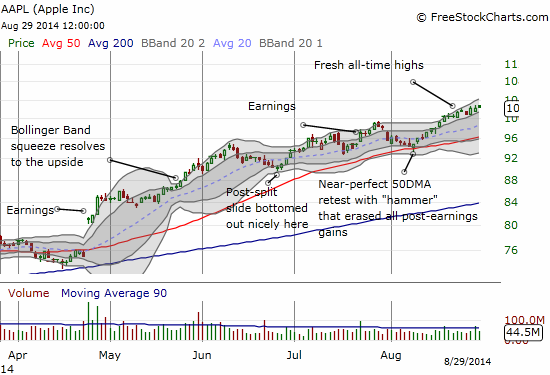 Apple's push to fresh all-time highs since April earnings has been quite orderly and systematic
Source: FreeStockCharts.com
A review of sentiment has formed a key component of my analyses of AAPL, so it makes sense to do another check-in on sentiment now that AAPL has reached the targeted all-time highs. As one would expect at this point, the turn-around from the previous negative sentiment is now essentially complete. This means that improving sentiment is no longer a part of the bullish case going forward. In fact, with AAPL officially announcing to the media a September 9th product event with the teaser "wish we could say more," the stage is set for another sell-the-news event.
I have four key reasons Apple is likely to take a pause and pullback somewhere around this announcement: short interest is at recent lows, options trading is relatively bullish, valuation is at 5-year highs, and Apple's stock is reaching the median of analyst price targets.
Short interest
As I noted above, market sentiment has completed its recovery with the fresh all-time highs. For example, short interest in Apple is back to its lows. Notice that when short interest was last at these levels two years ago, AAPL was trading at its former all-time high. Earlier this year, this level of short interest preceded a much more shallow sell-off.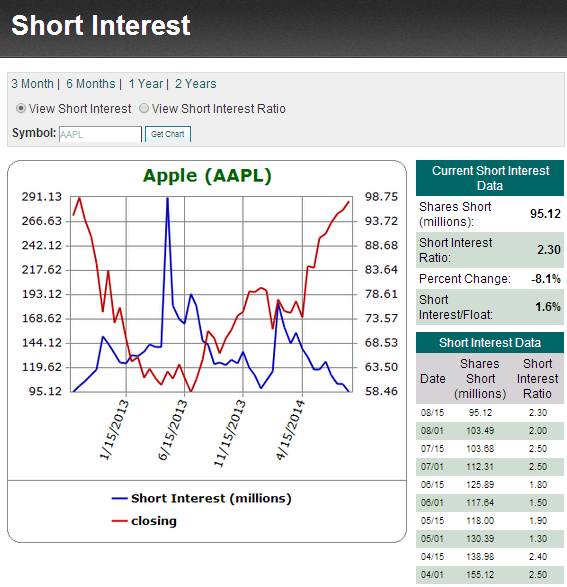 Short interest in Apple has steadily declined back to a 2-year (or more) low
Source: Schaeffer's Investment Research
Options trading
Apple's open interest put/call ratio is a bit harder to read. While the ratio has sharply increased since the July earnings, it is still well below levels that preceded the April earnings and the current run-up in the stock. So, on balance, sentiment as expressed from the options pit is relatively bullish.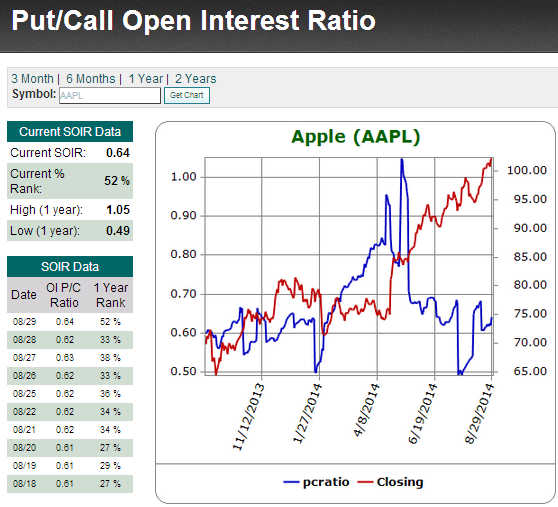 Options traders are relatively confident in Apple's shares
Source: Schaeffer's Investment Research
Valuation
The valuation side is getting a bit stretched for AAPL. I included expanding multiples in my argument for a run-up to all-time highs. Now, Apple's 12-month trailing P/E of 16.5 has caught up to/established its 5-year high of 16.6 according to MSN Money. Recall that Apple's trailing P/E has gradually trended downward since at least 2004. Price/book is nearing highs over the last 6 years. Price/sales is well within the range from the last six years. The forward P/E is still attractive at 14.5.
Analyst price targets
Apple is reaching the median analyst price target of $106. I suspect it will take an extremely bullish product announcement on September 9th to push this target higher given analysts are already very bullish on AAPL. According to Yahoo! Finance, as reported by Thomson/First Call, 43 analysts are at a buy or strong buy, 9 at hold and 1 at underperform. This bullishness represents a very slight increase over the last three months.
Conclusion
In other words, AAPL is missing a strong catalyst for significantly more upside from current levels. Of course, Apple could pull off a truly remarkable event on September 9th, but I personally would not bet on it ahead of time. I would rather react than anticipate.
The market is of course abuzz trying to guess what Apple will announce. These guesses form the expectations that Apple will need to beat in order to catalyze an immediate post-event extension of the rally. Here is the "rumor roundup" as reported by CNBC's Fast Money: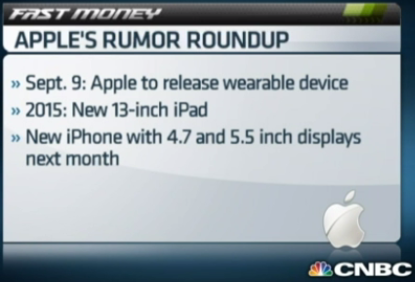 Apple's Rumor Roundup for the September 9th announcement
Source: CNBC from Yahoo! Finance where the Fast Money crowd debated how/when to short Apple's stock using the September 9th announcement as a catalyst, including claims of a glass shortage for larger iPhones
The Fast Money segment debated how and when to fade Apple post-event. I remain bullish on Apple, so I am not interested in that side of the trade. I do think there are at least short-term implications based on the discussion above. Long-term investors might find this to be a profitable good opportunity to sell call options against existing shares (covered calls). Those interested in putting new money to work on Apple should look for a dip to buy instead of chasing any pre-event run-up. To Apple bears, good luck timing a quick entry and exit on the short side: the overall trend is not your friend here. (Sidebar: the "Apple Trading Model" continues to work well although Fridays are increasingly losing their bearish undertones. I did not initiate a fresh position ahead of the coming week because of the Labor Day holiday).
Be careful out there!
Disclosure: The author has no positions in any stocks mentioned, and no plans to initiate any positions within the next 72 hours.
The author wrote this article themselves, and it expresses their own opinions. The author is not receiving compensation for it (other than from Seeking Alpha). The author has no business relationship with any company whose stock is mentioned in this article.