On Friday, the December advanced retail trade number will be released, showing that the lost ground of retail sales after the financial crisis was finally recovered in December 2010. Advanced retail trade hit its peak in November 2007 at about $380 billion. Then in December 2008, it reached the bottom, with less than $336 billion (a 12% drop). The retail trade rebounded since then.
Of course, a simple linear time series forecasting model shows that if the financial crisis had not happened, the advanced retail trade in December 2010 would have been $424 billion (a 12% increase from the peak in November 2007).
[Click all to enlarge]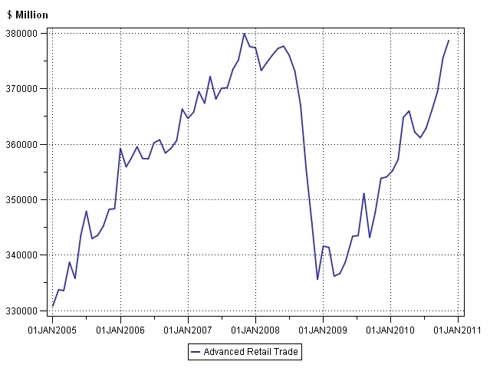 The lost ground is set to be recovered; the question is, what next? Apparently, consumers are still cautious. People are borrowing less relative to their income. The ratio of outstanding consumer credit to disposable income is at its lowest level since 2000, and is still on the downward trend.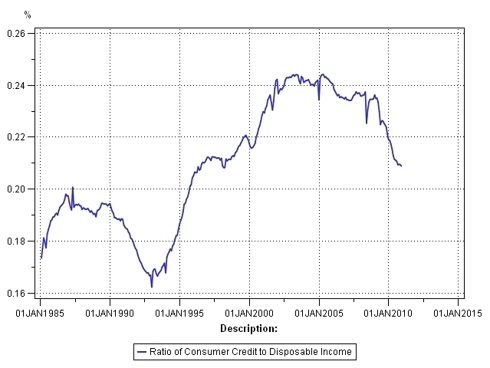 The ratio of personal consumption expenditure (PCE) to disposable income is coming back, but is still more than 2% lower than its average percentage in the pre-crisis period after 2000.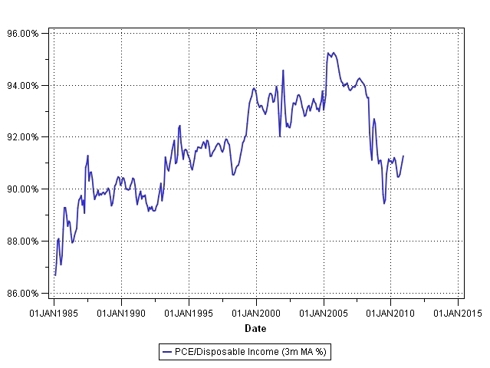 The high unemployment rate is certainly one of the most important reasons for consumers remaining cautious. The December nonfarm payroll was quite positive, though the restaurant industry showed the strongest employment gain. If the job gain in December 2010 was due to year-end holiday factors, then initial unemployment claims in the near future will rise sharply.

The easy gain of "recovering lost ground" in retail sales has been realized. Facing an uncertain job market, consumers will be unwilling to increase their spending at the previous fast pace in the next few months.

Disclosure: I have no positions in any stocks mentioned, and no plans to initiate any positions within the next 72 hours.