The Dividend Champions spreadsheet and PDF have been updated through 8/29/14 and are available here. Note that all references to Champions mean companies that have paid higher dividends for at least 25 straight years; Contenders have streaks of 10-24 years; Challengers have streaks of 5-9 years. "CCC" refers to the universe of Champions, Contenders, and Challengers.
Purple Haze
The "small cloud" of adverse currency exchange that I mentioned last month led me to make a change to the Deletions table on the Changes tab this month. Seven foreign firms that were previously deleted now appear in Purple to indicate that their streaks fell victim to that negative currency exchange even though they had continued to raise the dividend (in their "home" currency). I also decided to move the "X" marker from the "Cuts" column to the "Other" column because the companies had not cut the dividend, but the US$ amount was lower, leading to deletion. As I mentioned last month, it now appears that a number of foreign firms may be deleted this year due to adverse currency exchange, and I think the new designations are more appropriate. About a dozen Canadian companies and a handful of European listings appear vulnerable to deletion, but a final determination may not be possible until the fourth quarter.
The Purple designation also appears among the Near-Challengers (Appendix B on the Notes tab), but the meaning is slightly different. A Near-Challenger that falls prey to the adverse currency effect will be deleted from that Appendix, but would not appear in the Deletions table because it would have fallen short of its fifth straight increase (and Challenger status). In other words, I can't delete what was never added (to the CCC roster). The Purple color for these Near-Challengers highlights the delay inherent in determining the US$ amount actually paid, which can be two months after the dividend announcement. Throughout 2014, it has become evident that Canadian streaks may fall victim to negative currency exchange rates, but I have also noted recent "blurbs" about weakness in the Euro, so that may be bad news for the European companies, as well.
Another change this month worth noting is the scaled-back CCC Projections on the Summary tab. In order to reflect a more conservative approach, I decided to estimate higher numbers of deletions and lower numbers of additions between now and year-end. Essentially, the modified numbers assume that virtually all of the possible currency-exchange "victims" will be deleted (or not added) and that all of the currently "overdue" increases would lead to "freezes" and that all of the firms being acquired would drop off the list by December 31. This "worst case" scenario resulted in a year-end projection of 576 CCC companies, down from an even 600. But even under this scenario, the number of CCC companies would hit 600 by the end of January and 700 by the end of May.
The Near Challengers listing wasn't diminished by the five latest "graduations," as the continuing wave of firms headed toward declaring a fifth year of increases in 2015 featured 13 "NEW" notations appearing in Appendix B (on the Notes tab), bringing the number of Near-Challengers to another new record of 281 companies. After July closed with a big sell-off that dropped the average price of CCC stocks by $2.31, that figure rose by $1.53 in August, while the average "age" of the dividend streaks remained at 16.3 years, the average yield dipped from 2.82% to 2.75%, and the average of the Most Recent Increases moved from 9.76% down to 9.58%.
As always, please use the CCC only as a starting point for more in-depth research. Feel free to leave any suggestions in the Comment area below.
Quick Summary
The Summary tab includes a table comparing the composite numbers from the latest update to those from the previous month and the end of the previous year. Below that is a summary of the latest month's activity, in terms of companies added, deleted, or promoted. That is reflected below:
Quick Summary:

8/29/14

Champions

Contenders

Challengers

Total

No. of Companies

107

239

207

553

Ave. No. of Years

40.2

14.4

6.2

16.3

Average Price

65.28

65.23

59.01

62.91

Average % Yield

2.55

2.67

2.94

2.75

Ave. MR % Increase

8.17

8.35

11.99

9.58

7/31/14

Champions

Contenders

Challengers

Total

No. of Companies

107

236

207

550

Ave. No. of Years

40.1

14.4

6.3

16.3

Average Price

62.95

63.56

58.08

61.38

Average % Yield

2.64

2.76

3.00

2.82

Ave. MR % Increase

8.15

8.22

12.69

9.76

12/31/13

Champions

Contenders

Challengers

Total

No. of Companies

105

210

161

476

Ave. No. of Years

39.8

14.5

7.1

17.6

Average Price

64.42

65.14

57.74

62.48

Average % Yield

2.49

2.60

3.06

2.73

Ave. MR % Increase

8.68

8.78

11.10

9.49

MR = Most Recent

Additions:

Escalade Inc. (NASDAQ:ESCA) to Challengers

Northrim BanCorp Inc. (NASDAQ:NRIM) to Challengers

Resources Connection Inc. (NASDAQ:RECN) to Challengers

Safety Insurance Group Inc. (NASDAQ:SAFT) to Challengers

Scotts Miracle-Gro Company (NYSE:SMG) to Challengers

Deletions:

Constellation Software Inc. (OTCPK:CNSWF) from Challengers

UNS Energy Corp. (NYSE:UNS) from Contenders

Promotions:

Brinker International (NYSE:EAT) from Challenger to Contender

Delta Natural Gas (NASDAQ:DGAS) from Challenger to Contender

Hawkins Inc. (NASDAQ:HWKN) from Challenger to Contender

Steris Corp. (NYSE:STE) from Challenger to Contender
(Table from author; may include underlying data from FinViz.com)
Every Picture Tells a Story
As a bonus, I'm inserting one of Chuck Carnevale's F.A.S.T. Graphs below, highlighting one of the companies listed above. When the price line is in the green area, it suggests possible undervaluation.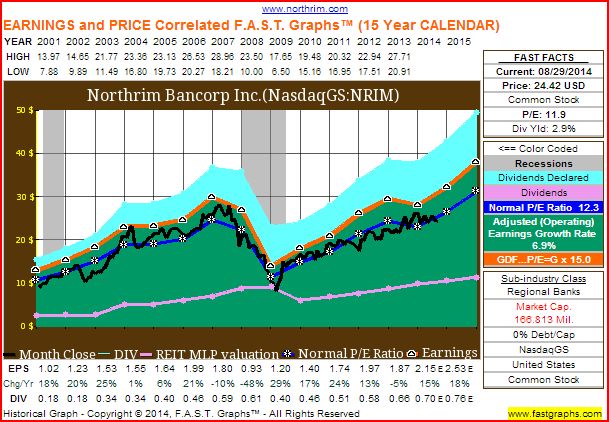 Disclosure: The author has no positions in any stocks mentioned, and no plans to initiate any positions within the next 72 hours.
The author wrote this article themselves, and it expresses their own opinions. The author is not receiving compensation for it (other than from Seeking Alpha). The author has no business relationship with any company whose stock is mentioned in this article.
Editor's Note: This article discusses one or more securities that do not trade on a major U.S. exchange. Please be aware of the risks associated with these stocks.