As we transition out of the summer holidays, MLPs rebounded +9% from their August 4th lows, with this week's +2.35% gain propelled by yield compression emanating from Europe. Despite the light market volumes, 23 units rose to their 52 week highs in the latter part of the week, providing investors with a +21.38% benchmark year to date total return.

This week the Treasury Department issued their 2014/2015 Priority Guidance, a list of tax related topics for resolution. Presently, there is a "pause" for Private Letter Rulings responses from the IRS, which has clogged the pipeline for new MLP assets that require PLR approvals. The reference to this pause is captured below, which leaves open to interpretation how the IRS intends to resolve future PLR approvals or whether the PLR will be replaced by formal guidance.

The EIA reported a 9% increase in oil by rail, as Bakken production continues to expand with limited pipeline capacity.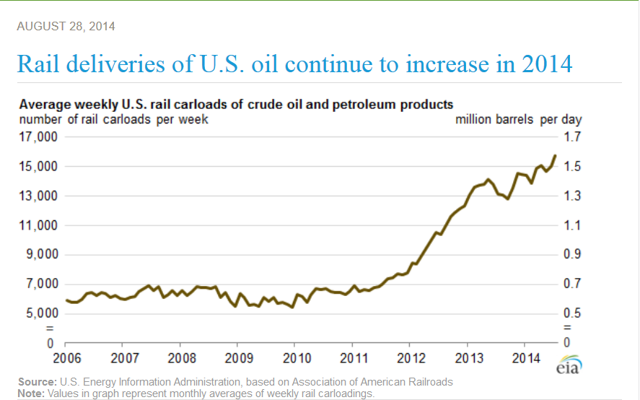 This week, CONSOL and Noble filed their S-1 to form CONE Midstream Partners with their Marcellus assets, indicating the continued preference of asset owners and operators to use the MLP structure to maximize shareholder valuation.
Unit Movers
This week investors took notice of Transocean Partners LLC, an MLP structured as a corporation providing investors with 1099 income. Barclays initiated coverage on 8/26 with a 12.5% distribution growth forecast, sending units higher. Despite the early August earnings calls from Hi-Crush Partners (NYSE:HCLP) and Emerge Energy Services LP (NYSE:EMES) which indicated that sand inventory was fully committed by long term contracts with price escalators, and frac wells were consuming up to 20 tons per well, it took a recent article from Bloomberg to focus investors on the demand for sand.
Energy Transfer Partners (NYSE:ETP) completed their acquisition of Susser (NYSE:SUSS) this week, which includes the Susser Petroleum Partners (SUSP) IDR payments and 50.2% of SUSP units.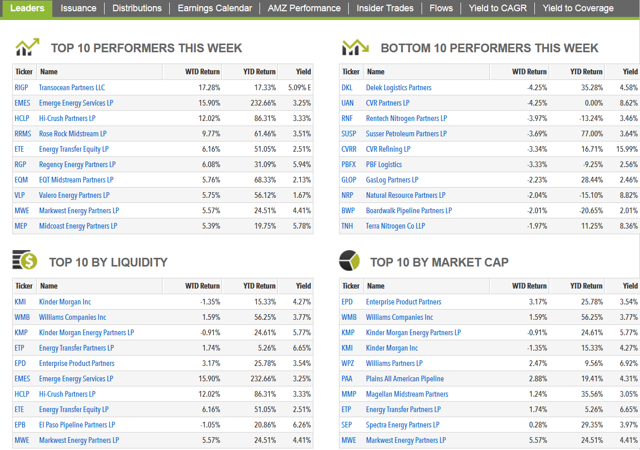 Yield Compression
Total return continues to benefit from distribution growth and yield compression, the latter driven by speculation of quantitative easing in Europe, which has lowered 10Y rates. As a result of both factors, the units below (excluding Kinder) have realized the greatest yield compression over the month of August.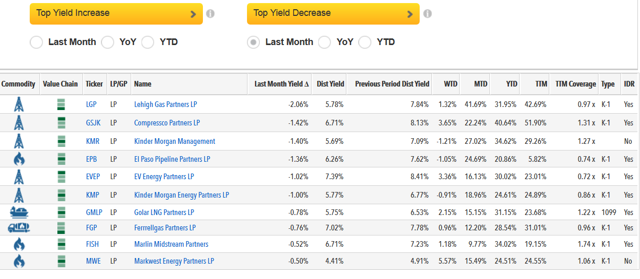 Analyst Recommendations
MLPData captures all public analyst recommendations in order to identify breakout opportunities. Goldman Sachs, in picks provided earlier this year, delivered investors the best performance. Curiously, the Goldman Sachs Closed End Fund (NYSE:GMZ) is in the bottom half of fund performance based upon NAV and the bottom quartile based on trade.

Kinder Morgan
Rich Kinder has often discussed the long term planning and subsequent guidance KMP provided to the market, and recently questioned the utility and interest in providing such forecasts. The below pro-forma, recently released as part of the valuation due diligence, (Port Arthur is Kinder Morgan Energy Partners) suggests a bleak outlook under the status quo . For those KMP investors who are justifiably upset by their tax obligations as a result of the transaction, perhaps you can find comfort that your KMP principal was at risk for a very large correction once the market digested 3%, or less, distribution growth at 1.00x coverage.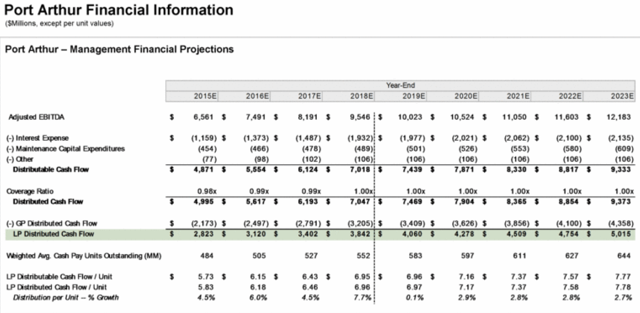 To get this round-up each week, please make sure you are following MLPData here on Seeking Alpha.
All charts and tables provided by MLPData.com
Disclosure: The author is long TEP, EMES, HCLP, ENBL.
The author wrote this article themselves, and it expresses their own opinions. The author is not receiving compensation for it. The author has no business relationship with any company whose stock is mentioned in this article.