When reviewing the financials of Chesapeake Energy (NYSE:CHK) and comparing them to some other independent oil and gas exploration giants, the company stacks up favorably in a lot of metrics. It has larger production numbers and even produces more revenue than some of the hot players like EOG Resources (NYSE:EOG) and Anadarko Petroleum (NYSE:APC), but Chesapeake lacks substantially in the key area of valuation for a couple of key reasons.
Right now, Chesapeake has an enterprise value half that of EOG and Anadarko and it isn't due to the high debt level issues of the past that are mostly resolved now. The prime reasons are the inability to shift production towards oil and the low pricing realizations for the substantial quantities of natural gas it does produce.
Shift That Never Happened
A few years back, Chesapeake Energy was part of a cohort of natural gas exploration companies that planned to shift production towards oil and liquids. The company cut back production in the Haynesville Shale and shifted production towards areas like the Eagle Ford and Utica with the expectation of increasing oil numbers. Well a few years later and the shift has been a huge bust. The company actually saw natural gas percentages rise in Q2 to 72%, which is nearly impossible with the total sitting at 71% for Q1.

Source: CHK Q214
The company has made some progress in a shift towards liquids with NGLs jumping from 4.8 mmbbls in Q213 to 7.7 mmbbls in the latest quarter. The problem is that the lucrative oil barrels actually declined from a year ago. Chesapeake only saw production of 10.3 mmbbls of oil during Q214, compared to 10.5 mmbbls in the prior-year period. It seems almost inconceivable that an energy giant like Chesapeake with vast assets and resources wasn't able to direct the drilling program towards the oil assets to improve the 16% oil production ratio.
As an example, Anadarko Petroleum is producing 34% oil and EOG Resources sits at 48% oil due to a huge ramp in oily production in the last year.
Price Realizations
With average production during Q2 up 13% YoY to 695,000 boe/d, one might think Chesapeake is hitting it out of the park. Especially considering the company dramatically reduced capital spending during the period. In reality, the company is struggling to realize normal prices for the production in places like the Marcellus. The company reported the following price realizations for Q2:
Marcellus North natural gas averaged $2.47 per Mcf below Henry Hub (29% of total natural gas production).
Total natural gas averaged $1.91 per Mcf below Henry Hub and $2.45 per Mcf after hedges.
NGL realized prices dropped to $21.03 in Q2, compared to $29.23 during the prior quarter. The price per barrel dropped to 34% of the WTI crude oil price.
Oil realized prices dropped to $85.23 per barrel for a differential of $5.50 to WTI crude oil price.
These prices do include gathering and transportation costs that aren't normally included by competitors, but the natural gas prices are shockingly low. Chesapeake estimates that the non-basis (gathering and transportation) costs accounted for roughly $1.30 per Mcf of the differential on natural gas.
Comparisons
On the surface, Chesapeake appears to have the assets and production to deserve a much higher valuation. The stock has an EV of only $28 billion, compared to valuations above $60 billion for both EOG Resources and Anadarko Petroleum. The below chart shows how the vast difference in valuation is the market slapping a lower multiple on the earnings generated by Chesapeake.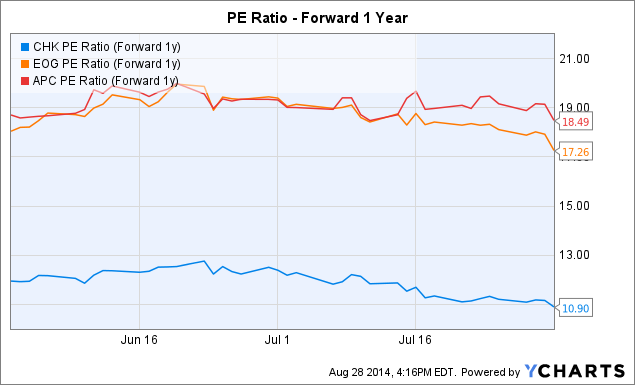 CHK PE Ratio (Forward 1y) data by YCharts
Some other interesting comparisons in the below table highlight how Chesapeake Energy is mostly equivalent to this new super independent group in size and scale, but fails to make it on a valuation basis due to the lack of being able to shift towards oil production and realizing fair prices on natural gas.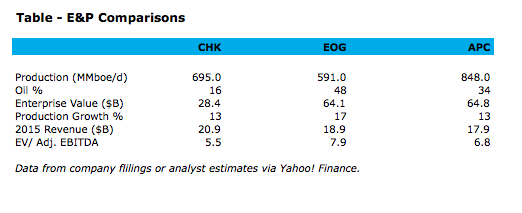 Conclusion
Though Chesapeake Energy recently used the improved balance sheet to increase the acreage position in the oily Powder River Basin, it will take a long time for those acres to have a meaningful impact to production totals. The company remains the largest beneficiary if natural gas prices were to improve, but for now it remains apparent that the mostly natural gas producer is trapped in a gassy future. Chesapeake is ultimately dependent on increased infrastructure in the prolific Marcellus Shale and better pricing to see the stock gain in valuation metrics compared to the likes of EOG and Anadarko Petroleum. The company with massive assets appears still stuck in a natural gas nightmare.
Disclosure: The author has no positions in any stocks mentioned, and no plans to initiate any positions within the next 72 hours.
The author wrote this article themselves, and it expresses their own opinions. The author is not receiving compensation for it (other than from Seeking Alpha). The author has no business relationship with any company whose stock is mentioned in this article.
Additional disclosure: The information contained herein is for informational purposes only. Nothing in this article should be taken as a solicitation to purchase or sell securities. Before buying or selling any stock you should do your own research and reach your own conclusion or consult a financial advisor. Investing includes risks, including loss of principal.