Atlas Air Worldwide Holdings (NASDAQ:AAWW) is a cargo and passenger plane charter airline that provides wet and dry leasing services to customers such as commercial airlines, freight forwarders, and the U.S. military.
The company has recently faced headwinds as U.S. involvement in Iraq and Afghanistan ends and revenue in the American Military Charter segment of the business falls. Additionally, the slowing of airfreight attributed to the recent global financial crisis has put a damper on expectations.
Atlas has sought to counter some of these effects by boosting its dry leasing business with commitments from reliable airline customers for approximately 10 year leases. These customers include Emirates, TNT, and Aerologic.
Regardless of the perceived headwinds for the company, it has consistently generated large cash flows over the past five years or so. As a result, the company has been able to aggressively expand by purchasing nine Boeing 747-8F planes and six 777F aircraft utilizing free cash and debt. These planes are relatively new (less than 3-5 years old) and are estimated to have a useful life of many decades. Atlas currently has no plans to increase its fleet, though management has indicated a willingness to add to dry leasing if the right opportunity comes along.
There may be a much more valuable investment that Atlas can make now instead of buying new aircraft: buying its own shares. This is evident after taking a close look at Atlas' cash flows.
On the cash flows statement, the company conveniently breaks down its capital expenditures for us into two categories: "Capital Expenditures" and "Purchase deposits and delivery payments for flight equipment". Normally both of these would be combined on a cash flows statement, but this distinction essentially separates out maintenance capex (or what it costs to maintain current business) from growth capex (what it costs to grow the business).
We will set growth capex equal to the "Purchase deposits and delivery payments for flight equipment" figure while setting maintenance capex equal to the reported "Capital Expenditures" figure.
Here are these numbers from the cash flows statement for the past four years:
(Source: Company filings, chart created by author)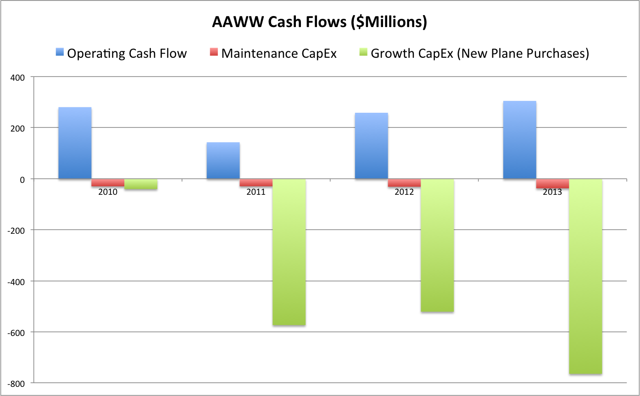 This will allow us to estimate a useful cash flow metric called Owner Earnings.
In 1986, before cash flows statements were a part of standard financial reporting, Warren Buffett revealed what he called Owner Earnings in his shareholder letter:
"These represent [A] reported earnings plus [B] depreciation, depletion, amortization, and certain other non-cash charges...less [C] the average annual amount of capitalized expenditures for plant and equipment, etc. that the business requires to fully maintain its long-term competitive position and its unit volume....Our owner-earnings equation does not yield the deceptively precise figures provided by GAAP, since [C] must be a guess - and one sometimes very difficult to make. Despite this problem, we consider the owner earnings figure, not the GAAP figure, to be the relevant item for valuation purposes...All of this points up the absurdity of the 'cash flow' numbers that are often set forth in Wall Street reports. These numbers routinely include [A] plus [B] - but do not subtract [C] ."
Referring to the description above, [A] plus [B] is generally provided for by the "Cash Flows from Operations" on a cash flows statement as non-cash charges are added back to earnings to arrive at this figure. It is typically [C] (also known as Maintenance capex) that is difficult to estimate, but Atlas' method of reporting greatly simplifies this. We will estimate [C] to equal the reported "Capital Expenditures" figure that accounts for the cost to maintain Atlas' existing fleet while separating out the cost of buying new planes for the fleet as "Growth capex".
We can thus calculate Owner Earnings as:
Owner Earnings = Cash flow from Operations - Maint capex
and arrive at the following:
(Source: Company filings, chart created by author)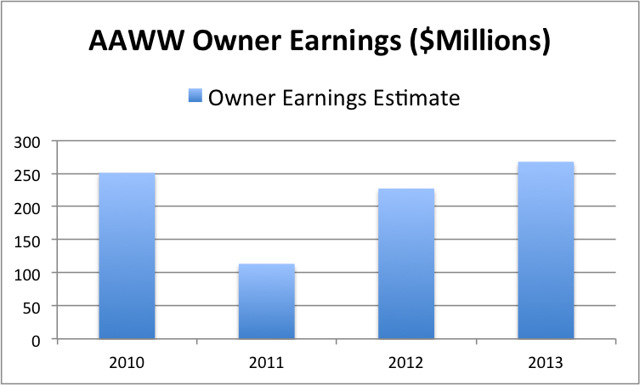 Owner earnings has averaged $214M annually over the past four years.
This estimate may seem controversial because the maintenance capex figures of $30M to $40M seems small, but we can check how precise this figure is by comparing it with average Depreciation & Amortization over this time frame using a method highlighted by Jae Jun of Old School Value. Depreciation & Amortization, though it has grown over these four years, has averaged about $66M which is about $30M more than our maintenance capex figure and so may lower our Owner Earnings estimate to about $180M.
So our estimate for four year average Owner Earnings is $180-$214M which are exceptional returns for a company trading at a market cap of $850M.
Rising depreciation & amortization is expected as the fleet size rises, so we can certainly expect an uptick in maintenance capex towards depreciation and amortization, but it will not severely lower Owner Earnings.
Atlas has had negative free cash flow [FCF] over the past four years because it has spent large amounts on 747-8F and 777F aircraft (which qualifies as growth capex). We can see this insight by acknowledging that:
FCF = Cash flow from operations - Maint capex - Growth capex
-or-
FCF = Owner Earnings - Growth capex
As these purchases slow or end, growth capex will approach zero and FCF will rise to near Owner Earnings. As FCF rises, it will be up to management to allocate this capital.
Recently, management has been using its $60M in its 2014 buyback authorization to repurchase shares according to an August 12th, 2014 presentation found on the investor relations page:
(Source: Atlas Air Investor Relations Presentations)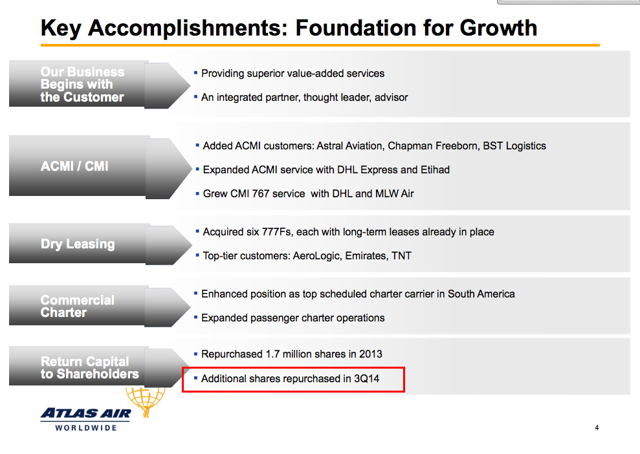 This is a welcome move as Atlas shares trade for a steep discount from tangible book value and a very low owner earnings multiple, but management could do much more. If management committed to spending a year's worth of owner earnings on repurchases at current levels, it could retire close to a whopping 25% of shares outstanding.
Conclusion
Atlas trades at an extremely attractive market price based on its owner earnings yield and price to tangible book ratio. Investors as well as management would be well served in considering aggressive purchases of its shares at these levels.
Whether it's a 747 or 777, it's doubtful that there are better investments out there for the company right now than repurchasing its own shares. When Atlas reports for Q3, we will find out exactly how aggressive Atlas has been at this task. If the company has only sparingly bought back shares, perhaps someone ought to lend CFO Spencer Schwartz a copy of William Thorndike's "The Outsiders".
Disclosure: The author is long AAWW.
The author wrote this article themselves, and it expresses their own opinions. The author is not receiving compensation for it. The author has no business relationship with any company whose stock is mentioned in this article.