In 2010, I posted blogs about stocks for the first time. In May 2010, my blogs started being published as articles and can be accessed here.
Ten of the articles in 2010 covered stocks where we had long positions. I tracked the performance of these ten stocks using the closing prices on the last trading day before each article was published and compared them to the recent closing prices on January 7, 2011.
The results were that 8 of the 10 stocks had gains ranging from 14.5% (NASDAQ:MSFT) to 105.3% (NASDAQ:TIII). You may never again see MSFT mentioned in the same sentence as TIII because of how different the companies are (most of my picks are relatively under covered micro-caps). The two losers (SORL down -9.2% and CJJD down -23.1%) both operate in China, but I did manage to pick two gainers in China (HOGS up +36.9% and PUDA up +74.6%). Overall, the average net increases for all 10 picks were up +35.9% as shown below: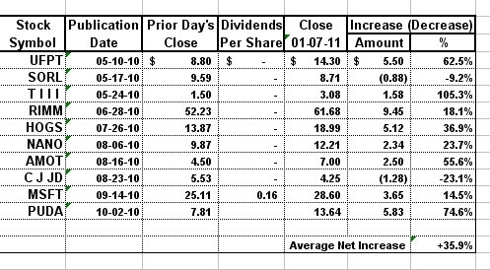 click to enlarge
For anyone scratching their head why I would pick a large cap like MSFT (based on my bias towards micro-caps), I just found the value at around $25, in relation to the Company's fundamentals, to be compelling. See our summary worksheet for Microsoft covering data for FYE June 2006-2010 and Q-1 FYE June 2011.
As the market went up in 2010, I raised cash in less liquid positions and felt MSFT would provide me with more liquidity and some minimal upside potential. Simply put, buying shares of Microsoft at around $25 (with a dividend yield of just over 2%) seemed more prudent than just leaving the money in a brokerage account money market fund yielding next to nothing. Additionally, if they pay a special one time cash dividend, it could turn into a pretty good investment (by my definition for this type of stock, a return of over +25%). So far, MSFT has been tone deaf to the special dividend idea, which has been raised by many analysts and shareholders because of their huge "horde of cash" that they just don't need.
We still have a long position in 8 out of the 10 stocks listed above, having sold out our positions in RIMM and HOGS. With RIMM, we ended up breaking even by selling our shares too early since the current stock price has climbed above our purchase price of $52.66. Despite the constant cries that RIMM's demise is right around the corner, the company reported two more quarters (periods ending August and November 2010) of excellent growth in sales (up +31.1% and +40.0%, respectively) and earnings per share (up +75.8% and 57.9%, respectively) after my June 28, 2010 article. While analysts have upped guidance for fiscal years ending in February 2011 and 2012, the estimated year over year EPS growth is a modest +5% for FYE 2012 (estimated EPS of $6.63) versus FYE 2011 (estimated EPS of $6.31), and therefore, the stock continues to trade at a meager P/E Ratio (around 10X). Needless to say, the analysts have not had a sterling track record in forecasting future operating results for RIMM. See our summary worksheet for Research in Motion covering data for FYE February 2006-2010 and Q-1,2 &3 FYE February 2011.
With HOGS, we sold our position at an average price of $20.75 as it climbed in October and November above my 2010 price target. However, I am looking to reestablish a position if the stock pulls back to the $15 to $16 area during a market correction (I keep mumbling to myself that stock markets do have corrections, even though I want it to continue going straight up).
Anyone desiring copies of our worksheets on any of the stocks mentioned above please let me know.
Disclosure: I am currently long: UFPT, SORL, TIII, NANO, AMOT, CJJD, MSFT and PUDA.