Company Overview
TECO Energy (NYSE:TE) is a holding company which owns TEC and TECO Coal.
TEC is a regulated Florida utility company with two business segments: Tampa Electric and Peoples Gas System (PGS). Tampa Electric services 700,000 customers in West Central Florida, with a net capacity of 4,668 MW. PGS, the gas division of TEC, is engaged in the purchase, distribution and sale of natural gas for almost 350,000 customers.
The following chart (created from data in the 2013 10-K) breaks down revenues and income from each segment: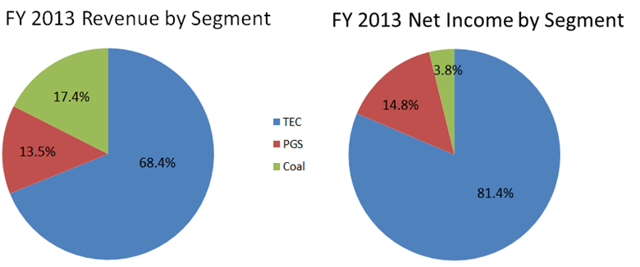 As you can see from the chart above, TECO's utility businesses generate most of the income attributable to shareholders. TECO Coal is currently pressured by lower sales volumes and lower selling prices due to global macroeconomic problems. Since 96% of net income was obtained from TEC, it is better to focus on TEC's operations and outlook than worrying about global coal supply and demand.
Tampa Electric
Tampa Electric is engaged in the generation, purchase, transmission, distribution and sale of electric energy. Tampa Electric's retail electric business is substantially free from direct competition with other electric utilities, municipalities and public agencies. The principal communities served are Tampa, Temple Terrace, Winter Haven, Plant City and Dade City. Tampa Electric has experienced 1.2% retail customer growth in FY 2012 and 1.5% in FY 2013. The following charts (taken from the 2013 annual report) show that areas served by Tampa Electric have consistent home sales and an unemployment rate below the national average:

Despite improving economic conditions and customer growth, Tampa Electric has posted declining revenues for four consecutive years. As you can see in the table below, Net Income and Megawatt-Hour Sales to customers has also been declining for three consecutive years.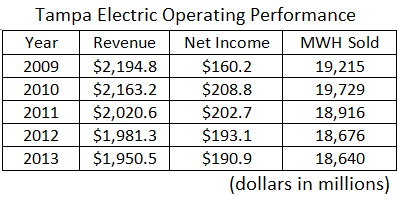 Compiled from data in 2013-10-K and 2011-10-K.
Tampa Electric sales to cyclical Industrial customers are actually increasing. However, this gain is offset by declining Residential and Commercial usage of electricity. In the 2013 10-K, Management identifies the source of the problem:
For the past several years, weather-normalized energy consumption per residential customer declined due to the combined effects of voluntary conservation efforts, economic conditions, improvements in lighting and appliance efficiency, smaller single-family houses and increased multi-family housing.
If customer acquisition cannot stem revenue declines, Tampa Electric can only raise revenues by charging customers more. However, Tampa Electric cannot change pricing without the approval of the Florida Public Service Commission (FPSC). Anyone unfamiliar with how utility rates are set should read this guide by Questar Gas. In September 2013, Tampa Electric negotiated rates with the FPSC for the following revenue increases:
$57.5 million effective Nov. 1, 2013
an additional $7.5 million effective Nov. 1, 2014
an additional $5.0 million effective Nov. 1, 2015
an additional $110.0 million effective Jan. 1, 2017 (when Tampa Electric's Polk Power Station expansion goes into service)
Tampa Electric cannot file for additional rate increases until 2017 unless its earned Return on Equity (ROE) were to fall below 9.25%. If its earned ROE were to rise above 11.25%, any party to the agreement other than TEC could seek a review of Tampa Electric's base rates. In the Q2 2014 conference call, management noted that ROE for Tampa Electric was at mid-point, so rates are unlikely to change in either direction soon.
In conclusion, Tampa Electric is experiencing customer growth greater than 1% annually. However, Tampa Electric customers are being more efficient in their electricity consumption. As a result, Tampa Electric has posted consecutive declines in revenue and net income. FY 2014 will experience revenue growth due to the $57.5 million revenue increase approved by the FPSC. The next sizeable increase in revenue will come in 2017. ROE for Tampa Electric is at the midpoint of its range, so further rate changes are unlikely.
Peoples Gas System (PGS)
PGS is engaged in the purchase, distribution and sale of natural gas for residential, commercial, industrial and electric power generation customers in the state of Florida. Gas is delivered to the PGS system through three interstate pipelines. PGS does not engage in the exploration for or production of natural gas. PGS operates a natural gas distribution system that serves almost 350,000 customers.
In 2013, the total throughput for PGS was almost 1.7 billion therms. Of this total throughput:
61% was consumed by Industrial and power generation customers
26% by commercial customers
9% by off-system sales customers
4% by residential customers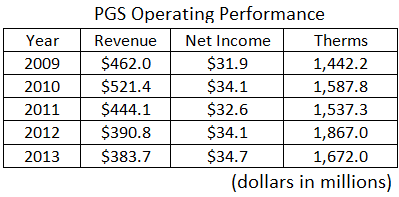 Compiled from data in 2013-10-K and 2011-10-K.
As you can see from the table above, PGS has demonstrated no trend in its revenue, net income or therms of natural gas sold. Both the revenue and therms numbers are affected by off-system sales to wholesale suppliers of natural gas. PGS cannot substantially grow net income because it is legally forced to maintain a ROE between 9.75% and 11.75%. This range was triggered in the second quarter of 2010 when PGS' ROE exceeded 11.75%. As a result, PGS had to refund $3.0 million to customers in the form of a credit on customer bills in 2011.
TECO Coal
TECO Coal operates surface and underground mines as well as coal processing facilities in eastern Kentucky, Tennessee and southwestern Virginia. TECO Coal produces, processes and sells coal of metallurgical, PCI, thermal and industrial grades.
Thermal Coal is primarily sold to utilities and industrial customers throughout the eastern part of the United States. Thermal coal accounted for approximately 46% of 2013 coal sales volume. Metallurgical and PCI coal is primarily sold to steel companies and coke plants in North America and Europe. Metallurgical, PCI and industrial stoker coals accounted for approximately 54% of TECO Coal's 2013 coal sales volume.
As of December 31, 2013, TECO Coal owned or leased mineral rights to approximately 298.2 million tons of proven and probable coal reserves. Of the total proven and probable reserves, approximately 80% are low sulfur reserves with high BTU content. Total proven and probable reserves are expected to support current production levels for more than 20 years.
In the 2013 10-K, management declared it was attempting to sell TECO Coal:
The coal business is a commodity business, which, by its nature, is cyclical with earnings volatility, which is not the earnings profile we believe our investors seek. If an opportunity to sell TECO Coal presents itself, we would consider such an offer. In the event of a sale of this business, we could use the proceeds to pay for a portion of the acquisition of NMGC, or repay parent debt.
However, in the Q1 2014 Conference call (NYSE:CC), management noted the market was weighing down on TECO Coal's valuation:
It's a soft market but there have been people that are interested. We still see that in the market. We have not yet seen anybody step up and want to sign on to a deal at this point that's good for them and good for us, but we continue to see interest but it's reflective of the soft market.

Compiled from data in 2013-10-K and 2011-10-K.
As you can see from the table above, net income and sales volumes have been declining since 2010. In FY 2013, the selling price per ton practically equaled TECO's cost per ton. Net Income for 2013 was boosted by a one-time $3.6 million income tax benefit. TECO Coal is projected to weigh down FY 2014 earnings by $0.05 per share as the price per ton is expected to decline to $80 from $85.
New Mexico Gas Company acquisition
On May 28, 2013, TECO announced the purchase of NMGC, a regulated natural gas distribution utility, for $950 million. NMGC serves approximately 509,000, primarily residential, customers throughout New Mexico. The majority of its customers are located in the Central Rio Grande Corridor region, which is one of the fastest growing regions in the state. The company serves approximately 60 percent of the state's population with customers in 23 of New Mexico's 33 counties. (TECO News Release)
NMGC earned Net Income of $23.2 million and EBITDA of $86.0 million for the 12-month period ending 1/31/13. NMGC is currently growing 1% annually. As the economy improves, management expects the growth rate to improve to 1.5%.
In the Q1 2014 CC, management noted some of the synergies arising from the acquisition:
We did see synergies from the addition of New Mexico Gas to the portfolio not only in New Mexico where we've identified about 99 jobs, about 13% of that workforce that we think will be phased out over three years, but we also see other synergies across the entire company from spreading our fixed cost associated with HR, with IT, with procurement of all of those central service areas with the TECO Vitol which is in sales right now.
Valuation

Source: Thompson Reuters
TE is cheaper than its competitors in terms of its Price to Book, Price to Cash Flow and Dividend Yield. However, there are obvious reasons for why the market places a lower value on TE. Its Sales, EPS and Dividend growth rates lack sector competitors by an extreme margin.
TE has failed to grow its business compared to its competitors due to its high dividend yield. At its current payout, TE annually returns $0.88 per share to its investors. The trailing twelve month P/E of 0.97 results in a payout ratio of 90%.
On December 31, 2010, TE closed trading at $17.80 and on August 26th 2014, TE closed trading at $17.68. After dividends of $2.42 are considered, holding TE has provided an investor an annual return of 3.52%. If this return is compared to the Utilities Select Sector SPDR ETF (NYSEARCA:XLU) (which has a beta of 0.37 compared to TE's 0.60), we can have a better understanding of TE's significant underperformance. On December 31, 2010, XLU closed at $31.3 and on August 26th 2014, XLU closed at $42.23. After dividends of $4.98 are considered, holding XLU in the same time period has provided investors an annual return of 13.85%. By diversifying and passively investing in XLU, investors would have benefited from lower volatility and 3.9x higher return.
In Conclusion
Tampa Electric and Peoples Gas System are experiencing negligible or negative growth. The income from these segments cannot even be invested elsewhere because almost all income is returned to shareholders. TECO Coal is expected to weigh down on profits or could be sold off at a low valuation. In order to grow TE, management decided to pay more than 10x EV/EBITDA to acquire a company that is geographically distant from existing operations. While there could be some synergies, NMGC's projected growth rate of 1.5% is very disappointing. I expect TE shares to underperform peers over the next 18-30 months and investors would benefit from moving their capital to other utilities or XLU.
Disclosure: The author has no positions in any stocks mentioned, and no plans to initiate any positions within the next 72 hours.
The author wrote this article themselves, and it expresses their own opinions. The author is not receiving compensation for it (other than from Seeking Alpha). The author has no business relationship with any company whose stock is mentioned in this article.