Scotiabank's (NYSE:BNS) Q3 earnings were slightly disappointing and indicated that the bank is facing some near-term challenges across most of its segments. Adjusted EPS of $1.41 was in line with consensus, but was helped by an outsized gain from securities. Dividend of $0.64 met expectations, implying a 47% dividend payout. Overall, Canadian P&C growth is challenged due to higher PCL and OPEX, while international growth is under pressure due to declining credit market and interest rate cut in Latin America. Underlying earnings look weak post quarter and investors should remain cautious on the stock.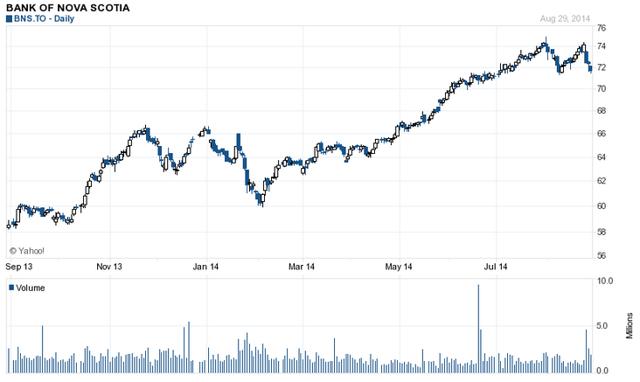 Canadian P&C
Modest earnings growth of +3% for the Canadian P&C was below consensus expectations and driven by higher expenses. On the volume side, growth was in line with residential, excluding Tangerine +3% y/y. In addition, higher cards and auto lending activities lifted the total personal loan volume to +5% y/y in the quarter. Management expects the softer mortgage trend to weigh in on personal lending heading into next year. On the other hand, commercial lending was strong, +7% y/y.
Wealth and Insurance
Earnings of $312m (+1% y/y) included the loss from CI. Excluding CI, earnings would have been +6% y/y. Asset growth is solid with AUA +17% and AUM +22%, which offset the higher expenses. I see earnings in the wealth segment improving in the coming quarters driven by organic asset growth.
International Banking
International was an area of weakness in the quarter with an unaspiring +3% net profit growth due to higher PCLs and margin pressure, a contrast to the solid results from Q2. Revenue trend in Latin America and Asia was soft overall and NIM will likely remain under pressure due to interest rate cuts in Chile, Mexico and Peru.
Volume growth, however, remained solid with +12% y/y growth driven by residential (+11%), business (+12% y/y) and personal (+11% y/y). Both Latin America and Asia saw improvement in loan growth while the Caribbean continues to suffer.
Wholesale
Earnings of $408m (+8% y/y) were stronger than consensus but did not dramatically outperform. Underwriting and advisory revenue was $217m, an outsized gain from Q2's $160m, and that offset the weakness in trading revenue ($263m, -17% y/y). The soft equity-trading revenue of $19m (vs. $39m in the prior quarter) was the culprit behind the weak trading business.
Overall, BNS reported a slightly disappointing quarter due to the weakness in both Canada and abroad. Under the best-case scenario, Canadian P&C could grow along with the overall market and international P&C seeing slight recovery in the future quarters. The bank's current excess capital provides comfort and it still has the most attractive global platform among all Canadian banks, in my view. But the near-term challenges are keeping me on the sideline for now.
Disclosure: The author has no positions in any stocks mentioned, and no plans to initiate any positions within the next 72 hours.
The author wrote this article themselves, and it expresses their own opinions. The author is not receiving compensation for it (other than from Seeking Alpha). The author has no business relationship with any company whose stock is mentioned in this article.