AXT Inc. (NASDAQ:AXTI) –
AXT designs, develops, manufactures and distributes high-performance compound and single element semiconductor substrates comprising gallium arsenide (GaAs), indium phosphide (InP) and germanium (Ge) through its manufacturing facilities in Beijing, China. In addition, AXT maintains its sales, administration and customer service functions at its headquarters in Fremont, California. The company's substrate products are used primarily in lighting display applications, wireless communications, fiber optic communications and solar cell. Its vertical gradient freeze (VGF) technique for manufacturing semiconductor substrates provides significant benefits over other methods and enabled AXT to become a leading manufacturer of such substrates. AXT has manufacturing facilities in China and invests in five joint ventures producing raw materials.
The company experienced rapid growth during the internet "boom" years from 1998 to 2000, with sales growing steadily from $49 million in 1998 to $121.5 million in 2000. Thereafter, annual sales spiraled downward and bottomed out at $26.5 million in 2005. Large losses were recorded in each year from 2002 through 2005. Thereafter, operating results improved, with sales climbing each year until peaking at $73.1 million in 2008, and then falling back down to $55.4 million 2009.
Quarterly sales bottomed out in the first quarter of 2009 (low point of the recession) at $7.7 million, and have increased sequentially in each quarter thereafter, and totaled $26.8 million by the third quarter in 2010. The company returned to profitability in the third quarter of 2009 and net income has been growing with sales. Analysts are forecasting sales of $97.5 million for 2010 and $123.9 million for 2011. Current earnings per share estimates call for $0.60 in 2010 and $0.70 in 2011, which are up from small losses in the years 2008 (-$0.03) and 2009 (-$0.06). Generally, analysts having been raising their forecasts and management has been increasing its guidance in recent quarters. The company has a solid balance sheet with cash and equivalents of $41 million, total liabilities of just $12.6 million, and shareholder equity of $113 million at September 30, 2010.
With total diluted shares outstanding of about 32.5 million shares the current market cap is around $340 million. Operating margins have improved nicely after the first quarter in 2009. See our summary worksheet for AXT Inc. showing fundamentals and metrics for the 5 calendar years 2005-2009, and the first three quarters in 2010.
Besides a much stronger economy, the company appears to be benefiting from a number of managerial changes made in 2009: including the Board appointing Dr. Morris S. Young as the chief executive officer replacing Dr. Philip C.S. Yin, who resigned as chairman of the Board and chief executive officer on March 17, 2009. Additional executive changes were made in 2009 and continuing to date, including the termination of the Vice President of Global Sales and Marketing on December 31, 2010, "as a result of a change in the organizational structure of the company and the elimination of that position with the company".
Recently, the stock price reached a multi year high and closed at $10.46 on January 7, 2011, which is near the high end of its 52 week range of $10.74 - $2.65. We established our long position from October 29 through November 30, 2010 at an average cost of $8.08. We would look to buy more shares if the stock pulls back to the $8.00 to $8.50 range. My target price for AXTI is currently $15 sometime in 2011, but this can be revised depending on the company's future operating results.
A potential negative is that Bookings for Semiconductor Equipment Manufacturers, while still healthy, have been trending down in recent months (October & November 2010) from the highs reached in the months of July and August 2010, as reflected in the chart below: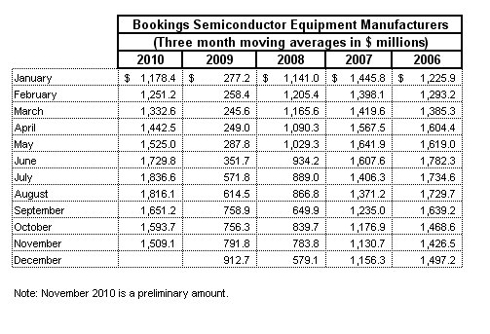 click to enlarge
Calamp Inc. (NASDAQ:CAMP) –
CalAmp Corp. develops and markets wireless communications solutions that deliver data, voice and video for critical networked communications and other applications. The Company's two business segments are Wireless DataCom, which serves utility, governmental and enterprise customers, and Satellite, which focuses on the North American Direct Broadcast Satellite market.
The company has had a bumpy history since the fiscal year ending February 2007, when they reported sales of $211.7 million and net income of $1.5 million ($0.06 per share). CAMP's net income peaked in fiscal 2006 at $16.5 million ($0.70) before a product performance issue occurred, which adversely impacted operating results and financial condition for years from 2007 to date. A brief description of the problem is as follows:
During 2007 a product performance issue arose involving certain DBS equipment manufactured by the Company for a certain customer. After examining the various component parts used in the manufacture of these products, it was determined by the Company that the performance issue was the result of a deterioration of the printed circuit board (PCB) laminate material used in these products. In fiscal 2008, the Company recorded a charge of $17.9 million for this matter. In addition to returning product, in May 2007 this DBS customer put on hold all orders for CalAmp products, including newer generation products, pending the requalification of all products manufactured by the Company for this customer. In December 2007, the Company entered into a settlement agreement with this customer. Under the terms of the settlement agreement, the Company agreed to rework certain DBS products returned by the customer through March 14, 2009. The Company also agreed to provide extended warranty periods for workmanship (18 months) and product failures due to the issue with the PCB laminate material (36 months). In January 2008, the customer requalified CalAmp's designs for the affected products and in May 2008 the Company resumed product shipments to this customer.
As a result of this problem, sales plummeted to $141 million (down -33.4%) in the fiscal year ending February 2008 and declined further to $98.4 million (down -30.2%) in the fiscal year ending in 2009 before rebounding to $112.1 million (up +14.0%) in fiscal 2010. Large net losses were reported fiscal 2008 (-$82.4 million) and fiscal 2009 ( -$49.7 million) and the net loss for the fiscal year ending in February 2010 declined to -$10.9million. A large portion of the losses involved impairment charges and writing off Goodwill & Other Intangible assets. These intangible assets on the balance sheet declined from $108.6 million at the end of February 2007 to $52.9 million the end of February 2008 and then to $6.5 million at the end of February 2009.
In March 2008, Richard Gold was appointed President and Chief Executive Officer of CAMP. In April 2010, he relinquished the title of President but remained the CEO, when Michael Burdiek was promoted to President and Chief Operating Officer. Burdiek joined the Company as Executive VP in June 2006 and became the COO of CAMP in June 2008. I believe both Gold and Burdiek have successfully engineered a turnaround from the disastrous situation facing CAMP in 2007 (in conjunction with the deep 2008-2009 recession that followed), which could have resulted in CalAmp going under as a company. Improved profitability (in this case reduced losses) has been reported in the last 5 quarters ending with November 30, 2010.
The company has also been able to improve its balance sheet during the turnaround period. At the end of February 2008 they had cash and equivalents of $6.6 million, Trade Accounts Receivable of $20 million, Inventory of $25.1 million (which probably included a lot of un-salable and obsolete merchandise) and their total Liabilities amounted to $69.6 million. By November 30, 2010, their cash and equivalents were $4.3 million, Trade Accounts Receivable $13 million, Inventory was $9.8 million and their total Liabilities decreased by $34.3 million (from $69.6 million at February 28, 2008 to $35.3 million at November 30, 2010). Operating cash flow has been positive after the fiscal year ended February 28, 2008 because of the write-offs of "garbage assets" (goodwill, intangibles, obsolete inventory and other similar assets). In order to help finance their anticipated future growth, CAMP recently took on some addition debt, which is not reflected on the November 30, 2010 balance sheet. ("On December 22, 2009 and January 15, 2010, the company raised a total of $5,000,000 from the issuance of subordinated debt (the "Subordinated Notes"), including $325,000 of Subordinated Notes that were sold to three investors affiliated with the company. The Subordinated Notes bear interest at 12% per annum and have a maturity date of December 22, 2012.")
See our summary worksheet for CalAmp Corp. showing fundamentals and metrics for the 5 fiscal years ending February 2006-2010 and the first three quarters in fiscal 2011.
In the past, management had provided ebullient guidance about returning to an annualized revenue rate of over $200 million, but such talk has been reined in as the company continued to experience delays and disappointments in their "Satellite" segment business, while the "Wireless" segment business continues to show nice year over year and sequential gains. In order to get a better understanding of the opportunities and challenges facing the company in the future I suggest interested investors read the "Earnings Call Transcript at Seeking Alpha" covering the recent quarter and nine months ended November 30, 2010.
At the January 7, 2011 closing price of $3.01, CAMP has a current market cap of approximately $82 million based on 27.3 million diluted shares outstanding at November 30, 2010. I believe that the company could trade in the $5 to $6 range later in 2011 if they can continue to successfully implement the strategies of the business plan as laid out in the recent conference call and press releases.
Disclosure: I am currently long: AXTI and CAMP