BMO (NYSE:BMO) soundly beat Q3 expectations with adjusted EPS of $1.73 (+4% y/y) vs. consensus of $1.66. Once again, the beat was aided by favorable credit and lower PCL. On the individual segments, wholesale earnings were +14% y/y and Canadian banking was +8% y/y. The US remains a challenge with only +1% y/y growth. Dividend of $0.78 came within expectations and translates to a 45% payout.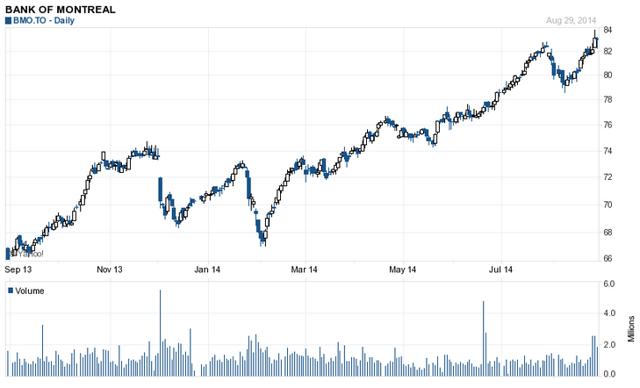 BMO's Q3 results was fairly balanced across all business segments, with Canadian P&C and wholesale particularly standing out in that Canadian P&C outperformed most of its peers with an 8% y/y growth profile. However, I am staying on the sidelines for now given the ongoing challenges from the US, which I expect to continue to weigh in on earnings.
Canadian P&C
Earnings +8% outperformed most of its peers, which is one of the major drivers behind this quarter's EPS beat. However, I expect growth rate to moderate to mid-single digit heading into next year given the overall macro environment. Revenue growth of +6% y/y was driven by solid volume and stabilizing margins and PCL. Even though there was some extra spending, BMO continues to exhibit operating leverage.
Volume growth is still strong relative to other banks, with loan growing at 7% y/y. Both residential and business loans +9% while personal loans +1%. Domestic NIM was +1bps q/q to 2.59%.
US P&C
US P&C was relatively weak in the quarter with 1% growth driven by lower than expected margins weighing on growth. The uptick in PCL is a slight concern, along with the moderate increase in expenses.
Volume growth was a bit light this quarter with commercial +2% (after +8% in Q2). Residential volume declined -2% y/y, while C&I +18% y/y and indirect auto +15% y/y. NIM -3bps q/q to 3.73% and management expects 2-4bps q/q contraction going forward. However, I still need to see a sustained commercial volume growth to be feel comfortable about BMO's ongoing prospect given that the US is a far more competitive environment than Canada.
Wholesale
Wholesale had an overall healthier quarter compared with the rest of the group with $306m in earnings (+14% y/y). Trading revenue of $370m was slightly weaker than prior quarter ($378m), but advisory and underwriting stood out ($238m vs. $149 in Q2) to offset that weakness. Overall, a solid quarter though not dramatically outperforming vs. the rest of the group.
To conclude, BMO's Q3 was decent compared with the other Canadian banks and we could see a stabilizing Canadian P&C, while the US could continue to be a challenge given the volume headwind we have been seeing over the past several quarters. I am remaining on the sideline until I see improvement in US P&C volume. For now, my pick remains TD (NYSE:TD) among the Canadian banks.
Disclosure: The author has no positions in any stocks mentioned, and no plans to initiate any positions within the next 72 hours.
The author wrote this article themselves, and it expresses their own opinions. The author is not receiving compensation for it (other than from Seeking Alpha). The author has no business relationship with any company whose stock is mentioned in this article.