Business Overview
Michael Kors Holdings Limited (NYSE:KORS) is engaged in developing its namesake global luxury brand through designing, marketing, distributing, and retailing its apparel and accessory products. The company operates through its three primary segments: retail, wholesale, and licensing. Figures below have been taken from the 2014 annual report.
As of year end 2014, its retail segment operates through selling its own products in company owned stores in 288 stores in North America and 117 stores internationally. The wholesale segment sells to department store partners (such as Holt Renfrew and Saks Fifth Avenue) and holds 2,496 North American and 1,232 international store doors. Licensed products include Michael Kors watches and jewelry produced by Fossil, eyewear produced by Marchon (Luxottica after 2015), and fragrances by Estee Lauder.
The majority of revenue is derived from North America, where the company originated in 1981, followed by Europe and Japan. Licensing in Europe began in 2014, and retailing in Japan began in 2011.
Revenue breakdown by geography and segment for fiscal 2014 is displayed below.

Source: Created by author
Valuation Summary
As of market close on August 29, 2014, KORS trades at $80.12. This represents a 21% discount off its 52-week high of $101.04 that it hit earlier in 2014, and has decreased 1.3% in 2014 overall. The primary reason for this underperformance (the S&P 500 has jumped 8.4% YTD) is due to increased concerns over margins and over saturation of the brand after its release of its Q1 2015 financials.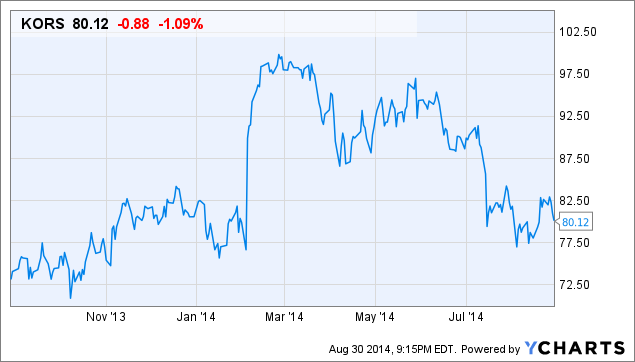 To evaluate the impact of these concerns, a discounted cash flow model has been created to measure the intrinsic value of KORS.
The beta of 1.32 was calculated through regressing the weekly returns of KORS against the S&P 500 since its IPO in late 2011. The WACC of 10.12% was then calculated through using the CAPM model, as shown below.

Source: Created by author
Projections of revenue was segregated by geography and segment. Relatively conservative growth rates were applied, particularly for the later years. Licensing revenue was projected to grow due to an increased emphasis on growing its sunglasses and watch product lines, as indicated in recent Q1 2015 management earnings calls. COGS was projected to sharply increase from 2014 levels, due to management indicating it was due to a product shift to more profitable products. In the long term, it was projected to decline through economies of scale and realization of efficiencies. Due to the need to maintain a larger distribution network and a higher demand of administration as the company expenses, operating expenses were also projected to increase as a percentage of revenue.
Management has indicated that its previous EBITDA margins of over 30% is unsustainable. This is reasonable considering its rapid expansion, and in these projections, this has been projected to decrease from 29% in 2015 to under 27% in 2019.

Source: Created by author
Net working capital changes was projected through an analysis of KORS' cash conversion cycle, also shown below. Depreciation as a percentage of revenue was projected to increase due to a high level of investment in capital expenditures in early years. Capital expenditure projections were made through a combination of management guidance and analysis of store openings multiplied by cost per store opening.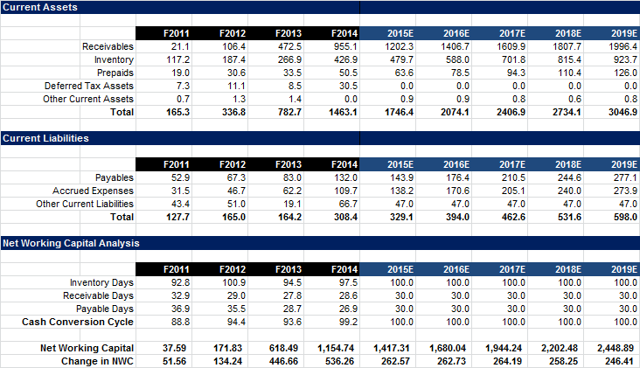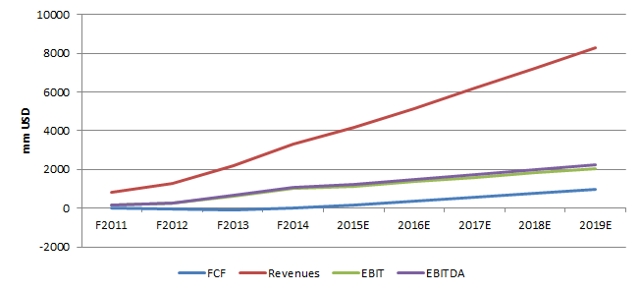 Source: Created by author
The EV/EBITDA method was selected to calculate terminal value, as the EBITDA of KORS has historically been a strong indicator of its financial success and it is a commonly used valuation multiple in the industry. Despite historically trading at a median EV/EBITDA of 20.7x, and currently trading at 13.0x, an industry average of 11.6x was selected to arrive at a share price of $97.25, or an upside of 21.4% from its current price.

Source: Created by author
A universe of comparables (luxury brands that operate in similar geographies as KORS) was selected, and their valuation multiples were compared to KORS. In general, KORS trades in line with the median multiples.
However, upon reviewing the operating metrics for KORS, it is clear that it should be trading at a premium to its industry peers. Its EBITDA and income margins are far above those of its industry peers, while maintaining a strong balance sheet with zero long-term debt. Its growth has also been exceedingly strong compared to its competitors. Overall, a return to a 15-17x EV/EBITDA trading range in the short term is not unreasonable.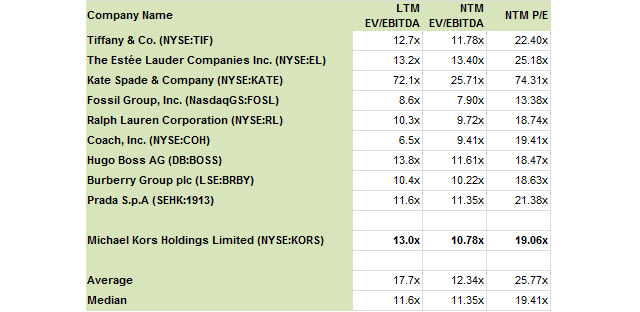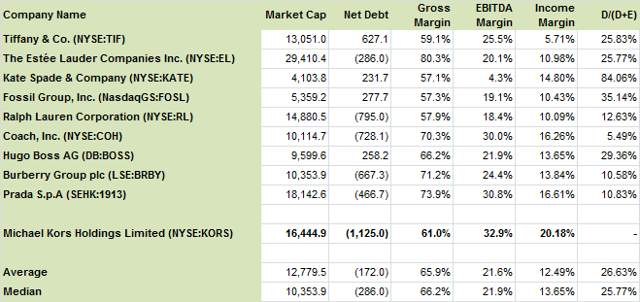 Source: Created by author
Potential Catalysts
In this section, we outline a few catalysts that will likely be realized that has not been directly factored into the valuation above. All of these would likely bolster the top line growth for KORS.
Opportunities in the Orient
KORS has experienced tremendous success in migrating its style over to Japan, where it has generated $38.6M in revenue in its fifth year in the country. Despite this, there is clearly further room to grow, as management indicates in the Q1 2015 earnings call that they currently operate 112 stores in the Far East region, while believing that there could be 200 in the long term. Brand awareness was discussed in the Q4 2014 earnings call, and despite a 89% in North America, there is significant potential with a 32% mark in Japan and a 2% mark in China.
Growth of the Watch Segment
Licensing has been a focus of management in recent quarters, in an attempt to push its luxury watch, jewelry, and fragrance lines. It has worked, as KORS has grown to become a major watch company with international exposure, indicating its decision to partner with Fossil has been a correct decision. Management has stated that they believe they are one of the top 10 watch companies in the world. Further growth can be expected in the near future with new accessory stores being built in 2015, and a new line of luxury eyewear from a 10-year exclusive deal with Luxottica.
Development of Men's Wear
Historically, KORS has been known for its products for women, and not for men. In contrast, a number of their close competitors derive a high amount of their sales from menswear. According to management, it has been stated to be a $1B opportunity, split between sportswear, leather goods, and watches. In particular, the watch opportunity would link with the point above with licensing growth.
Launch of E-Commerce
A major trend for fashion retailers nowadays is to engage consumers online, primarily due to a severe rise in connectivity of the population through laptops, tablets, and predominantly, smartphones. This has been discussed in a number of sources, such as SphereLife and LuxuryDaily. KORS is taking a step in the right direction in launching their own e-commerce platform in the fall of 2014, which has received a significant amount of investment thus far. Nevertheless, it is certainly a tool that has proved well worth the investment for countless other companies, and will no doubt provide a strong support for KORS' current operations.
Conclusion
It is reasonable to state that the recent drop in the share price of KORS is unwarranted considering its overall financial and operational success. The company has been able to experience tremendous growth each year despite remaining profitable, and there is no indication that the opposite should become true. Shares of KORS have a wide variety of reasons to rise in the near future, and we urge you to perform your own due diligence on the company while the price is still at a discount.
Disclosure: The author is long KORS.
The author wrote this article themselves, and it expresses their own opinions. The author is not receiving compensation for it (other than from Seeking Alpha). The author has no business relationship with any company whose stock is mentioned in this article.