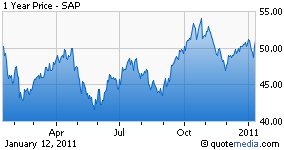 By Tony D'Altorio
German software company SAP ADR (NYSE:SAP) struggled with management issues throughout 2008 and 2009. Naturally, that uncertainty affected its customers and employees. So in February 2010, the newly appointed co-CEOs – Bill McDermott and Jim Hagemann Snabe – vowed to change things.
In their favor, they actually do seem to have boosted employee performance and morale. But placating shareholders has proved a far less simple challenge to master. And if they can't master it soon, the company might fight itself under new management once again.
Is SAP a Takeover Candidate?
SAP has to convince its three founders – with their combined 24% of shares – about SAP's stand-alone strategy. Otherwise, it could become a takeover candidate.
Gartner Research Director Thomas Otter says:
2011 is a crunch year for the management. SAP has significantly improved as a company when compared with one year ago. But what I don't know is whether this will be enough to keep the founders happy.
SAP's stock price trailed its archrival's, Oracle (NASDAQ:ORCL), for yet another year. And it received another blow recently when a court ruled it had to pay interest on top of the $1.3 billion already awarded to Oracle in a copyright infringement case. Allegedly, several emerging market sovereign wealth funds have recently made inquiries about SAP. Specifically, they asked if Klaus Tschira, a founder who owns about 8.4% of the stock, would want to sell his stake.
The answer seems to be no… for now. But that might change if SAP doesn't start performing to satisfaction soon. After all, he and the other two founders are all over 65 years old. They may decide selling to a strategic partner would be the best way to secure SAP's future, and their own.
Helmuth Gumbel, managing partner at IT research firm Strategy Partners, put it this way: "Will the current management be able to prove it can reinvent SAP [without a partner]? I don't see the visionary who could meaningfully drive such a restart."
Possible Buyers for SAP
Speculators believe a takeover is inevitable. But while SAP's market cap of about $60 billion looks attractive, it excludes all but other large technology companies from biting.
Hewlett-Packard (NYSE:HPQ) currently leads the list of potential buyers. The company is even now looking to expand its reach into software. Fueling speculation further, Leo Apotheker became HP's CEO back in September. Forced out as SAP's chief executive in February 2010, he now wants to make software a priority.
The aforementioned Gunbel says, "For the three founders, HP would be a good exit." But whether Apotheker wants to help a company that booted him remains uncertain.
Additionally, with a market valuation just a bit over 50% higher than SAP, HP would face significant risks absorbing the German software giant. It doesn't have the same size as other potential suitors like IBM (NYSE:IBM) and Microsoft (NASDAQ:MSFT).
IBM, however, turned its back on the applications business in the 1990s, showing little indication of returning. And while Microsoft did attempt to acquire SAP about three years ago, it is now focused on beating out Oracle and Apple (NASDAQ:AAPL) in the mobile and online markets.
SAP's Future
If some company does mount a takeover for SAP, it won't be at bargain basement prices. The company's stock still trades at about 20 times forward earnings. That could discourage potential suitors, since comparatively speaking, Oracle's sits in the mid-teens.
So like it or not, the company's fate rests on the current CEOs, who are busy selling the idea that SAP has already reinvented itself. Snabe and McDermott are moving it away from its traditional desktop software sales for business processes like personnel planning and accounting systems. Instead, they're trying to broaden SAP's customer base by expanding into products for mobile devices.
To do this, they intend to introduce a line of new products. That especially includes the $5.8 billion purchase in May 2010 of database and mobile software specialist Sybase. But the deal raised eyebrows at the time and continues to do so. To date, these initiatives have failed to bring significant growth to SAP.
Therefore, its new products need to start making a noticeable impact on revenues. Soon. The clock is ticking on McDermott and Snabe already… and nobody knows how much time it has left.
Disclosure: Investment U expressly forbids its writers from having a financial interest in any security they recommend to our subscribers. All employees and agents of Investment U (and affiliated companies) must wait 24 hours after an initial trade recommendation is published on online - or 72 hours after a direct mail publication is sent - before acting on that recommendation.