On February 28th, I wrote an article entitled Apple Is Building A Payments Platform To Rival Paypal. This piece, along with a followup penned on March 2nd, relied on a combination of patent trends and leaky insider gossip. Since then, evidence in favor of the "iPay" thesis has continued to mount.
Again, patents are at the forefront. "Apparatus and methods for secure element transactions and management of assets" (US Patent Pub# US20140222688 A1) describes the backend management system for a mobile wallet containing coupons, debit card information, and virtual currencies that is NFC, QR and Cloud compatible. There's also the ability to handle large spikes of information, the kind of capability a large scale retailer might want in place for the holiday season.
Fig. 1: Graphical Representation Of The Proposed Payments Network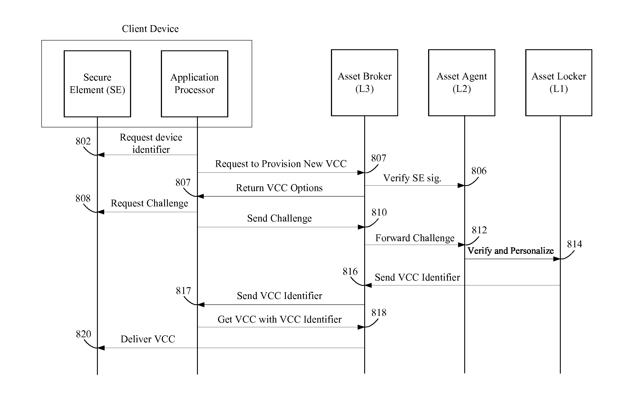 From the patent summary:
Customers and merchants generally desire convenient and secure means for performing financial and other related transactions. Assets such as credit cards, debit cards, pre-paid cards, gift cards, coupons, etc. are all examples of the increasingly "virtualized" nature of currency. Specifically, rather than actually exchanging physical currency or physical coupons for goods and/or services, the transaction is performed with, e.g., an account number or "proxy" account number (e.g., one created for purposes of processing the transaction at the point-of-sale, yet which is not an actual credit or debit account number), and the funds are credited/debited electronically.
What Apple (NASDAQ:AAPL) is proposing here involves doing away with paper, plastic, and i.e. physical cash, plastic cards and other revealing account information in favor of a ubiquitous, seamless and secure system involving a mobile device with a secure element, biometric authentication and a password. In short, its an iTunes account for your money that also stores your coupons, discount cards and rewards points.
Secure Element
As you can see in Figure 2 below, Apple's secure element is similar to an NFC SoC, with its own processor, RAM and persistent storage, but with a locked down OS that cannot be directly controlled by the host device (even with root privileges), hardware resistance measures to guard against physically intrusive attacks, and a built-in root of trust that can hide communications even from the OS itself. In Android-based phones, the Embedded Secure Element is coupled to the NFC controller, which appears to dovetail nicely with the leaked photos purported to be of the iPhone 6 PCB board that appeared on NWE several days ago.
Obviously well informed, my contact tells me in passing that the iPhone 6 would, as I announced in early March, identified with the reference N56 or N61 but also that its motherboard is equipped with an NFC chip (or U5301_RF U5411_RF ) and a WiFi 820.11a / c module.
Readers should note that the fixing points of the top of the printed circuit correspond perfectly with those who were machined in an earlier leak of a (again, presumed) iPhone 6 case released by Macfixit.com.au.
Fig. 2: Client Device With Secure Element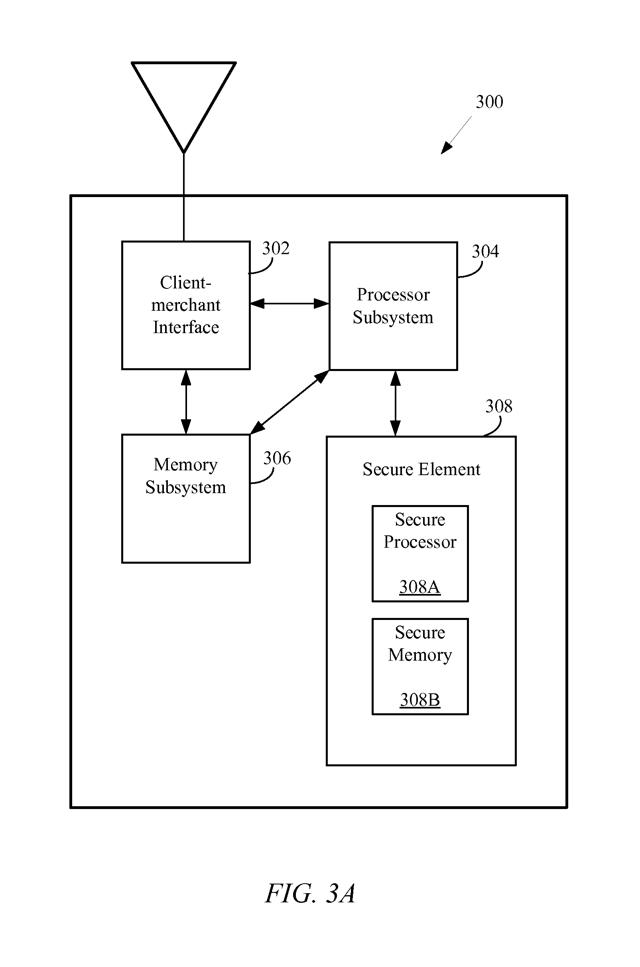 Fig. 3: Merchant Device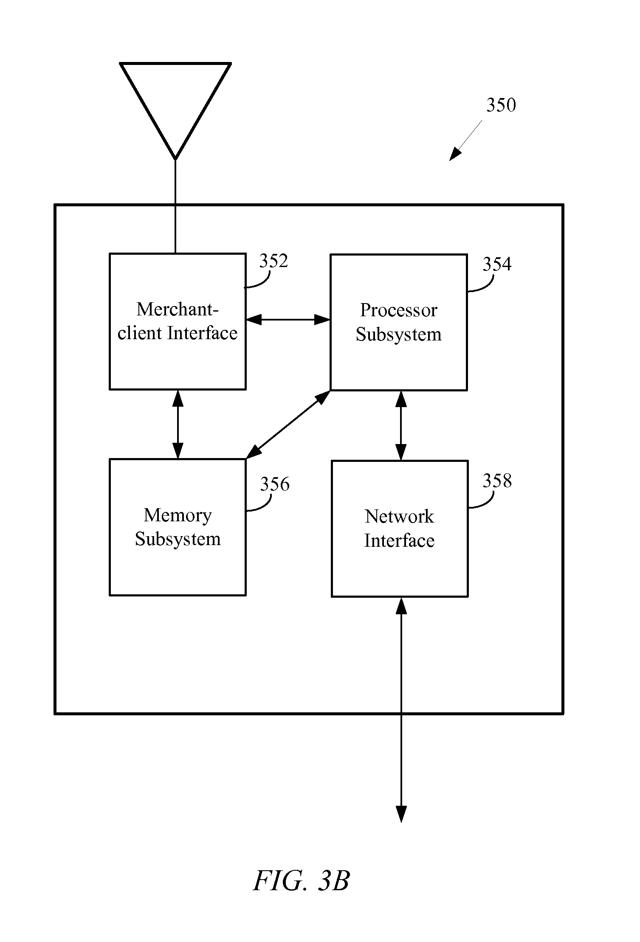 Conclusion
Silicon Valley as a group is rapid prototyping infrastructure that will make existing financial structures obsolete. There is a fundamental difference of opinion, however, about the nature of these protocols; whether they will be decentralized or centralized, or both; proprietary or open source.
The increasing frequency of iWallet-related patents clearly suggests that Apple is rapidly converging on a full Mobile Payments solution, and may in fact already have one in place for the upcoming September 9th product release. As I've previously noted, Apple's R&D spend points to multiple new products exiting the pipeline, and nothing says "financial growth" like a growing presence in Finance. I'm convinced that 2014 will be a watershed year for Cupertino and am increasing my PT accordingly to $114 a share.
Disclaimer:This article is for informational and educational purposes only and should not be construed to constitute investment advice. Nothing contained herein shall constitute a solicitation, recommendation or endorsement to buy or sell any security. Prices and returns on equities in this article except as noted are listed without consideration of fees, commissions, taxes, penalties, or interest payable due to purchasing, holding, or selling same.
Disclosure: The author has no positions in any stocks mentioned, and no plans to initiate any positions within the next 72 hours.
The author wrote this article themselves, and it expresses their own opinions. The author is not receiving compensation for it (other than from Seeking Alpha). The author has no business relationship with any company whose stock is mentioned in this article.