This is another article in my series of identifying situations in the equity market that are showing solid and improving fundamentals, while being impacted by external "events".
The first two in this series focused on stocks that were sold off due to the market weakness during the Russian/Ukraine events that ruled the headlines. Three E&P oil names highlighted the first in this series, while Visa, Inc. (NYSE:V) was the topic for the second.
The "market", in this case the oil market, has shown weakness lately with the price of oil dropping from a high of around $105 to a recent low of 93.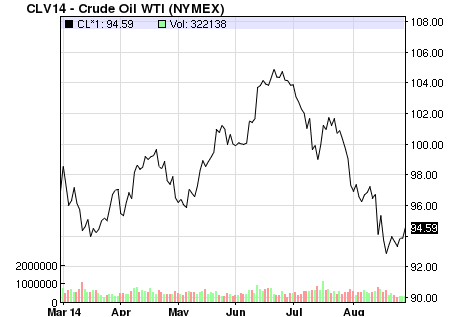 Chart is courtesy of nasdaq.com
We'll see how the declining price of oil has investors a bit nervous on anything related to the oil patch, but this "fear" often presents "gems"' to the savvy investor.
Halliburton (NYSE:HAL) was founded in 1919 and is one of the world's largest providers of products and services to the energy industry. With over 50,000 employees in approximately 70 countries, the company, based in Houston, Texas, serves the upstream oil and gas industry throughout the life cycle of the reservoir -from locating hydrocarbons and managing geological data to drilling and formation evaluation, well construction and completion, and optimizing production through the life of the field.
The company is truly "global", and well diversified.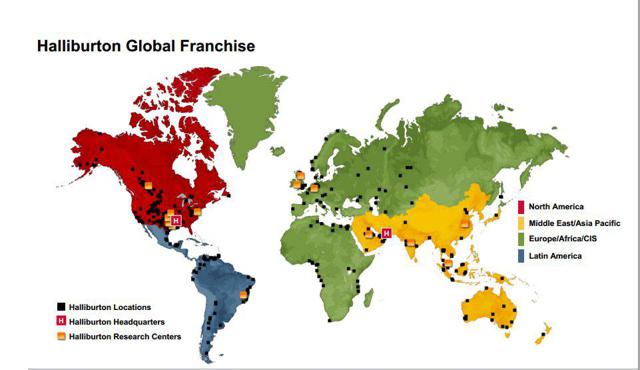 Source: Halliburton.com 2Q update
Halliburton recently presented a favorable growth picture, looking out 1 to 2 years at the "demand" forecasts as reported in their Q2 earnings statement. This suggests that there is plenty of runway left for the growth story to continue in the oilfield services sector.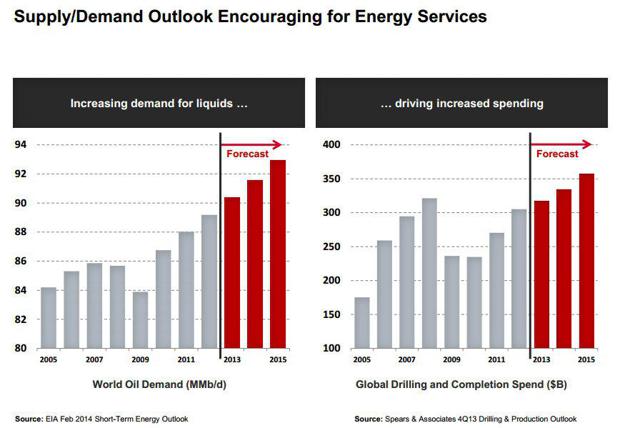 Management's commentary from their recent Q2 conference call also indicated continued strength in their primary market, North America, as they see further tightening of the pressure pumping market there.
On July 21st, Halliburton announced that income from continuing operations for the second quarter of 2014 was $776 million, or $0.91 per diluted share. This compares to income from continuing operations for the first quarter of 2014 of $623 million, or $0.73 per diluted share.
Halliburton's total revenue in the second quarter of 2014 was a record $8.1 billion, compared to $7.3 billion in the first quarter of 2014. Operating income was $1.2 billion in the second quarter of 2014, 23% higher than operating income of $970 million in the first quarter of 2014 resulting from significant activity improvements in North America and the Eastern Hemisphere.
These impressive operating results were highlighted by CEO Dave Lesar on the company 's latest conference call
Record company revenue this quarter of $8.1 billion, double-digit sequential revenue growth and new quarterly records in both North America and Middle East/Asia. We once again delivered industry-leading revenue growth both sequentially and year-over-year compared to our primary peers. We had strong cash flow from operations of $1.1 billion.

Revenue is expected to continue to step higher in the fourth quarter, which is seasonally our strongest quarter of the year with margins approaching 20%. We continue to expect full-year revenue growth to be in the low double-digits and margins averaging in the upper-teens.
The chart below, complete with notes from the management team, portrays a positive environment in "key" areas of the business.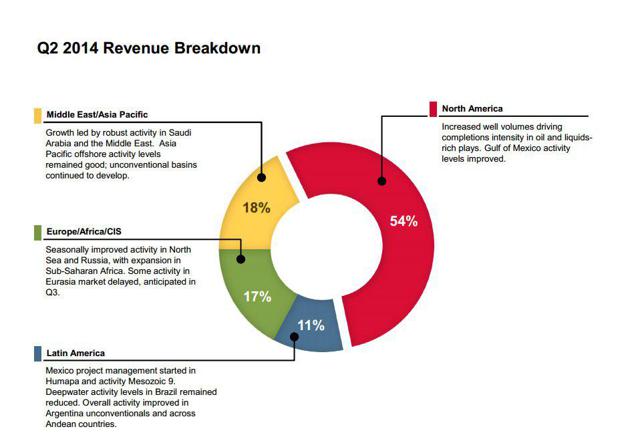 Source: Halliburton.com 2Q update
Now, there may be a new opportunity that is on the horizon for Halliburton to take advantage of, the "Offshore" fracking boom.
Offshore fracking is a part of a broader industry wide strategy to make billion-dollar deep-sea developments pay off. Because of their nature, those expensive drilling projects will be a boon for oil service providers such as Halliburton.
Technical Picture:
Just as we have seen the price of oil come down, shares of Halliburton have also seen weakness dropping from a high of $74 to a recent price of $67, where it appears to be finding support and stabilizing as indicated by the "daily" chart presented below.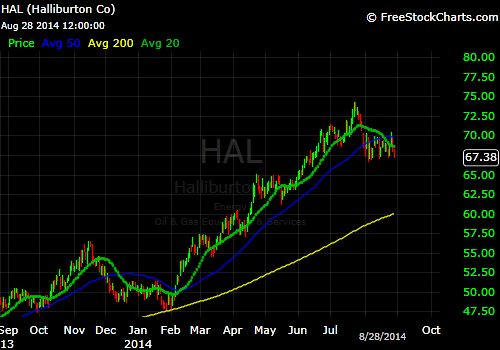 Valuation:
Analysts estimates indicate that HAL is on target to earn $4.05 per share in 2014 and with the continued double digit growth, the company is expected to post earnings of $5.35 for 2015. Given these estimates the shares are selling at a PE of 17 today, with a forward PE of 13, which is well below the current market multiple. I will also suggest that one could easily add a 'premium" to this company given its proven industry leadership. All of this is suggesting that the shares are presently selling at an attractive level.
It would appear that a number of analysts agree as many raised EPS estimates and price targets for the company the day after the company reported earnings.
Another plus, Halliburton has consistently made an effort to return cash to shareholders and continued that process this past quarter. The company's board authorized the purchase of $6 billion worth of currently outstanding common stock, up from the remaining $1.2 billion left on the prior authorization. This value represents approximately 10% of Halliburton's market cap and signifies a considerable conversion of excess cash to shareholder value.
While it is difficult to know how long the external pressures such as the price of crude oil will persist, what we do know is that the long-term global demand for energy is on an uptrend. With shares now selling at $67, investors with a long-term view on the equity market would be wise to add to their watchlist and look to start to build a position at these levels.
Best of Luck to all!
Disclosure: The author has no positions in any stocks mentioned, and no plans to initiate any positions within the next 72 hours.
The author wrote this article themselves, and it expresses their own opinions. The author is not receiving compensation for it (other than from Seeking Alpha). The author has no business relationship with any company whose stock is mentioned in this article.
Additional disclosure: I am long numerous equity positions - all of which can be seen here on my SA Instablog. It is my intention to present an introduction to this security and state my intent and position. It should be used as a 'Starting Point' to conduct your own Due Diligence before making any investment decision.