BorgWarner (NYSE:BWA) pushed out a press release yesterday, highlighting more good news for the company in terms of guidance for 2011. Not so surprisingly, the stock reacted very little to the news since this stock, like many others, has been rallying almost non-stop on anticipation of future good news. At some level, the news is baked in -- which is part of my concern for the earnings season coming up shortly. Analysts' guidance is $3.90 for 2011, so the $3.85-4.15 range brackets that figure. Unfortunately, after this huge run, the stock is not close to cheap at a forward PE of 18x for 11.5 months from now. Hopefully this guidance was a lowball.
[Click to enlarge]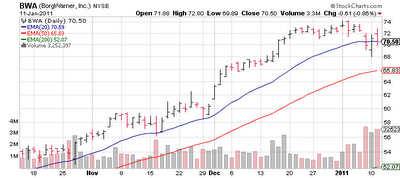 That said, you have the best of both worlds with this name: A cyclical upturn in the industry, combined with a secular growth story in BorgWarner itself as it gathers more market share in its niches. There is even an expansion of margins forecast, despite the anticipated increase in commodity costs.
Via AP:
BorgWarner Inc., a maker of auto parts designed to boost gas mileage and reduce emissions, on Tuesday forecast earnings per share growth of up to 40% this year as it expects sales growth to outpace the rise in global auto production ....

Rules adopted earlier this year will lift the new-vehicle fleet average to 35.5 mpg by 2016, an increase of more than 40 percent over current standards ....

BorgWarner said 2011 earnings per share will range between $3.85 to $4.15 per share, up 35 percent to 40 percent over its expected 2010 earnings of $2.85 to $2.95 per share. The company expects sales to jump 16% to 20% year-over-year, even as global light vehicle production is expected to grow just 6% in the same period ....

The Auburn Hills, Mich.-based company also is targeting profit margins of 10.5% or more, above its historical range of 8.5% to 9% due to the benefits of cost-cutting efforts undertaken over the past few years.
Disclosure: No position