Amidst the ongoing unsolicited takeover bid from Community Health Systems Inc (NYSE:CYH), Tenet Healthcare Corporation (NYSE:THC) anticipates growth in 2011 on the back of improved patient volume trends.
According to Tenet, patient volume trends have been moving in the right direction even in the weak economy. Tenet therefore expects its 2011 earnings to be boosted by 37% - 50% each year from 2010 to 2015.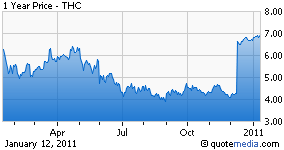 Tenet also anticipates EBITDA to grow at an average of 11% - 16% on average revenue growth of 4% - 6% from 2010 to 2015 on the back of a mix of targeted acquisitions and organic growth. Additionally, Tenet expects its EBITDA for 2011 to be in the range of $1.15 billion to $1.25 billion, up as against the company's EBITDA estimate of $1.05 billion to $1.10 billion for 2010.
During the third quarter of 2010, Tenet's bad debt expenses declined 3.1% year over year, primarily attributable to a year-over-year decline in uninsured admissions and outpatient visits, offset by increases in charity admissions and outpatient visits. Admissions and outpatient visits declined by 3.5% and 2.0%, respectively, in the quarter, while adjusted admissions declined 1.8%.
Tenet also posted adjusted EBITDA of $203 million in the quarter, down 15.4% year over year from $240 million in the prior year quarter. The results were adversely impacted by the continuing effects of the recession, including declining commercial enrollment and the deferral of elective procedures. Tenet also believes that the soft economy continued to challenge the volume growth and exerted pressure on the operating margin.
However, Tenet currently expects its patient volume and managed care pricing to ramp up revenue growth over the long term. Tenet also believes that as the economy revives, EBITDA will go up with the reduction in bad debt expenses.
Besides, Tenet is working hard to thwart the hostile takeover bid from Community Health, but the latter is determined to buy Tenet, even when the company has adopted a poison pill strategy against the takeover.
Tenet used a "poison pill" strategy in the form of a Section 382 Rights Agreement to make its stock less attractive to Community Health. Under the measure, in case of any change in ownership, i.e. if any person or firm buys more than 4.9% of Tenet's stock, shareholders who own less than 4.9% of the company's stock will get the right to buy one additional share for every share they own. This will take effect on January 17.
Community Health had proposed an offer to Tenet on December 9, according to which Community Health will offer to acquire all of the outstanding shares of Tenet for $6.00 per share, including $5 a share in cash and $1 per share of its common stock.
This was the second attempt of Community Health to bid for Tenet. Earlier on November 12, Community Health made an identical offer but Tenet's board rejected the same as the price offered by Community Health was inadequate, owing to weak industry stock valuations, which was not in favor of Tenet's shareholders.
To further pressurize Tenet, Community Health planned to nominate directors for Tenet's board at its annual meeting.
Community Health believes that the value offered to Tenet is fair and is therefore not expected to raise its bid higher. On the other hand, Tenet seems to be baffled whether it should go for a repurchase of shares or add a dividend to increase the company's value.
If Community Health bags Tenet, it is expected to create the second largest hospital chain in the U.S., generating $22 billion in annual revenue, with 176 hospitals operating in 30 U.S. states.
Moreover, the deal would bring cost savings and other benefits, and would add to earnings in the full year of 2010. However, Tenet would lose tax assets' benefits if it faces an ownership change.
In addition, we believe that volume growth can significantly help achieve future profitability, including growth through the acquisition of hospitals and other health care facilities. We also expect appropriate reimbursement levels and cost control across the portfolio of hospitals to facilitate better cost management and business operations.
Though Tenet has been focusing on cost efficiencies, controlling labor costs in a fluctuating patient volumes environment is a tough challenge for Tenet, as inflation and technology improvements drive supply costs higher, and the efforts to control supply costs through product standardization, bulk purchases and improved utilization become difficult.