Introduction
Today I invested part of my personal portfolio into National Oilwell Varco (NYSE:NOV), as I believe it is one of only a few quality growth stocks that still offer value in an expensive market. The recent spin-off of the distribution business and the issuance of 'pro-forma' numbers for the new divisional structure enable us to take a 'fresh look' at the numbers.
NOV is the world's largest manufacturer of drilling rigs (both onshore and offshore). In addition it sells the surrounding technology and components required for drilling operations. Following the spin-out of its distribution business, NOV's structure looks like this: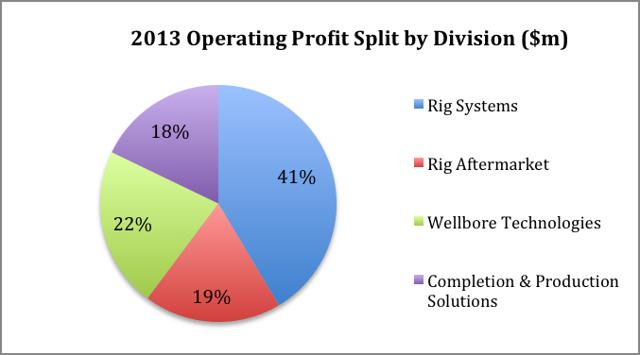 Source: Form 8-K, June 10 2014
Rig Systems. This is the core business: They sell drilling rigs and the associated rig components. Offshore typically represents around approximately 80% of sales, with the other 20% being land-related. Offshore itself is a mix of "floaters" that operate in deep water environments and "jackups" that operate in shallower water.
Rig Aftermarket. Spare parts, services and repair to existing drilling rigs.
Wellbore Technologies. Sells tools and equipment used to aid the process of drilling wells (e.g. drill pipe, drilling fluids).
Completion and Production Solutions. Sells equipment used to prepare the well for production after the drilling phase is complete (e.g. pressure pumping, flexible pipe).
In this note I will assess each of these divisions in turn, discussing the key drivers behind each. I will then go on to explain four attributes that make NOV an interesting investment:
NOV is exposed to a number of positive long-term industry trends, leading me to expect that profits are likely to be significantly higher 5-10 years from today.
A company with strong pricing power in its industry and a history of solid execution.
2014 earnings are below what can be achieved on a 'normalized' basis. This creates potential for a natural 'uplift' to earnings over the next 2 years.
A valuation that seems reasonable versus strong growth potential. In particular when we compare it to the rest of the market.
Rig Systems: An attractive business with margin upside.
NOV has long held a reputation as the world's leading manufacturer of both onshore and offshore oil rigs. According to Spears & Associates, NOV currently represents a massive 52% of the rig equipment market, earning the company the moniker "No Other Vendor". In a technically challenging business, scale is often an advantage because you become the 'default' choice for conservative customers. This is particularly the case in rig construction, where contracts can run over several years. This reputation (as long as it is maintained), gives the company pricing power and a strong competitive advantage.
Revenues
Revenues are dependent on the capital expenditure of E&P companies. However because of the length of time it takes to construct a rig, NOV enters into long-term contracts with their customers resulting in revenues that are much smoother than orders. This is demonstrated by the chart below showing orders over the past 5 years against revenues: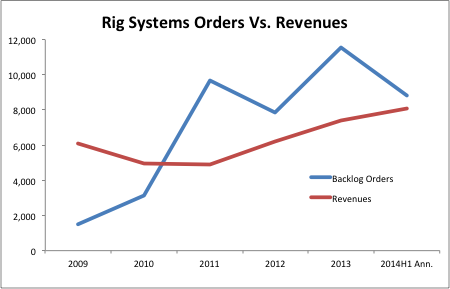 Source: Form 8-K, June 10 2014 and Form 10-Q for 2Q14
Margins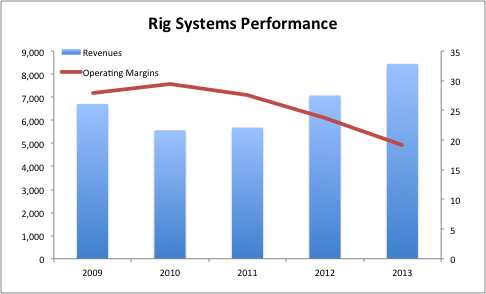 Source: Form 8-K, June 10 2014
Margins have been falling over the past four years as high margin onshore projects ordered in 2007/08 are replaced by new offshore projects at a lower margin. The margin stabilized in H114 (at 20.6%) and management are now comfortable with forecasting "modest" margin expansion. They cite 3 factors affecting margins going forward, the first two positive and the third one a negative.
Price increases that were pushed through in 2013 have resulted in a margin increase for the backlog
Efficiency gains from new capacity added
A growing proportion of Brazil and China based work, which will be challenging and likely lower margin. Brazil faces a high regulatory burden while competition in China is high.
In response to a question on the 2Q earnings call the CEO suggested that normalized margins in the "low 20s" were realistic in the long term. In our forecast (Appendix 1) we assume margins rise to 22% by 2015.
Orders
Management has already flagged in the 2Q results that order flow in H2 will be more challenging. Clay Williams, CEO, noted on the call, "We see the market for new floating rigs softening for at least the next few quarters, due to lower day rates pressured by new un-contracted capacity coming into the market". He added, "We see steady demand for jack-ups, at least for the second half of 2014. And we see pronounced increase in demand for land rigs for the next several quarters. But land rigs and jack-ups will not fully offset floater demand"
This slowdown in orders has created some concern on the sell-side. Daniel Leben at Baird recently noted, "Over the next several quarters, the question primarily rests on expectations over the scale and extent to which slowing floater newbuild bookings will be backfilled by alternate sources of activity…we believe near-term frictions may stem from expectations around the pace and timing of such backfilling" (July 30).
While orders are an important indicator of future revenues, we believe the sell-side is in danger of over-emphasizing their significance here for three reasons:
History tells us that revenues can continue to grow even as orders decline. The chart on page 2 clearly shows this.
The backlog is at a record $15.4bn (equivalent to 20 months of sales). This provides a huge buffer against a period of weak orders.
Management explained on the 2Q call that orders for floaters were "not going to zero". They cited a pick up in periodic surveys in addition to a backlog of floaters that require re-certification by 2017/18.
Long-Term Prospects
In any case, I am more interested in the longer-term outlook for rig systems. I expect drilling spend to be supported by some very powerful themes that will play out over the next decade:
A continuing trend towards ultra deep water drilling. These environments are much more challenging from a technical perspective. They require more equipment as well as higher-quality equipment.
Safer drilling. Post Macondo, oil companies are less willing to cut corners on equipment. Stricter regulations will force companies to invest more in higher quality equipment.
Horizontal Drilling. Like the trend to deep water, horizontal drilling is significantly more capital intensive
Shale drilling. Fracking techniques require more equipment than conventional environments. While the shale industry in the U.S. is relatively mature, I see potential for growth in international markets.
Rig Aftermarket: Underappreciated Value
In creating a new divisional structure, I believe management wanted to draw attention to the Rig Aftermarket business. An aftermarket business in any industry is usually very attractive - the provision of spare parts and repair work to an installed base of work comes with high barriers to entry. The customer will have a strong preference to use the same company that built the asset to then service it, particularly where safety is at stake. Margins are usually high, invested capital is usually low and the result is a high ROIC business that grows with the expansion of the installed base of assets. I expect management to highlight the value of this business at the analyst day on November 18-19.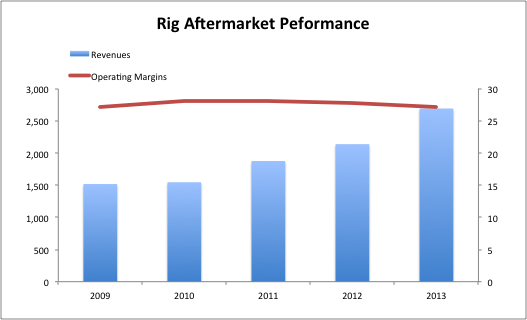 Source: Form 8-K, June 10 2014
The figures in the chart above demonstrate what a great business this is. Operating margins are high and stable, revenues are growing, and although they don't disclose it I bet capital employed is fairly low too. It's no wonder that the company have made investments in personnel and training in order to boost growth over the last few years. In a post Macondo world, a high quality aftermarket service becomes even more important for operators
On a quarterly basis, management warns that revenues have a 'tendency to be lumpy'. However long-term investors shouldn't get overly concerned about that.
Wellbore Technologies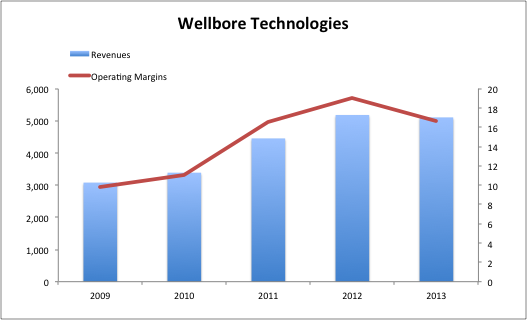 Source: Form 8-K, June 10 2014
Wellbore Technologies closely tracks drilling activity (unlike Rig Systems where long-term contracts are the norm). Revenues and Margins have been increasing over the past 5 years as rig count has risen (see chart below) and as the nature of drilling has become more complex (more deep water and horizontal drilling).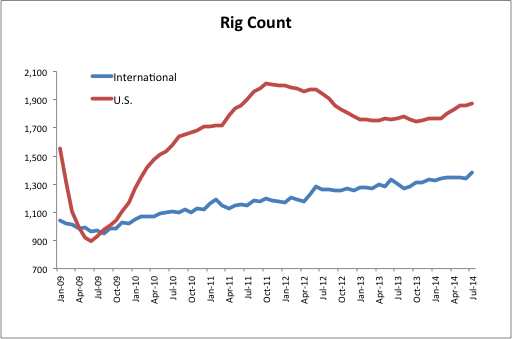 Source: Baker Hughes Database
The revenue outlook for this business looks fair given that the U.S. rig count has corrected to a more sustainable level while the international rig count will likely continue to rise. Revenues in H1 were up by 11.4% thanks to a modest recovery in land activity in the U.S. (visible on the chart above)
Completion and Production Solutions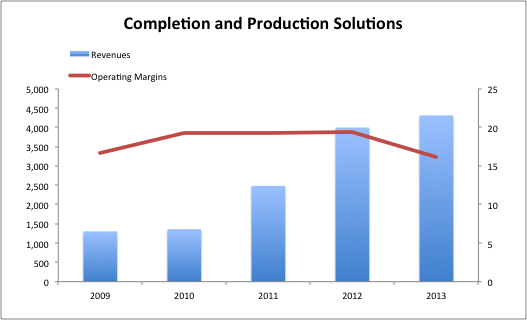 Source: Form 8-K, June 10 2014
This division is also sensitive to drilling activity, albeit with a lag (given it relates to completion and production). The business is characterized by decent size backlogs, though not nearly on the scale of Rig Systems. As at June 30 2014, the backlog in this division stood at $2.1bn (6 months of sales), providing some visibility short term.
Revenues have grown strongly over the last few years, most of it through acquisition. Margins have fluctuated between 14-20% and are currently right at the bottom of this range (14.1% in H1). Margins in H1 were hit by a higher mix of low margin business and start-up costs for the flexibles business in Brazil. Both of these factors are temporary in nature and margins should recover with time. In our forecast (Appendix 1), we conservatively assume a recovery in margins to 15% by 2015.
Investment Case
As mentioned in the introduction to this note, there are four attributes that make NOV interesting as an investment case right now
1. NOV is exposed to some positive long-term industry trends, leading me to expect that the profit pool is likely to be significantly higher 5-10 years from today.
Most of the world's easily extracted oil has already been discovered. This is leading to drilling in more extreme environments and more technically challenging environments. The shift to ultra-deep water and horizontal drilling are both trends that are positive for the earnings of NOV. At the same time most operators are taking safety much more seriously in a post Macondo world. The result is higher spending on quality equipment and aftermarket servicing.
2. 2014 earnings are below what can be achieved on a 'normalized' basis. This creates potential for a natural 'uplift' to earnings over the next 2 years.
We have touched on three key reasons to believe that earnings are below their full potential. Firstly, margins appear to have troughed in Rig Systems and are now recovering as price increases and efficiency gains take effect. Secondly, past investment in the Rig Aftermarket business will continue to come through. Thirdly, there is scope for margin expansion in Completion and Production Solutions.
3. A company with strong pricing power in its industry and a history of solid execution.
As discussed, this should enable ROIC to remain at a higher level for longer. This has been reflected in the ROIC profile for the DCF calculation (Appendix 2).
4. A valuation that seems reasonable versus the growth potential. In particular when we compare it to the rest of the market.
This is the subject of our last section. A conservative DCF yields a value of $95 for the stock (16% upside). Further comfort is provided by the 2015 P/E ratio of 12.7, which looks very attractive when compared to the P/E ratio for the S&P500 at 18.5x (2015 represents close to a 'normalized' level of earnings for NOV). In this section, we also look at NOV P/E versus its history.
Risks
There are two key risks that I would draw particular attention to
1. A sharp oil price decline. A drop in the oil price below $80 could see land drilling activity in the U.S. decline. A much sharper decline would be needed to see a reaction from international customers. I am relatively comfortable with this risk for two reasons
A solid backlog in Rig Systems equivalent to 20 months of sales
In the long term it's hard to see a meaningful decline in the demand for oil given conversion to autos across the emerging world. On the supply side, high decline rates for mature fields will keep production tight.
2. There is always a risk when a company enters into multi-year long-term contracts. Poorly managed companies often underestimate costs, fail to build in contingencies and suffer from weak processes that fail to catch issues in time. NOV's historical track record and reputation for cost control gives me a degree of comfort on this point.
Valuation
DCF Valuation
My DCF valuation generates a value of $96 (upside of 16% from today's price of $83). The DCF has been broadly based on the McKinsey method of valuation, and it can be found in Appendix 1. A full excel model is available on request. There are a number of important points to note about the DCF:
I have explicitly forecast numbers for 2014/2015. For the most part these numbers assume only a modest (3%) increase from the level of activity in H114.
This is a revenue-driven model given that the business is led by demand from operators. For the period 2015-2030 I have assumed that revenues grow 4% p.a. This may turn out to be conservative given the long-term attractions of the business.
I have assumed that capital requirements grow in line with revenue (i.e. asset turns remain stable).
I consider 2015 to be a relatively 'normal' year in which the company has achieved its long-run potential in terms of margins. ROIC for 2015 is 11.5%.
Given the high barriers to entry for NOV, I assume that ROIC of 11.5% is maintained for 5 years. It then reduces over time toward 9.5% in 2030 (to reflect a gradual erosion of its competitive advantage). This may be conservative given the opportunities to invest in the high ROIC rig aftermarket business.
Reinvestment of cash flow required each year is calculated on the basis of the capital requirement for the next year (capital requirement calculated in stage 3 above).
NOPLAT (Net Operating Profit Less Adjusted Taxes) for 2016 and beyond is calculated as Capital * ROIC.
Ongoing tax rate is conservatively assumed at 32.5%, towards the high end of what it has paid historically and at the midpoint of management guidance for H214.
Amortization of acquired intangibles has been reversed, with the income statement and the balance sheet adjusted accordingly.
Operating leases have been capitalized, with the income statement and the balance sheet adjusted accordingly.
Cost of equity is set at 8%. Cost of debt is sourced from publicly-traded bonds. I assume that the capital structure, which is currently under-levered, remains constant. Optimization of debt structure could lead to further upside.
The value of non-operating assets (Voestalpine Tubular JV) is calculated by applying a market multiple (16x) to income of $63k
Multiples-based Valuation
Given growth in earnings from 2013 to 2015, the P/E ratio for NOV drops rapidly from 16.1 to 12.7 (Appendix 1) This looks particularly attractive when compared to the current multiple on the S&P500, which stands at 18.5x.
We also compare the P/E ratio of NOV (TTM) versus its history and against the S&P. We can see from the chart that the discount to the market is close to the highest it has been in the past 5 years (except for 2009)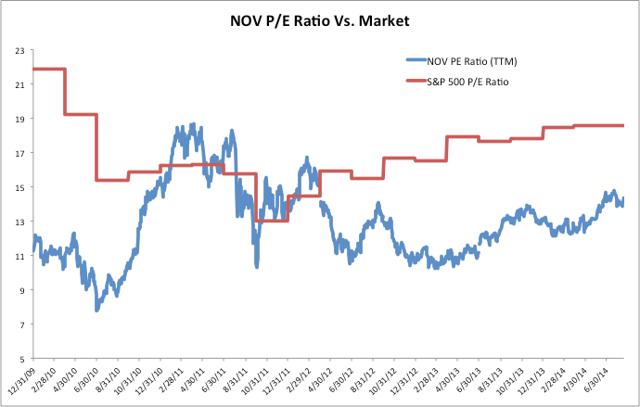 Source: Y-charts
Finally, with the quarterly dividend now at the level of $0.46 per share (a 75% increase from the 1Q level of $0.26), the dividend yield is now a respectable 2.2%.
Appendix 1: P&L Forecasts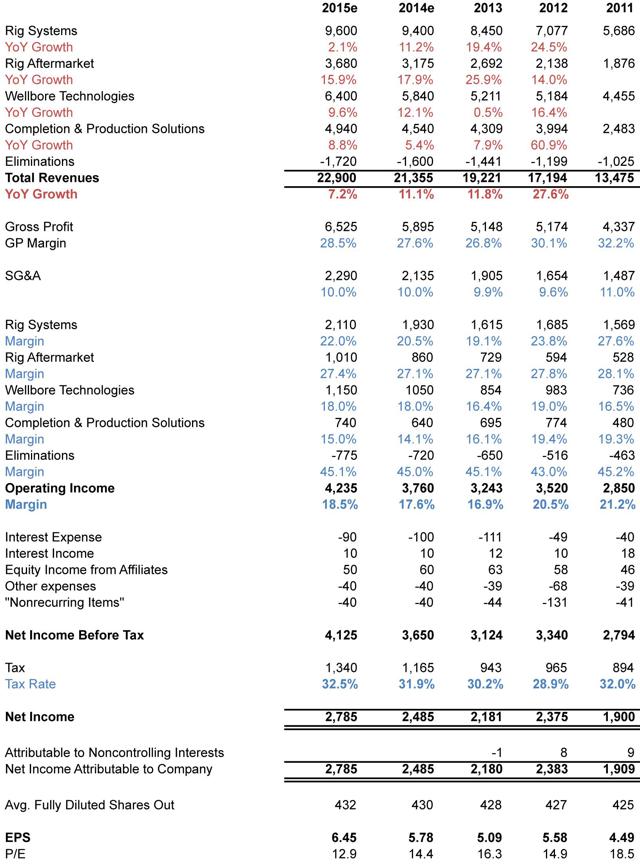 Appendix 2: DCF Model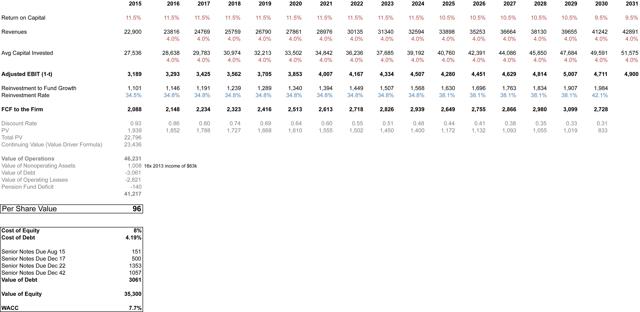 Appendix 3: Supporting Material for DCF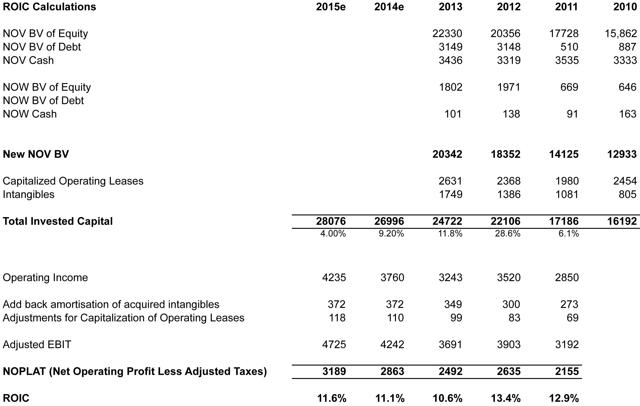 Disclosure: The author is long NOV.
The author wrote this article themselves, and it expresses their own opinions. The author is not receiving compensation for it. The author has no business relationship with any company whose stock is mentioned in this article.