Ally Financial (NYSE:ALLY), formerly known as GMAC Inc., is a bank holding company headquartered in Detroit, Michigan. GMAC was bailed out by the U.S. government during the 2007-2008 financial crisis, was renamed, returned to profitability briefly in 2010, and came public April 10, 2014.
Ally serves the financial needs of approximately 15,000 auto dealers in the U.S. and approximately 4 million of their retail customers. It provided automotive financing for one out of every 18 new vehicles financed in 2013.
In 2009, Ally Financial launched Ally Bank (Member FDIC) which currently has a customer base of approximately 784,000.
Ally Bank has been named "Best Online Bank" three years in a row by Money Magazine.
Dan Loeb, Third Point LLC:
Dan Loeb is the founder and chief executive of the $14 billion hedge fund Third Point LLC. Third Point LLC has returned over 25% annually to investors since its founding in 1995. Dan Loeb has a personal net worth estimated at $2.2 billion.
Third Point LLC is by far the largest private shareholder of Ally as seen below. Note: The U.S. Treasury still owns 16% of Ally.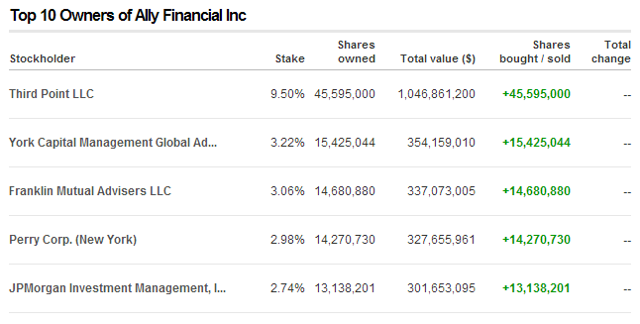 Source: CNN.Money.com
Loeb on Ally investment:
Divesting $30 billion of assets on four continents and resolving a highly complex bankruptcy of a subsidiary are only the beginning of the story from this team, and we expect them to execute on their multi-year plan to significantly increase Ally's earnings.
General Analysis:
Ally shares currently trade at 0.88x Book Value.
Ally Earnings Per Share [EPS] are recovering. Analysts estimate EPS of $1.62 for 2014, and EPS of $2.01 for 2015. Shares currently trade at 12.4x 2015 estimated earnings.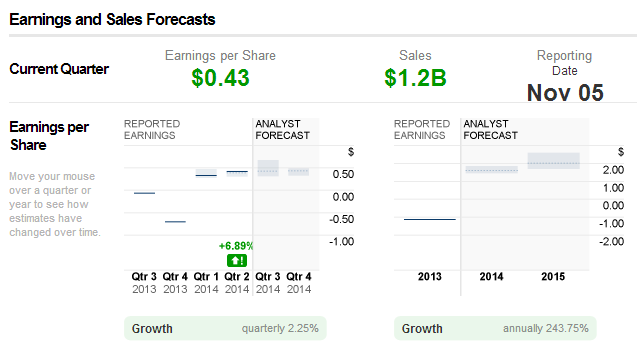 Source: CNN.Money.com
Overall, analysts are bullish on Ally. The 13 analysts offering 12-month price forecasts for the company all see shares trading higher over the next year.

Source: CNN.Money.com
Recent Earnings:
Ally reported a second quarter profit of $323 million or $0.54 a share compared with a loss of $927 million or $2.73 in the prior-year second quarter.
Earnings adjusted to remove one-time items were $0.42 a share, well above the $0.33 analysts were expecting on average.
General metrics from the second quarter look healthy compared to the same prior year quarter. Total net revenue was up 17.7%, controllable expenses declined 12.3%, total deposits rose 11.9%, and provisions for loan losses declined 39.4%.
Concerns:
Ally has struggled in the past with Federal Reserve Stress Tests, failing as recently as March 2013. While the company later called the test "fundamentally flawed", the Federal Reserve did not back down from its negative assessment.
Ally is one of the largest providers of automotive financing in the U.S. and by relation is highly levered to U.S. auto sales. A dramatic slowdown in U.S. auto sales would have a negative impact on Ally earnings.
Conclusion:
Reasons to be bullish on Ally include Dan Loeb's very sizeable investment and the stock's low valuation. At 0.88x Book Value and 12.4x 2015 EPS estimates, Ally shares currently present a compelling investment opportunity.
Disclosure: The author has no positions in any stocks mentioned, and no plans to initiate any positions within the next 72 hours.
The author wrote this article themselves, and it expresses their own opinions. The author is not receiving compensation for it (other than from Seeking Alpha). The author has no business relationship with any company whose stock is mentioned in this article.