Our last piece on Ford (NYSE:F) was the most bullish piece we've written since we've been contributing on Seeking Alpha.
Parke noted that backed by the coming F-150 aluminum edition and a 10x forward P/E, we think Ford could reach as high as $28.50. Ford has continued its ascent heading into the holiday weekend.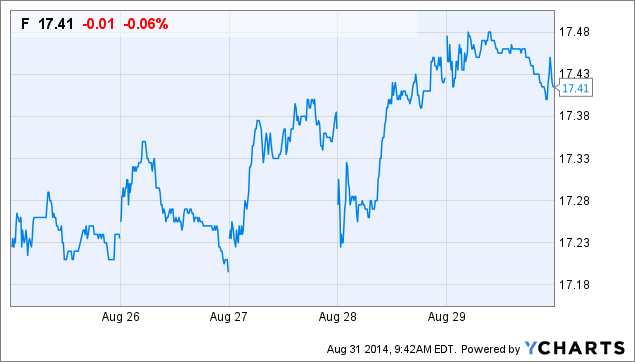 The postscript to this piece is Ford's Mustang, which we noted was set to make its global debut and continue helping the push that the F-150 is heading up.
A Bloomberg report at the beginning of the weekend confirmed that the newest Mustang is going to be shipped to "more than 120 countries" and that for the first time, "a right hand drive version will be made, for sale in more than 25 markets" which include South Africa, which is becoming a hotbed for luxury automobiles.
We had known of Ford's plans to push the Mustang into different markets, but we didn't know exactly how and when they were going to execute. According to Bloomberg, Mustang sales in the U.S. rose 3.9% to 50,795 this year through July, after declining 7% last year. The "reinvented" Mustang will hopefully sit alongside the "reinvented" F-150 and help fuel Ford's push into 2015.
This is a great example of a company that has held its own throughout the years, coming full circle and reinventing itself through its most respected products and brand names. Behind Alan Mulally, Ford has shown the business world the best possible way to have dealt with a financial crisis, and has shown companies like General Motors (NYSE:GM) the correct and respectable way to do business.
We reaffirm our STRONG BUY on Ford with our $28.50 price target.
Disclosure: The author has no positions in any stocks mentioned, and no plans to initiate any positions within the next 72 hours.
The author wrote this article themselves, and it expresses their own opinions. The author is not receiving compensation for it (other than from Seeking Alpha). The author has no business relationship with any company whose stock is mentioned in this article.