The situation- Weaker iron ore price, tighter margins
Further price drops in the iron ore spot market are bringing back memories of 2012 when iron ore miners got their first big squeeze following the Chinese-demand driven mining boom in 2010-2011. Actually, spot prices are lower now than in 2012. Just today iron fell below $89 per wet metric ton, 35% down since January. For a while earlier this year, there was hope that China could keep iron ore imports up, but a slowdown in its domestic demand as well a reduction of its steel exports were signaling the contrary.
If it is any consolation, after the September 2012 low spot prices rebounded relatively quickly in October 2012 and rose over the following four months before hitting a peak.
Iron ore spot price

Source: Macrobusiness.com.au
Iron ore spot price chart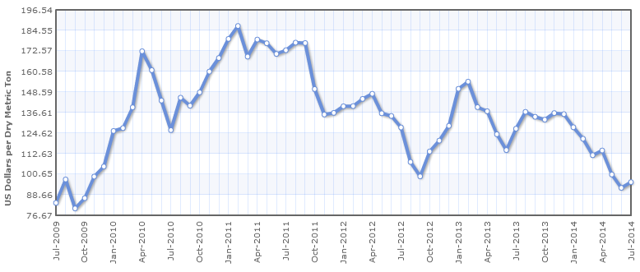 Click to enlarge
Source: Indexmundi.com
What was the result
What is different from the market dread then and now is that all the major Australian miners have created bigger margin buffers by getting their production costs down. Coupled with massive increases in ore production volumes, BHP Billiton Limited (NYSE:BHP), Rio Tinto Limited (NYSE: RIO) and Fortescue Metals Group (OTCPK:FSUMF) all reported hefty profits in August.
The lowest cost producer, Rio Tinto, has a break-even price of about $46, so it is has a healthy buffer of safety at today's prices. Next comes BHP Billiton at $53, and Fortescue Metals' break-even price has been estimated to be in the $70-$80 range. Smaller miners would have even less of margin because they are not producing at a scale large enough where further economic savings are generated.
The three majors have been cutting costs, reducing workforces and even implementing more automation into the production process like driver-less mine dump trucks that bring ore up from the mine area for processing. Another cost benefit is the need for less capital expenditure for the production expansion projects. All three invested a lot to ramp up production volumes, so as those projects moved from development to production, the capex figures fell and operating cash flows increased.
Rio Tinto is projecting that it can lower its capex 30% from $12 billion to $9 billion in its financial year 2014 ending December 31, 2014. Furthermore, from FY 2015 onwards the company expects that capex will drop to $8 billion.
BHP also brought down its capital and exploration expenditures some 32% to $15.2 billion. Likewise, Fortescue Metals slashed its capex from about $6 billion to $2 billion for the year ended June 30, 2014 and projects it can reduce it further to about $1 billion.
With the ramped up production volumes and higher earnings, all three have reduced debt levels from the extra operating cash flows. At a time when iron ore prices have fallen, the increased sales revenues are propping up earnings, albeit with thinner profit margins.
How it will play out over the next several years remains to be seen. There will still be more belt tightening and spot prices could remain low. It mostly depends on the China question. How much will that country need as its economy changes from being heavy industry and export-driven to one more geared for consumers and the services sector?
As more rural Chinese transition to urban life over the next 20 years, materials like iron ore, copper, as well as energy resources will still be in high demand. In its half-year results presentation released in August, Rio Tinto estimates that Chinese crude steel production will rise from the current annual 830 million tons to 1 billion tons by 2030.
Who wins? Who loses?
Only iron ore production has been discussed here, but Rio Tinto and BHP have other resources businesses that generate other income streams. The majority of Rio Tinto's earnings, close to 90%, is from iron ore, whereas BHP has about 30%. Fortescue's earnings are entirely from iron ore.
Since mining is a cyclical industry, as an investor looking for safer, more predictable returns, you want to concentrate on the lowest cost producers in the industry that have substantial financial resources to survive and even grow during downturns.
Product diversification is a big plus, such as BHP Billiton's growing petroleum segment. Its US shale oil development was slow at the start, yet now the rising oil revenues can work towards balancing out the lower iron ore price issue.
Based on market leadership scale, financial strength, low cost production and well-rounded product diversification, I think BHP Billiton offers the best opportunities for investing over the mid and long term.
Rio has diversification, but it is mostly concentrated in iron ore. It is diligently lowering debt and managing capex, so that is commendable and makes it more attractive as the number two pick.
Fortescue Metals has probably the hardest road to travel of the three. It has paid off about $3.1 billion of its debt within the last year and plans to do another $500 million in 2014. However, with more debt repayments necessary and a narrowing earnings buffer from falling iron ore prices, that would put clearly put it in third.
Smaller miners will struggle even more as the three majors push out as much export volumes as they possibly can to support earnings, thereby raising world supply. Some may even become not economically viable and may have to shut some mines as well. That is why in classic investing style you stick with market leaders.
Disclosure: The author has no positions in any stocks mentioned, and no plans to initiate any positions within the next 72 hours.
The author wrote this article themselves, and it expresses their own opinions. The author is not receiving compensation for it (other than from Seeking Alpha). The author has no business relationship with any company whose stock is mentioned in this article.
Editor's Note: This article discusses one or more securities that do not trade on a major U.S. exchange. Please be aware of the risks associated with these stocks.