Groupon Inc (NASDAQ: GRPN) shares slumped 15% on August 6, following the announcement of its Q2 2014 results, which displayed a continuous downslide in profitability with adjusted EBITDA declining to $59 million from $81 million in Q2 2013. The net loss for the six months ended in June 2014 also widened to $60 million from only $11 million last year, due to lower operating margins.
The business model of the company, a local online marketplace offering huge discounts to consumers through its specialized deals with merchants remains one of its biggest challenges to profitability. The model appears to promise continuous growth in revenue, but is hampered by the huge discounting, which has resulted into weak and declining margins.
The company has expanded into the traditional e-commerce business by selling physical goods, but this segment of business is yet to get to the level where it contributes the majority of the revenues generated.
Nonetheless, there is good progress in the goods business with its contribution to overall revenue increasing from 31% last year to 40% now. This is a positive sign of reduced concentration in the local discounts model. The gross revenue improved to $1.5 billion in H1 2014 from $1.2 billion last year. The gross margin has reduced year-on-year from 27% to 21%.
While shares plunged following Q2 results, there were still some positives to pick out
The number of active deals increased to 240,000 from 200,000 in Q1 2014 with the number of active customers increasing by 25% year-on-year to 53 million. This shows that Groupon's business base is widening and thus increasing the potential for revenue generation.
The company is also making impressive advances in mobile following the launch of the Gnome application. In the most recent quarter, the mobile business represented more than 50% of total transactions, and according to estimates, it is set to increase with the introduction of Gnome application.
Meanwhile, North America continues to contribute a majority of revenue with over 22 million active customers. However, Asia pacific appears to be gaining momentum following the 145% growth, and hence should help leverage on the overall revenue in the coming quarters.
Groupon expects to shore-up revenues, but no signs of profitability yet
The company's outlook for full year 2014 provides mixed expectations with adjusted EBITDA expected to be about $270 million. The company also expects a double-digit growth in revenues powered by growth from Rest of the world (especially Asia Pacific) which grew by 145% in Q2.
On the other hand, Groupon GAAP EPS is still expected to come out negative in Q3 2014. However, based on Q2 earnings release, the company expects a non-GAAP EPS of $0.00 to $0.02. This is still a major concern for the company, as it generally implies zero improvement from Q2, which posted a non-GAAP EPS of $0.01.
The company's lack of profitability coupled with a continuous decline in margins is its greatest impediment to establishing a sustainable uptrend, and appears set to continue being so until a point where the goods business will begin contributing a majority of the revenues.
Groupon completed a share repurchase program worth $100 million in Q2 to compensate for lack of dividends. This is anticipated to continue in the future, which should be a massive boost for the company's stock price, but it can only go for so long, before Groupon begins to feel the pinch.
Now the cash balance of $868 million appears healthy enough to finance a couple more share repurchase programs, but this could also raise questions about the company's ambitions towards reinvesting in the business. The company also has a revolving credit facility of $250 million available, which together with the cash balance could be useful in settling operational expenses.
Not enough cheer to investors
The stock price of the company has been battered over the past two years. Following its listing in 2011, Groupon's stock price plunged to trade at lows of $2-$3 in late 2012. During 2013, it saw a brief resurgence as investors bet on growing revenues, thereby propelling the stock to reach the $12 level.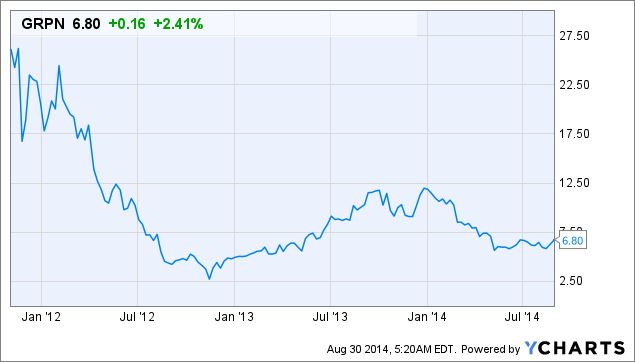 However, in 2014 the stock price has again fallen to $6-$7 level, as it continued to become evident to investors that Groupon's business model suffers from low margins, which have resulted into widening of the net loss.
Now, investors appear to be very cautious on Groupon, and are certainly lacking conviction especially judging by recent performances. Over the last two weeks, the company stock appears to be on a short-term recovery trend, but the extension of its rally remains curtailed, as there seems to be no genuine catalysts to propel the stock to new heights. Indeed, such has been the case since May this year.
Conclusion
Based on the current price levels, the short-term outlook appears to be bearish, up until at least the announcement of Q3 quarter results. If the company can reduce its net loss, comparable to previous period (year-over-year and sequentially), then there is a genuine chance of a recovery.
The company's Q2 results illustrated increasing margins from the Goods and Travel business segments, which improved year-on-year to 21% and 10%, from 16% and 9%, respectively. This could also provide renewed optimism, is the trend continues, possibly signaling good prospect towards profitability. In addition, increasing the share of the traditional e-commerce business can go a long way towards compensating for losses in the discount deals business.
The long-term trend could change in FY15 as the company still has growth potential in revenues. Its problem of weak margins can improve with a strategic shift in business model oriented towards marketplace sales of goods.
The bottom line is that in the near-term, Groupon appears to offer little cheer to investors, but with a shifting strategy, the company could be on the verge of a major turnaround as it now switches focus to goods business. This will set it up against industry rivals like eBay and Amazon, among others, but with daily deals business still in place, this could augment the goods business by providing a possible source of customers.
Therefore, Groupon does appear to be on the mend, but investors are certainly lacking conviction on how and when this will all begin paying off.
Disclosure: The author has no positions in any stocks mentioned, and no plans to initiate any positions within the next 72 hours.
The author wrote this article themselves, and it expresses their own opinions. The author is not receiving compensation for it (other than from Seeking Alpha). The author has no business relationship with any company whose stock is mentioned in this article.