Exxon Mobil (NYSE:XOM) has been experiencing setbacks due to low prices of natural gas. Considering the enormous share of natural gas in its product mix, there is no wonder that the company's growing segments would be offset by the volatile natural gas segment. However, on the other hand, the company has been taking steps for a few years to capitalize on the future demand of liquefied natural gas. We expect to see its revenues increasing and its profit margins improving in the coming years. The overall demand of LNG is set to rise in the near future according to some studies, which we will discuss in detail later in this article. More importantly, we will discuss how the company is positioned to exploit the upcoming demand with its current resources and infrastructure with respect to its competitors.
Growth in LNG Demand
During the last two decades, the incredible growth in Asia's economy has fueled a huge increase in energy demand. This increase in demand has also increased its dependence on the imported supplies. Although, a great portion of energy resources are still imported in different parts of Asia, its dependence on natural gas is much lesser as compared to other parts of the world. According to a research done by Mikkal E. Herberg, natural gas makes up for 30% of global energy use outside Asia while within this region, it makes up for only 11.3% of the total energy dependence as of 2012. The total average is highly affected by China, which uses natural gas to make up for only 5% of its energy use. But even after excluding China from the average, the gas share in total energy use for the region is only 19% as compared to 30% of the rest of the world.
However, these trends are now changing. Some parts of Asia are growing rapidly and are increasing their dependence on resources other than oil. LNG is the perfect fit as a fuel for industrial and commercial vehicle use as its productivity is much higher than LPG and storage and transportation cost is lesser as it takes up 600 times lesser space than natural gas. According to the above mentioned report, LNG consumption in Asia is likely to dramatically increase over the next two decades. Three major areas of Asia will derive future growth of LNG: China, India, Japan, and South Korea. China and India are likely to increase their LNG imports due to industrial growth while Japan and South Korea are looking to use LNG as a substitute for their nuclear energy after the incident at Fukushima nuclear plant. Chevron (NYSE:CVX), which is also ramping up its stakes in LNG market, says that demand for LNG could double over the next decade.
Moreover, LNG accounted for 10% of the total gas supply of the world in 2012, according to Total. This represents 240 million tons of natural gas production. By 2020, this output is expected to cross 373 million tons with LNG accounting for 13% of the global supply of gas.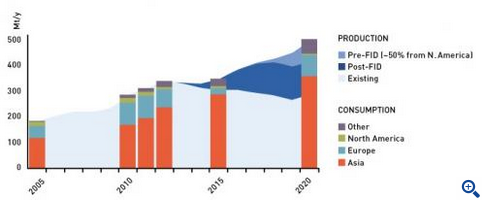 Source: Total
How is it beneficial for Exxon Mobil?
Papua New Guinea [PNG] LNG plant, which started its operations ahead of the scheduled time, is an important asset for the company. The $19 billion project has a lifespan of 30-years in which the company expects to produce approximately 9 trillion cubic feet of gas. The project generates 6.9 million tons of LNG each year.
Furthermore, due to the location of the project, it is situated at the center of the demand circle. As discussed earlier, Asia will be the biggest growth driver of LNG. The PNG LNG project's location will put the company in a position to supply LNG at a much cheaper shipping cost as compared to projects in East Africa and U.S. Gulf Coast. Lower shipping costs mean lower cost of LNG in the potential market, which will give Exxon Mobil a competitive advantage over its competitors. A company can generate value for its brand of fuel to only an extent. The real profit margins are extracted through cost reduction in the energy sector. In this situation, the company could either sell at the same price as the market and get a bigger profit margin, or it could sell at a lesser price and get a bigger market share while achieving economies of scale. Either way, we believe that Exxon Mobil is uniquely-positioned to exploit the growing LNG demand in Asia.
As compared to this project, Chevron is working on the Gorgon LNG project in Australia. It is a $54 billion project and is expected to generate 8.9 million tons of LNG each year. However, Exxon Mobil still holds the cost advantage of shipping due to its location, which gives it an edge on Chevron.
Conclusion
As discussed earlier, the rising LNG demand in Asia and Exxon Mobil's cost advantage has put the company is a unique position to exploit the upcoming LNG boom. The company already has started its operations and shipped its first batch at the end of June. We expect greater revenues as the company gets more orders of LNG supply in the third and fourth quarter. Furthermore, this segment will grow dramatically in the long term due to the projected demand of LNG over the next decade. As a result, we believe the long-term price trend in Exxon Mobil will be upward.
Additional Disclosure: This article is for educational purposes only and it should not be taken as an investment recommendation. Investing in stock markets involves a number of risks and readers/investors are encouraged to do their own due diligence and familiarize themselves with the risks involved.
Disclosure: The author has no positions in any stocks mentioned, and no plans to initiate any positions within the next 72 hours.
The author wrote this article themselves, and it expresses their own opinions. The author is not receiving compensation for it (other than from Seeking Alpha). The author has no business relationship with any company whose stock is mentioned in this article.