Silver's downward trend reached an impasse last week. Let's examine the relation between silver and U.S. equities and gold. Also, will the upcoming non-farm payroll report adversely impact the price of silver?
Last week, silver inched up 0.2%. The silver ETF, iShares Silver Trust (NYSEARCA:SLV), also edged up by 0.1%. Moreover, companies, including Silver Wheaton (NYSE:SLW) and Pan American Silver (NASDAQ:PAAS), also slightly recovered by 0.4% and 1.9%, respectively.
U.S. labor market and silver
This coming Friday, the U.S. non-farm payroll report will be released. In the previous report, 209,000 jobs were added in July, which was slightly below market expectation. As a result, the USD and silver didn't move much on the day of the report's release, as presented in the table below.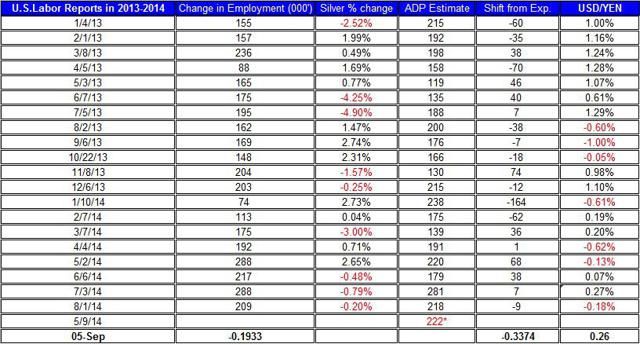 Source of data: Bloomberg and U.S Bureau of Labor Statistics
Usually, if the report shows a high growth in jobs and beats market expectations, the USD tends to rally and silver tends to fall. Moreover, the correlation between the changes in jobs from expectations and price of silver is -0.33, which is a mid-strong linear correlation. Thus, if the upcoming report shows a higher gain in jobs than the current projections of 222,000 jobs, then silver may resume its downward trend.
S&P 500 and silver
In the meantime, the U.S. economy shows signs of progress. The second-quarter GDP was revised up from 4% to 4.2%. This may have contributed to the rally of the USD against leading currencies during last week. Also, the U.S. equities markets continue to recover as the S&P 500 index reached the symbolic mark of 2,000 points. Due to this rally, the ratio between the S&P 500 index and the price of silver also increased in the past few months.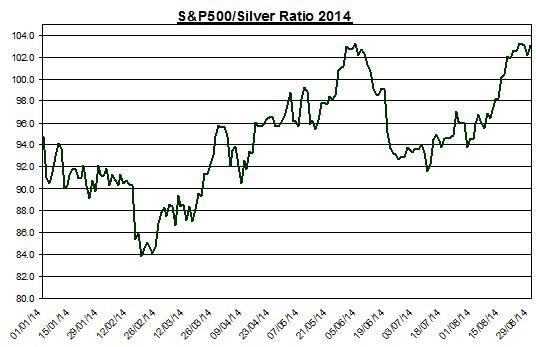 Source of data: Bloomberg and Google finance
This chart indicates how the S&P 500 is outperforming silver and if this trend persists, this could suggest more investors are steering away from silver and into equities.
Gold to silver ratio is rising
Despite the appreciation of the USD, gold remained relatively stable in the past month.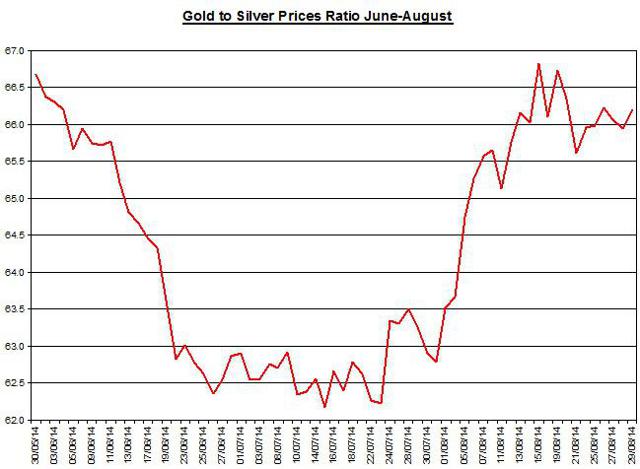 Source of data: Bloomberg
Therefore, the gold to silver ratio climbed to its highest level since the end of May. This comes after silver has outperformed gold during June and July. The ratio has shifted between 60 and 67 in the past year.
Takeaway
Silver may resume its downward trend in the near term, but the price isn't likely tumble down anytime soon.
Disclosure: The author has no positions in any stocks mentioned, and no plans to initiate any positions within the next 72 hours.
The author wrote this article themselves, and it expresses their own opinions. The author is not receiving compensation for it (other than from Seeking Alpha). The author has no business relationship with any company whose stock is mentioned in this article.