Charles Schwab will begin trading a new "Schwab U.S. REIT ETF" (NYSEARCA:SCHH) on Thursday, January 13. The ETF will track the Dow Jones U.S. Select REIT Index, and will have total annual operating expenses of 0.13%.
Last week I posted an article about risk-adjusted returns and diversification using several hundred benchmarks of equity investments, both U.S. and global. The DJ US Select REIT Index is one of the four domestic REIT benchmarks included in my analysis: it's the one with the lowest historical Sharpe ratio (0.111), but also the lowest correlation with the Dow Jones Total Market index (55.3%).
That's a long-term correlation, and correlations among all assets generally increased during the liquidity crisis of 2008-2009, as they do during all crises. The current correlation between the DJ US Select REIT Index and the DJ TM (formerly the DJ Wilshire 5000) is about 74%.
It's important to have a good estimate of the current correlation, because it's common for investors--and even product managers such as Schwab--to use a rolling 12-month correlation to evaluate the diversification benefits of a given asset. A rolling model is fine when markets aren't changing, but during a period of market turmoil (including shortly after a market crisis) a rolling correlation can give investors a very poor idea of diversification power.
I use a DCC-GARCH model to get a much better handle on changes in correlation. DCC-GARCH stands for Dynamic Conditional Correlation with Generalized Autoregressive Conditional Heteroskedasticity. Robert Engle won the Nobel Prize for Economics in 2003 for developing the general class of models, including DCC-GARCH.
Here's a graph of the DCC-GARCH correlation between the DJ US Select REIT Index and the DJ Total Market Index since 1987: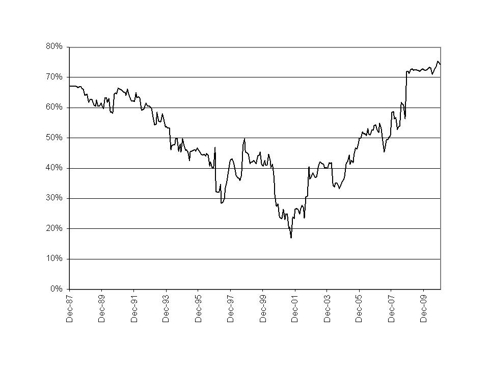 Click to enlarge
(Click to enlarge)
As you can see, the correlation spiked upward to 72% in October 2008, when the liquidity crisis hit the REIT market, and more recently it moved slightly higher to 74%. During the 20 years before the liquidity crisis, though, it was essentially never above 60% and usually below 50%.
My own guess is that REIT-stock correlations are likely to move back down to their historical range of around 50%. That provides a substantial diversification benefit, which means that investors will be able to keep a larger share of their portfolio in high-return assets such as REITs and stocks without increasing the volatility of their overall portfolio.
Other REIT ETFs include:
Vanguard REIT ETF (NYSEARCA:VNQ)
First Trust S&P REIT ETF (NYSEARCA:FRI)
First Trust FTSE EPRA/NAREIT Global Real Estate Index Fund (NYSEARCA:FFR)
PowerShares Active U.S. Real Estate Fund (NYSEARCA:PSR)
PowerShares FTSE RAFI International Real Estate (PRY)
SPDR Dow Jones REIT ETF (NYSEARCA:RWR)
SPDR Dow Jones Global Real Estate ETF (NYSEARCA:RWO)
SPDR Dow Jones International Real Estate ETF (NYSEARCA:RWX)
iShares Cohen & Steers Realty Majors (NYSEARCA:ICF)
iShares Dow Jones U.S. Real Estate (NYSEARCA:IYR)
iShares FTSE NAREIT Real Estate 50 (NYSEARCA:FTY)
iShares FTSE NAREIT Industrial/Office Capped (NYSE:FIO)
iShares FTSE NAREIT Mortgage Plus Capped (NYSEARCA:REM)
iShares FTSE NAREIT Residential Plus Capped (NYSEARCA:REZ)
iShares FTSE NAREIT Retail Capped (NYSEARCA:RTL)
iShares S&P Developed ex-US Property (NYSEARCA:WPS)
iShares FTSE EPRA/NAREIT Developed Real Estate ex-US (NASDAQ:IFGL)
iShares FTSE EPRA/NAREIT Developed Asia (NASDAQ:IFAS)
iShares FTSE EPRA/NAREIT Developed Europe (NASDAQ:IFEU)
iShares FTSE EPRA/NAREIT North America (NASDAQ:IFNA)
Disclosure: I have no positions in any stocks mentioned, and no plans to initiate any positions within the next 72 hours.
Additional disclosure: I am long Vanguard REIT Index Fund.
Disclaimer: The opinions expressed in this post are my own and do not necessarily reflect those of the National Association of Real Estate Investment Trusts ((NAREIT)). Neither I nor NAREIT are acting as an investment advisor, investment fiduciary, broker, dealer or other market participant, nor is any offer or solicitation to buy or sell any security investment being made. This information is solely educational in nature and not intended to serve as the primary basis for any investment decision.