For many investors, airlines stocks have been the place where money goes to die. But several trends have now changed that, and airlines have continued to evolve into a much more investable space. For instance, Delta Air Lines (NYSE:DAL) saw its share price more than double in fiscal 2013. Let's have a look at some of the reasons why airline stocks such as Delta Air Lines, United Continental Holdings (NYSE:UAL), and American Airlines (NASDAQ:AAL) are likely to rise in 2014.
1) Falling crude prices
Oil is the single most important expense for all major airlines. For Delta Air Lines, it accounts for 32% of its overall expenses. The unforeseen oil boom in the U.S. has turned the country into a net exporter of oil to Europe, from being an importer of the vital commodity just a couple of years ago.
The airlines' profits are likely to glide higher on the prevailing lower crude oil prices that have been suppressed by the surge in domestic crude production in the U.S. The United States Energy Information Administration, or EIA, forecast that average prices of both WTI and Brent crude oil will continue falling in 2014 and 2015 as a result of non-OPEC supply growth outpacing growth in world consumption. From last year's range of $108/bbl to $112/bbl, the EAI predicts that Brent prices will fall to $105/bbl in 2014 and $101/bbl in 2015. WTI crude oil is expected to average $93/bbl in 2014 to $90/bbl in 2015. The EIA went on to say that good times lie ahead, and domestic production will shoot up from the current 7 million barrels a day, to the historical highs of around 9.6 million barrel per day, last seen in 1970.
Since the U.S. is now largely self-reliant in oil, the negative repercussions of the Russia/Ukraine crisis, which have seen prices in many European markets rise 10%, will have a minimal effect here.
Delta Air Lines is now 100% reliant on its own oil, which it refines at its Trainer refinery which it bought in 2012 as a way to hedge against high jet fuel costs. After going through nine months of losses amounting to $70 million, the Trainer refinery finally made a $3 million profit in the third-quarter of 2013. But unfortunately, the refinery had an unexpected shutdown in the fourth-quarter and the facility lost a further $46 million. The mega-carrier projects that it can save up to $300 million every year from the refinery, and expects the facility to generate a modest profit in the current quarter.
Delta Air Lines finished fiscal 2013 on a record $2.7 billion profit helped mainly by the prevailing lower fuel prices. The profit represented a 69% jump from the previous year's profit.
2) Trickle down effects of lower fuel prices
Oil prices have a huge impact on other sectors of the economy. According to the EIA, 43% of industrial products depend on oil, 96% of the transportation sector, 21% of residential and commercial energy and 3% of power generation activities. Rising oil prices in turn lead to rising gas prices, which affects 14% of gas-powered electric power stations, 73% of residential and commercial energy consumption and 39% of industrial production.
In short, oil prices touch almost any conceivable sector of the U.S. economy. Lower gas prices will for instance, mean that drivers pay less at the pump, leaving them with more money in their pockets. The overall effect of substantially lower oil prices will mean that people have more money to spend on discretionary items such as leisure traveling.
3) Improving global economy
The profit margins of airlines closely mirror that of world GDP growth, with almost no time lag between the two. When the economy is growing, airlines in turn make more money, and the reverse happens when the economy slows down.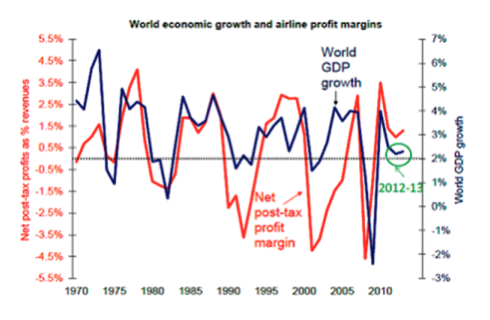 Source: CAPA
The World Bank has projected that the world economy will grow much faster in 2014 than it did in 2013, at 3.2% vs. 2.4% last year. That's a 33% improvement in the growth rate.
In rich countries, including the U.S., the economic growth rate is expected to improve from 1.3% last year to 2.2% in the current year. That's a huge 70% improvement in the growth rate.
Delta Air Lines' shares can still soar
Airline investors are traditionally known to be a cautious lot, taking their profits quickly after a huge run up by airline stocks. Atlanta-based national carrier Delta Air Lines is the undisputed leader of the space. The company's shares shot up 130% in 2013, totally outperforming the S&P 500 and the PowerShares Aerospace & Defense ETF. Delta shares have gained more than 200% since October 2012.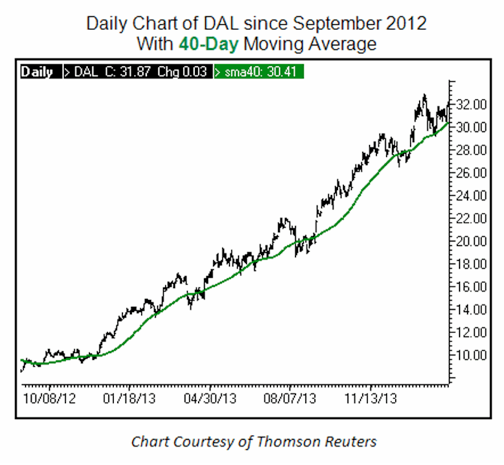 Delta had a spectacular performance year in 2013, with the carrier's profits soaring to $2.7 billion, more than double those of United Continental, its closest competitor. Higher global GDP growth in 2014 is expected to spur good growth in air travel. Delta estimates that corporate spending on air travel will expand 7% in 2014.
The domestic US airline industry is expected to continue to stabilize as major integrations such as United Continental and American-US Airways. Delta plans to expand its flying capacity by about 2% in 2014, with special emphasis on the Latin American market where the rapidly-expanding economy is creating growth opportunities. This together with the carrier's partnership with Virgin Atlantic that will help it gain better leverage in the U.K. market, should help it expand its topline significantly.
Delta Air Lines is one of the few airline stocks that pay out dividends to their shareholders. Southwest and Alaska are the other two, and their stocks yield around 1%. That's nothing much to write home about, with stocks such as Altria yielding 5.2%. But with the improving macro-economic trends and falling fuel prices, that figure should rise.
Bottom line
There are good reasons to believe that shares of Delta Air Lines, alongside those of United Continental and American Airlines can still soar in 2014. The three have been given the thumbs up by J.P. Morgan and Deutsche Bank, with Delta's shares given a consensus price target about 24% above the current price.
Meanwhile, several analysts have predicted the airline sector is set to become an inevitable sector riding on all these positive trends. With growth fuel production slated to continue growing at an above average pace till 2020, and an improving domestic and global economy, airline stocks look like a decent long-term investment.
Disclosure: The author has no positions in any stocks mentioned, and no plans to initiate any positions within the next 72 hours.
The author wrote this article themselves, and it expresses their own opinions. The author is not receiving compensation for it (other than from Seeking Alpha). The author has no business relationship with any company whose stock is mentioned in this article.