Target Corp. (NYSE:TGT) is among the leading retail stores in the U.S.; consistent efforts by TGT to grow its top-line and bottom-line results through aggressive promotions in the U.S., better supply chain management and re-pricing initiatives in the Canadian segments seem to be on track. Moreover, TGT has rightly shifted its focus on Omni-channels (e-commerce) to benefit from the growing e-commerce business. I believe the company has been taking the right steps to expand its business and improve its operations, which will strengthen its market position and portend well for its growth in the long term. However, the company's performance could be challenged in the short term by competition in the industry.
U.S. Segment - Slowly Improving
Competition in the U.S. Retail Industry has been intense, as companies like Wal-Mart (NYSE:WMT) and Supervalu (NYSE:SVU) offer price discounts to strengthen their market shares and grow top-line numbers. In the competitive industry environment, TGT has been taking steps to address competition and improve its top-line numbers. In 2Q14, the company's U.S. segment's net sales were up 0.7% year-over-year and same store sales were flat year-on-year. I believe the company was able to post satisfactory top-line results, as consumer confidence was low due to the credit card data breach issue. The company has been taking several measures to improve its data security system to restore consumer confidence. It seems the company has done well to restore consumer confidence, as it has done well to moderate consumer traffic decline in the U.S. since 4Q13, as shown in the chart below.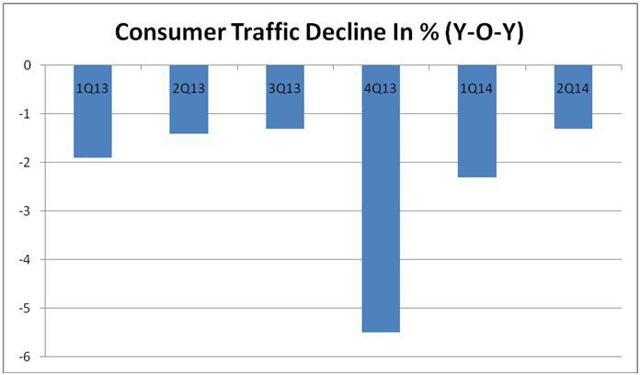 Source: Company's Quarterly Earnings Data
Also, to improve its customer traffic, the company has increased its promotional activities. I believe the promotional activities will portend well for the company's store traffic, but will pressurize margins in the near term; TGT's EBITDA margin was down 1.1%, in 2Q14.
Furthermore, TGT has planned to keep 900 stores open till 11pm (TGT stores close typically at 10pm during the week) in efforts to increase store traffic. I believe both initiatives, increased promotional activities and extended hours, will put pressure on TGT's margins in the short term, but in the long run, these initiatives will portend well to grow market share by driving more store traffic.
Online Sales
TGT is doing the right thing by focusing on its Omni-channel. Although the company faces tough competition from WMT, the number one retailer in online sales, TGT's digital sales increased by 30% in 2Q14. Better online services have helped the company expand its Omni-channel. Furthermore, the company is poised to build its momentum in Omni-channel, as it recently launched a new app. The purpose behind this app is to make shopping easy for customers by allowing them to bookmark products they want to buy, even from the pages of magazines, without looking up for codes of these products in online stores.
I believe that the strong commitment to grow its Omni-channel will strengthen TGT's market share and fuel growth. The company's Chief Merchandising and Supply Chain Officer said in the recent earnings conference call:
"So, we will go after being a seamless Omni-channel retailer with confidence knowing that it's the best thing for our guest and best thing for our business."
Canada Segment - Patience Required
The company's Canadian operations seem to be struggling; TGT's comparable sales decreased 11.4% year-over-year in Canada. Weak supply chain management and pricing issues are believed to be adversely affecting the Canadian segment's performance. The company has been working to improve its business in Canada by improving its operational efficiencies.
Also, the company has been taking steps to attract customers and address competition through competitive pricing, as its prices are considered to be higher than WMT, which has adversely affected TGT's performance. In an attempt to address price-based competition and drive more consumer traffic to its Canadian stores, TGT has launched a price-match strategy to let customers match prices online with its peers. Also, the company has been reducing prices to become more competitive, which will portend well for its Canadian operations.
Moreover, to improve its supply chain, the company has ramped up efforts under newly-appointed Canadian segment President Mark Schindele. The efficient supply chain management and network will improve the company's operational performance, and allow it to address challenges.
Expense Burden
In 2Q14, the company's bottom-line remained under pressure due to competition. Moreover, expenses related to the data breach have put pressure on the bottom-line results of the company. TGT registered a data breach expense of $148 million in 2Q14, which weighed on its earnings base. The company missed analyst EPS estimates by 1.30% in 2Q14. However, the analysts are still optimistic about TGT's growth potential, as they are anticipating a higher next five years growth rate for TGT, as compared to WMT and SVU, as shown below in the table.
| | |
| --- | --- |
| Companies | Earnings Growth |
| TGT | |
| WMT | |
| SUV | |
Source: Nasdaq.com
Conclusion
TGT operates in a competitive industry environment, which will keep the company's performance challenged in the short term. However, the company has been taking the right steps, including expanding its online business, and driving store traffic through promotions and competitive pricing in the U.S. and Canada, which will improve its performance in the long term. The competitive pricing and promotional activities will pressurize TGT's margins in the near term, but will portend well for its position in the industry in the long term.
Disclosure: The author has no positions in any stocks mentioned, and no plans to initiate any positions within the next 72 hours.
The author wrote this article themselves, and it expresses their own opinions. The author is not receiving compensation for it (other than from Seeking Alpha). The author has no business relationship with any company whose stock is mentioned in this article.