In my last article, I compared Youku's (NYSE:YOKU) valuation with its peers. I argued that it is one order of magnitude more expensive than the comparable companies using P/S as metrics. And in this article, I am going to argue that such a valuation is inappropriate given its operating metrics.
Before I go into details, I just want to point out that the diluted ADS count of Youku.com amounts to 118.6m, including the options offered to the employees at nominal cost and green-shoe shares. This share count puts the Youku's market cap at $4.4b with Wednesday's close price at $37.21.
The tool I use for operating metrics is simple but effective: Alexa.com, a well-recognized web traffic reporting site.
The following table shows the current traffic ranking of those Chinese video related websites. Youku and Tudou are very close to each other, taking the 9th and the 10th spot. Sina (NASDAQ:SINA) and Sohu (NASDAQ:SOHU) are both higher, at the 4th and the 8th spot. Ku6, 56.com and Xunlei.com are not far behind. Qiyi, the online video site invested by Baidu (NASDAQ:BIDU), cannot be ignored at the 64th position, which is achieved with less than one year's operation.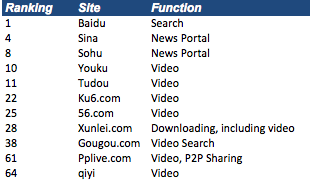 Other than the rankings, I would like to make some observations with the Alexa data.
1. Tudou.com is operating a better video website than Youku.com.
In order to see this point, we compare Youku.com and Tudou.com on the following metrics side by side: Traffic Rank, Reach, Pageviews, Pageviews per user and Bounce ratio.
Shown on the Daily Traffic Rank Graph and Daily Reach Graph, Todou is catching up to Youku in a fast clip during the past six months. They are performing on par currently and I expect Tudou to overtake Youku in ranking in the next three months as long as the current trend continues.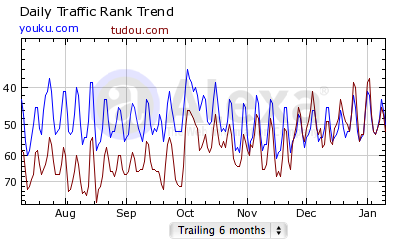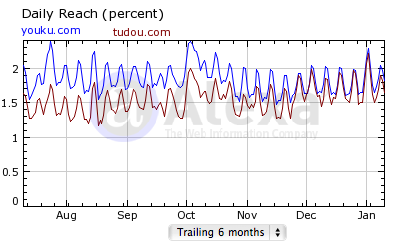 Daily Pageviews and Daily Pageviews per User show that the Tudou users are more loyal, checking out more pages than Youku users. Bounce Rate also tells the same story - Youku users are more likely to be redirected to the site but to close the window either immediately or after viewing the content.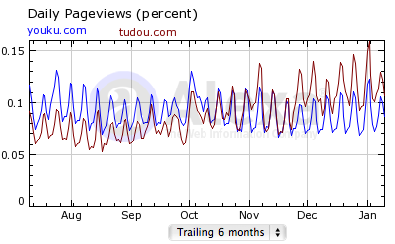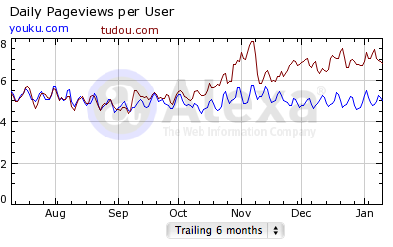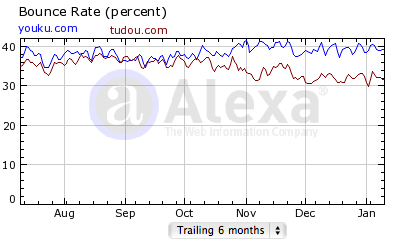 2. Tudou and Youku reach 2x to 3x as many users as Ku6.com and 56.com, but Sina.com reaches twice as many users as Tudou or Youku.
This can be viewed from the following graph.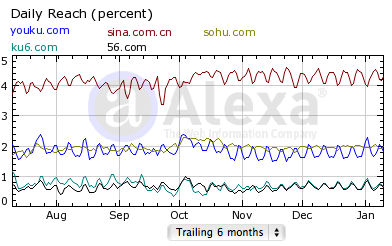 3. Youku is not expanding its user base.
The following graph compares its growth against tudou.com, its closest peer and qiyi.com, a new entrant backed by baidu. Its competitors demonstrate better growth, while we see a stagnant Youku performance.
Click to enlarge


Click to enlarge
Now here are the questions investors need to ask themselves:
1. What valuation should we give Tudou?
It seems that Tudou is outperforming Youku on every front. It makes better profit and demonstrates better operating metrics. Now since we have Youku as a $4.4b company, how much valuation should we give Tudou when it comes to an IPO? Does the online video business in China warrant such lofty valuations? Especially since the two are competing fiercely against each other. How much profit can be rewarded to investors?
2. What valuation should we give Ku6.com?
The market has spoken on that. Ku6.com is only worth a mere $166m, 1/25th of Youku. Neither is making money, and Ku6.com has 50% of the traffic volume of Youku. Why should we buy Youku but dump Ku6?
3. Is there growth to back up Youku's valuation?
Youku's valuation clearly indicates an extreme optimism for Youku's growth, but Alexa tells us that Youku is not growing its user base. Without the user base growth, the revenue growth is not going to be solid, and the profit as well.
4. What creditability should we give to market share figures cited in Youku's IPO prospectus?
In its prospectus, Youku claimed 40% market share for the second quarter 2010 in terms of total user time spent viewing online video, according to iResearch, a local research firm.
Even if this number was correct, Youku's market share would have shrunk by the end of 2010, knowing that Tudou is at par, Ku6 is one half of the size, and Qiyi is catching up. Sina and Sohu are also gaining in this field.

Disclosure: I am short YOKU.