This is a series of articles to assess risk for the 26 BDCs that I cover and a follow up to my other "BDC Risk Profile" articles. There are many reasons why assessing risk for BDCs is important, including expected returns, valuations, and the potential loss of capital during an economic downturn or general business cycle. I use 'relative risk rankings' in many of my articles for valuation purposes, because I believe BDCs should be measured on projected risk vs. return. This series will take into account new metrics, and I will be adjusting my rankings accordingly, as well as updating my suggested 'risk averse' BDC portfolio.
The following are some of the indicators of risk and portfolio quality that I will be discussing in this series:
General portfolio mix and yield
Portfolio debt-to-EBITDA
Average investment size and portfolio concentration risk
BDC leverage vs. portfolio mix
NAV growth vs. declines
Fair value of investments as a percentage of cost
Dividend coverage and the need to reach for yield
The previous articles in this series are:
I consider THL Credit (NASDAQ:TCRD) to have an average but improving risk profile due to its reach for higher quality assets and better than average debt-to-EBITDA ratio as discussed in my "TCRD Articles". Debt-to-EBITDA measures the weighted average portfolio debt as a multiple of EBITDA. Ratios greater than five times usually indicate that a company is likely to face difficulties in handling its debt burden, and is less likely to be able to raise additional loans required to grow and expand the business and it can result in a lowered credit rating. At 4.2 times, TCRD's portfolio has a better than average ratio. As a comparison, I recently reviewed the risk profile for PennantPark Floating Rate Capital (NASDAQ:PFLT) and Apollo Investment (NASDAQ:AINV) with ratios of 3.7 times and 5.4 times, respectively.
Recent Disclosures from the Investor Call and Presentation:
"From a portfolio composition standpoint, if you refer to the page 25 of the investor presentation you will see that overtime we have continued to invest higher up in the capital structure and floating rate securities. Over the last year, our asset mix has shifted from 54% in the first and second lien debt and 36% in subordinated debt, 71% in first
and second lien debt and 20% subordinated debt. In addition to take advantage of rising in interest environment, since the second quarter of last year, we have increased the percentage of floating rate investments from 53% to 67% based on fair value."

"In terms of credit quality, our portfolio remains strong and consistent with the first quarter. As of June 30, 83% of our companies and our portfolio on a fair value basis received either a one or two credit score, which means they are meeting or exceeding our underwriting expectations."

"We continue to have three investments on non-accrual, with two of those investments receiving a credit score of 4, and one receiving a credit score of 5. The three loans on non-accrual status as an amortized cost basis of $39 million or 5.3% of the portfolio which is unchanged form the prior quarter. For any companies with a three score or lower, we increased their level of engagement and require more frequent updates on performance and strategic initiatives in order to work toward a safe landing while maximizing our returns."
The three companies on non-accrual status are C & K Market, Wingspan, and Express Courier that are discussed in "TCRD: Poised For Growth & Pushing Higher" and "TCRD: Falling Yields & Growing Dividends".
CLO Investments
There has been a slight increase in the amount of collateralized loan obligation ("CLO") residual interests. I consider these types of investments to be much riskier due to being the last in line to be paid, and the first to be cut off if the underlying investments default as discussed in "Is PSEC Ready For Rising Rates?". TCRD defines these investments as:
"Residual interests, subordinated notes or income notes are subordinated to the secured notes issued in connection with each CLO. The secured notes in each structure are collateralized by portfolios consisting primarily of broadly syndicated senior secured bank loans. The income notes are part of a class of subordinated notes, which are paid equal with other subordinated notes within this class. In each case, the subordinated notes do not have a stated rate of interest, but are entitled to receive distributions on quarterly payment dates subject to the priority of payments to secured note holders in the structures if and to the extent funds are available for such purpose. The payments on the subordinated notes are subordinated not only to the interest and principal claims of all secured notes issued, but to certain administrative expenses, taxes, and the base and subordinated fees paid to the collateral manager. Payments to the subordinated notes may vary significantly quarter to quarter for a variety of reasons and may be subject to 100% loss. Investments in subordinated notes, due to the structure of the CLO, can be significantly impacted by change in the market value of the assets, the distributions on the assets, defaults and recoveries on the assets, capital gains and losses on the assets along with prices, interest rates and other risks associated with the assets."
At this point, I believe 5% of the portfolio is an appropriate amount of risk especially compared to Prospect Capital (NASDAQ:PSEC) and TICC Capital (NASDAQ:TICC) with 18% and 30%, respectively. On the recent earnings call management mentioned its view of future CLO investments:
"We saw all the returns on CLO equity tighten up quite a bit and so we've really -- stayed on the sidelines. As you know we've got a CLO Manager based in Chicago a couple of very experienced individuals in New York as well. Recently those crisis have widened a little bit, we think that may be some attractive opportunities between now and the end of the year. At least we're on the lookout for them. Right now, the portfolio is less than 5% CLO equity, you know my guess is we have room for maybe one or two others over the next six to nine months. But its not an area that we'll do a lot then we're really just opportunistic in that area, given that our team knows to space that well."
I believe this is much more conservative stance compared to PSEC and TICC that are pushing the 30% maximum of 'unqualified' investments such as CLOs.
Portfolio Yield
I have recently upgraded TCRD due to stabilizing its portfolio yield and improving its dividend coverage from recurring income. TCRD has historically experienced larger declines in its portfolio yield most likely due to the improvement in its overall portfolio mix, as discussed in "TCRD: BDC Dividend Coverage Part 4" and shown in the chart below:

Top 10 Investments
Currently, the top ten portfolio investments for TCRD account for 32.6% of the portfolio with the largest investment only accounting for 4.3%.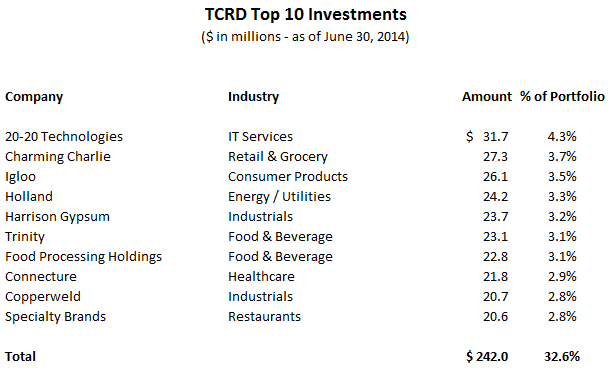 Side-by-Side Comparison:
I will be updating the following table to include the other BDCs, as well as new risk-related metrics throughout this series. The goal of using a side-by-side comparison is to show an 'apples to apples' view of each BDC in an attempt to clarify my revised relative risk rankings. I have included the results for PFLT and AINV, showing TCRD in between the two with its mix of investments, debt-to-EBITDA ratio and the concentration level of its top ten investments.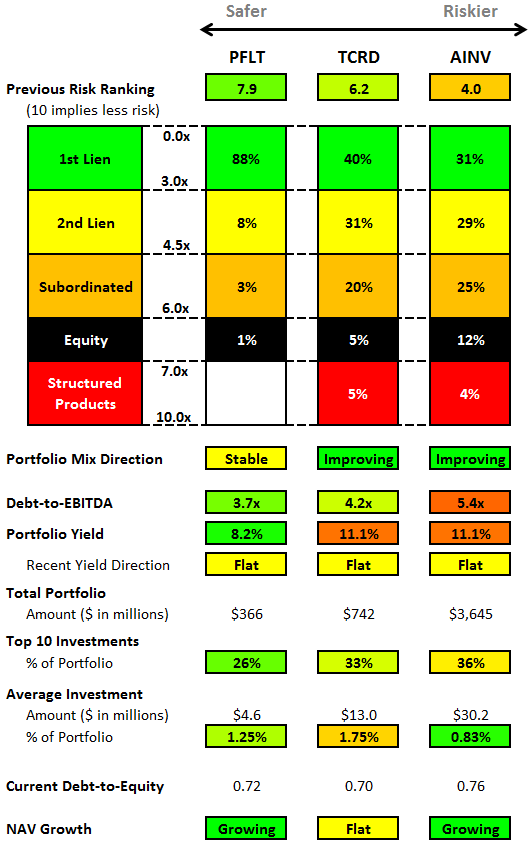 For more information about this series, please read "BDC Risk Profiles: An Introduction", and I will be adding my 'vintage analysis', as well as including information about BDCs with 'recession-resistant investments'. For updates to this series and links to previous risk-related articles on Seeking Alpha, please check my "BDC Risk Profile" page, as well as the "BDC Research Page" that I will continue to update as well as my "Index to BDC Articles" for more information on specific BDCs.
Disclosure: The author is long PFLT.
The author wrote this article themselves, and it expresses their own opinions. The author is not receiving compensation for it (other than from Seeking Alpha). The author has no business relationship with any company whose stock is mentioned in this article.