RetailMeNot (NASDAQ:SALE) is the world's largest digital coupon company with an internationally diversified portfolio. Lately its stock price came under pressure after it became known that an algorithmic change (Panda 4.0) in Google's (NASDAQ:GOOG) search engine adversely affected RetailMeNot's page rank - meaning that less consumers came to RetailMeNot's websites via organic search.
Heavy shorting and seemingly bad Q2 results let the share price plunge from its high of $48.73 to its 52 week low of $16.77. This article shows why the plunge is fundamentally unjustified and what opportunities the current situation provides.
The short story
The short story that was propagated by short sellers and which was believed by many investors goes like this: Google's update to its search engine algorithms in May 2014 drastically lowered RetailMeNot's page rank. This turned out to be a big problem since most users come to RetailMeNot's website via organic search (i.e. Google). The Q2 results prove this problem exists, as it was the second consecutive quarter where net revenue declined - while costs were going up. And that's the reason why RetailMeNot missed its Q2 EPS estimate of $0.17 by a great magnitude ($0.08).
The reality
This short story is intriguing, neat but wrong. Let's dissect the claims.
Did RetailMeNot miss its EPS estimate?
As others already pointed out, RetailMeNot did NOT miss its Q2 estimate, but rather beat it by $0.01. Some people believed that it was a miss since they mixed up GAAP EPS ($0.08) and non-GAAP EPS ($0.18) values.
Are net revenues declining?
RetailMeNot's quarterly revenue results vary heavily with the season. As you can see in the chart, the first two quarters (Q1 and Q2) are always bad, the third is normally a bit better and the fourth is always very strong.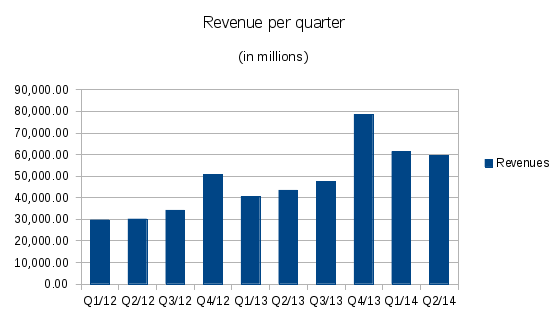 (Source: Created by author.)
In other words: you have to compare Q1/13 with Q1/14 and Q2/13 with Q2/14 and not Q1/14 with Q4/13 to see whether net revenues are declining.
What is the impact of Google's page rank?
The chart also shows that the second quarter revenue was really below the first quarter's but within the usual deviations (1-2%). If the impact of Google's search algorithm changes is only 1-2%, then it is obviously not a serious threat. However, it's hard to say whether or not parts of Google's impact have been compensated by other factors like increased usage of RetailMeNot's mobile app.
The SEO (search engine optimization) problem with Google's search is likely to be temporary. Anyone familiar with SEO knows that it doesn't take a genius but some hard work to fix this issue. It may, however, take up to a few months until new optimizations are in effect. This means that Q3 results may be affected as well.
The fundamentals
It's a misconception to treat RetailMeNot like a mature company, since it is now only five years old and had its IPO just one year ago. A seemingly high P/E (~70) and volatile EPS results are normal for young companies that are growing at a fast pace (25-30% estimated growth for 2014). Contrary to most other internet- and tech-stocks of that age, it is already profitable. Compare this to similar tech stocks like Groupon (NASDAQ:GRPN) that were hardly ever profitable and are still trading at a premium.
And RetailMeNot is de facto debt-free. Its cash and cash equivalents (213mm) outweigh their current total liabilities (69mm) by a factor of more than three.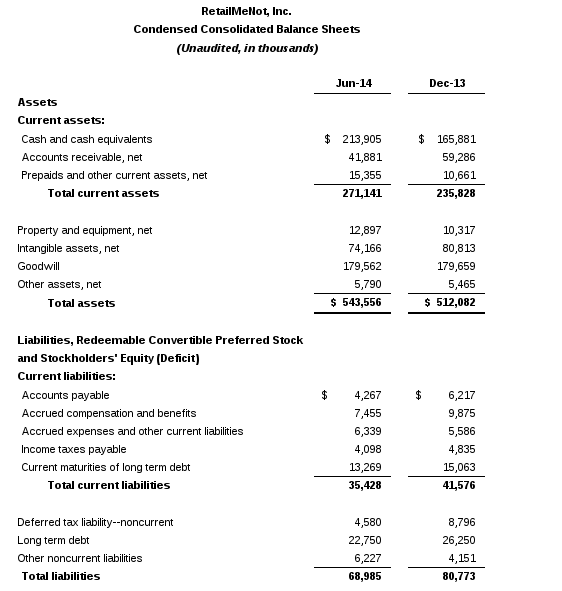 (Source: RetailMeNot)
What may give investors headaches are the surging costs. These are mainly attributable to "Product development" which includes in particular the development of the mobile app. The mobile app is part of a greater strategy to diversify away from organic search to mobile. Therefore it's an investment which is not only necessary for a growing business like RetailMeNot, but allows for new opportunities like GPS-based offers (see below).
Besides, the rising costs for product development are completely in line with the overall strategy. In its 2013 Form 10-K RetailMeNot states:
We intend to continue to significantly increase our technology and product resources over the next year by hiring additional personnel to develop new features and products for our websites and mobile applications. We expect these additional investments to cause our product development expenses to increase both in absolute dollars and as a percentage of net revenues in 2014 as compared to 2013.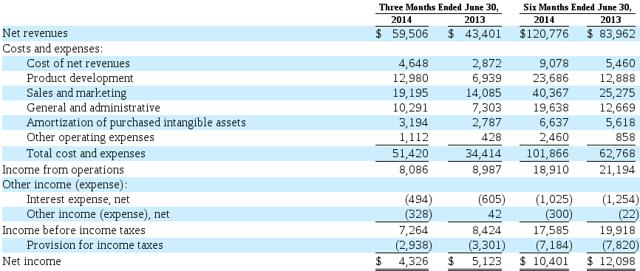 (Source: Q2/14 10-Q SEC filing)
All other cost factors should stay constant or decline in the future.
The business model
There's a widespread misconception that RetailMeNot merely adapted Groupon's business model. However, it's quite the opposite: Groupon is more and more adapting RetailMeNot's business model (i.e. promoting single digital coupons instead of group discounts). It's important to understand the differences of digital coupons and other types of coupons, when comparing RetailMeNot to its peers.
Why use digital coupons?
Digital coupons are a great way of marketing that benefit retailers as well as costumers. Customers are being informed about possibilities to save money for things they want and maybe to get to know new brands or retailers they were not aware about. For retailers, digital coupons are especially advantageous. If you know how difficult it is to measure the success of a marketing campaign and to calculate its ROI, then you'll start to love digital coupons since they make both particularly easy.
RetailMeNot has developed online reporting and analytics tools that allows its (paid) customers to track and analyze their users. This gives them a clearer picture of their digital coupon customer base and enables them to do more focused marketing campaigns in the future. Therefore it increases their marketing efficiency and saves them money they would otherwise have to spend on market surveys.
The opportunities of mobile apps
Additionally RetailMeNot tries to exploit new possibilities with mobile Apps: Users of the RetailMeNot mobile app get digital coupons sent to their smartphones which can be redeemed near their current geographical location (for example in shopping malls). This helps users, since they do not have to search for special offers and it benefits retailers as they can attract new customers to their stores.
RetailMeNot and the digital coupon market
All these new marketing possibilities that were introduced with digital coupons are still in an early stage of development. Since it's an easy and cost-effective way of acquiring new and tracking existing customers, there's an enormous growth potential as it's likely that more and more retailers and brands will adapt digital coupons for their advantages over traditional marketing methods. But as the demand increases, supply is also increasing and there are now dozens of (relatively small) digital coupon websites.
Over these small competitors, RetailMeNot has the advantages of being big and being an established brand. It's currently the largest digital coupon provider with a still growing user base and partnerships with over 70,000 retailers and brands (including "big" names like Nike (NYSE:NKE), H&M, Wal-Mart (NYSE:WMT), Ralph Lauren (NYSE:RL), etc.) and featured more than seven million digital coupons in 2013.
Other large coupon providers like Groupon (which specializes in group discounts) or coupons.com (NASDAQ:COUP) (which specializes in self-printable coupons) are more and more adapting digital coupons which were not part of their original business model. This may be another indicator that digital coupons are economically attractive since both mentioned companies rarely made profit whereas RetailMeNot has already been profitable for a while.
In addition to being already profitable, RetailMeNot also compares favorably to its peers in terms of revenue growth (37.11% compared to 32.30% for Coupons.com and 23.46% for Groupon).
Risks
Besides the usual risks of internet-/tech-stocks (e.g. high volatility) RetailMeNot especially faces the following problems and risks:
Dependency on organic search/Google: If Google decides to change its search algorithm again, it is likely to also adversely affect RetailMeNot again. As already pointed out, management tries to prevent this by trying to increase mobile usage
New privacy protection laws: The possibility to track users of digital coupons may be restricted in the future by new privacy protection laws, which could pose a problem to RetailMeNot since its paying customers will get less information about their users, thus making digital coupons less attractive
Increasing competition: If Groupon and Coupons.com decide to concentrate more on digital coupons, this may become a real threat to RetailMeNot. However, the market does not seem to be saturated yet, so at the moment there's probably enough "space" for multiple digital coupon providers
Opportunities
RetailMeNot's stock has both long- and short-term opportunities. The long-term opportunity is clearly the rapidly evolving business of digital coupons where RetailMeNot is the market leader with growth rates of 25%+.
But there are also two short-term opportunities:
The market has overreacted in regard to RetailMeNot's SEO problem and its Q2 results. As already pointed out, the third quarter is always better than the two preceding ones and if the SEO problem is already fixed, then it will be even much stronger which should push the share price.
But what's even more interesting is that the plunge in share price can mostly be attributed to short sellers and not shareholders fleeing the market. Let's look at how short interest increased since the SEO problem was announced (mid May 2014):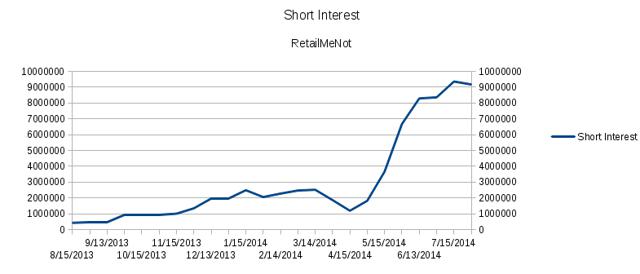 (Source: Created by author.)
If you consider that RetailMeNot has an institutional investor base of 85.18% (according to NASDAQ) and that the short interest more than tripled in the last months, it becomes quite obvious that the plunge in share price can mostly be attributed to short sellers rather than retail investors selling their shares.
Disclosure: The author is long SALE.
The author wrote this article themselves, and it expresses their own opinions. The author is not receiving compensation for it (other than from Seeking Alpha). The author has no business relationship with any company whose stock is mentioned in this article.