While the investment community remains focused on discovering the next home run stock poised for 4-bagger returns, we think it is equally important to identify and avoid potential torpedo stocks that could blow up your portfolio. Thus, we cannot agree more with Warren Buffett's famous basic rules of investing:
"Rule No.1: Never lose money. Rule No.2: Never forget rule No.1."
The table below provides a list of 15 large cap companies from the S&P 500 that we deem to be potential torpedoes. These are companies that rank poorly according to important criteria developed by The Applied Finance Group (AFG), including Economic Margin, Management Quality (MQ) and Valuation Rank. These three criteria have proven through back-tests to identify stocks likely to underperform sector peers and benchmarks. If you own or are considering adding one of these companies to your client portfolios, you may want to take a closer look into these companies and reconsider whether or not they are worth adding/owning.
When creating our list of unattractive stocks we looked for companies that fit the following criteria.
• Unattractive valuations
• Expected to experience a decline in economic profitability
• Wealth-destroying management teams
click to enlarge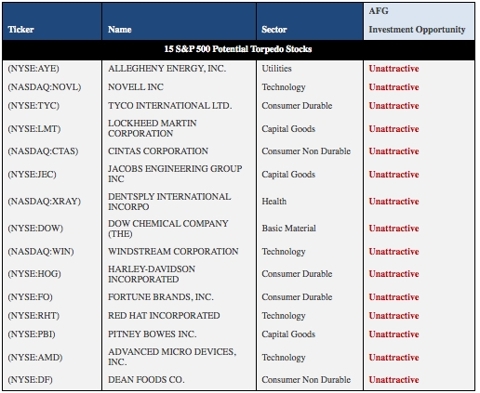 Disclosure: None