By Scott Tzu
King Digital (BATS:KING), maker of the popular app "Candy Crush" was itself crushed after the company reported earnings earlier this month, missing both revenue expectations and EPS. The company also lowered its guidance for gross bookings for 2014 by nearly 12%. As you can see, the stock was hit accordingly.
It wasn't the best possible way to start an IPO (spiking before being hit hard) and now the question becomes whether or not KING is severely underpriced from here or if the market is doing a good job of foreshadowing the company's future.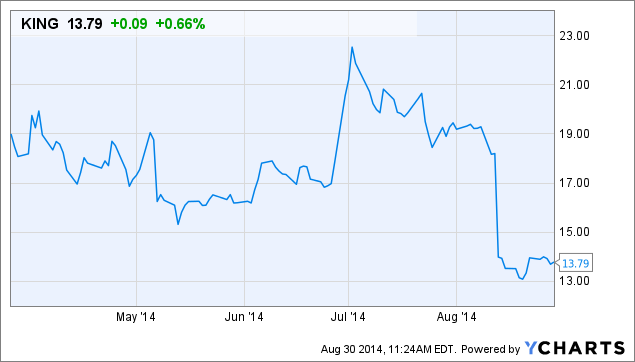 We've taken a look at the arguments on both sides regarding King and wish to deliver some of the key points from both the bulls and the bears.
We think the bulls are right when they say:
the $165 million net income the company posted is impressive
the company's conservative P/E of around 7 could make the company attractively priced
the potential for moving Candy Crush into China could be substantial
we like that the company is reducing its dependency on Candy Crush
we like the way the company was able to cut operating costs
minding the SG&A, which the company is doing, is important
the company has a significant cash position in $832 million
We think the bears are right when they say:
gross bookings fell off 4.7%, which needs to be watched carefully
along the same lines, a sequential decrease in revenue needs to be watched
should the growth begin to regress, regardless of the balance sheet, the company's low P/E may not be warranted
MAUs on the decline (down 2%) a metric that could be foreshadowing future active user declines
an increase in employees needs to be watched so that the overtly robust employee benefits that Zynga wasted money on can be avoided
KING has to be extremely cautious of becoming a "one hit wonder" in the sense that Zynga was with Farmville
Candy Crush is no doubt and unfortunately, a fad

The Peel's Feel:
We're cautious here and we are also short KING for the time being.
KING is a very young company with it all to prove and plenty to show to the markets. Usually, with companies that recently IPO, we like to see several quarters of sustained public financials before we can begin to assess whether or not we want to commit capital.
The company's short interest continues to be on the rise so far in its small life cycle. While not a meaningful enough to propel a squeeze at these levels, it will be worth continuing to look at this metric as KING moves closer to its next public report.
KING Percent of Shares Outstanding Short data by YCharts
We're also not sure that declaring a special dividend that's going to cost the company $150 million right off of the bat is the right move for this young company to make. We think it's much better to have your ducks in a row for several quarters before you go "unlocking" value that may not even be there for the long run.
We note that while King's balance sheet appears to have the company poised to be able to grow, we're wary of what is going to occur when Candy Crush eventually loses its luster.
We feel like we're moving dangerously down the road that Zynga (NASDAQ:ZNGA) once went down. We knew Zynga was in trouble when we were watching the financials erode and the company was offering services like pet sitting to its employees on a complimentary daily basis. We're all for employee benefits, we treat our own consultants and analysts well, but talk about having priorities out of line.
We see that KING has the chance to differentiate itself from Zynga in keeping its balance sheet in good shape and expanding to China where it can hopefully monetize its new games. Should the new games not gain traction (akin to the way FarmVille 2 didn't work for Zynga), the company could potentially shift gears to the downside again.
Additionally, we believe that moving into the Chinese market is the right move for the company. Mobile gaming is still an emerging opportunity in China (as we noted in our last write up about RENN),
However, we think the proof is in the pudding and in keeping with our macroeconomic outlook, which we think will lead to a coming correction, we are positioned short with KING for the time being. We rate KING as RIPE (HOLD) with a price target of $11 until further disclosures from the company, at which point we will reevaluate the company's prospects.
Disclosure: The author is short KING.
The author wrote this article themselves, and it expresses their own opinions. The author is not receiving compensation for it (other than from Seeking Alpha). The author has no business relationship with any company whose stock is mentioned in this article.