By Scott Tzu
In our first piece on Tesla (NASDAQ:TSLA), we acknowledged that we like the company and the progress that they've made, but in this geopolitical climate, we're a little edgy about jumping into a position with a company whose valuation is now stretched as much as Tesla's is.
Even the deepest of looks at Tesla's valuation based on future production goals gives it upside of about 30%-40%, based on today's share price. This particular analysis cited Tesla's growth through 2020 and, of course, this is if the company does everything it says it's going to do and the global economy holds up for the next 5 years.
The company's stock continues to scream, but as we said in our last piece, "what goes up must come down." We feel there is zero chance that Tesla becomes the first start-up company stock in history that simply goes on one long uptrend without hitting at least some bumps in the road that will drag its stock downward. Ask a mathematician about probability; it's only a matter of time, we feel.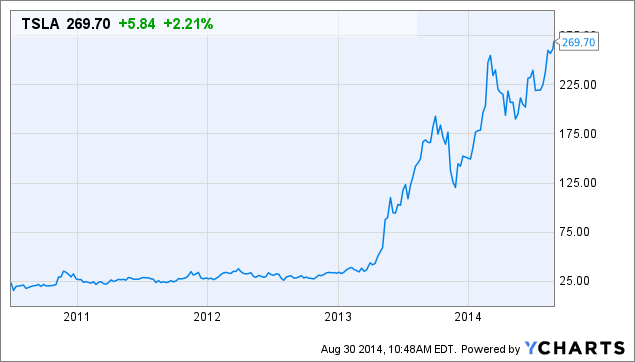 There is little doubt about the importance that the Chinese market holds for automakers. Other U.S. automakers are trying to increase their foothold in China due to the country's dense population and opportunities for growth.
A lot of Tesla's public focus has been on getting results in China, with some of last quarter's deliveries for China preempting those of other countries. Musk wants to start spreading his vehicles around the world, little by little, to give each country a "taste" of the Tesla brand, it seems. The main issue for Tesla right now in China is dealing with the demand for product and competing with companies like BMW and Ford (NYSE:F), both of whom are moving to make a stronger Chinese presence for their brands.
What would growth in China be without the country having its own network of supercharger stations to facilitate the demand for Tesla drivers?
Reports from China began to surface on late Thursday night, with Bloomberg reporting that Tesla was entering into a deal with China United Network Communications Corp. to begin work on "400 charging points in 120 Chinese cities at China Unicom outlets."
The article points out that the central government of China is looking to provide as much as US$16 billion to help facilitate growth of charging facilities and add demand for clean cars, which China desperately needs. As a country already ravaged by pollution and loose regulation of clean air standards, Tesla would be a perfect way to lead the charge in environmental reform.
No articles posted on the news went into the details of the agreement regarding costs for both companies. Tesla is going to be providing the stations, and China Unicom will supply the land.
All of this action is coming just a couple month after Fortune pointed out what seemed like some immovable objects that stood in Tesla's way in China; namely, government support and growing electric vehicle competition.

The Peel's Feel:
We need to look at this as investors. Sure, this is promising news for Tesla in the long run. Tapping into China has got to be a part of its massive growth plan. The question is whether or not these growth plans have already been priced into the common stock, and we believe the answer to be yes.
While we certainly note that moving into China is likely to be a key part of Tesla's development plan, we continue to remain cautious about the company's valuation. With sales half of General Motors (as the above linked article points out), Tesla would (in a sane market) only command a valuation of about $400/share (accounting for 15% dilution). And that's 5-6 years out from now. There are a lot of things that could potentially stand in this company's way between now and then, not the least of which being the geopolitical unrest that the U.S. markets have continued to ignore.
We're going to look for tangible sales of substance in China (and completed implementation of its supercharger network) before we become overtly optimistic about the company's prospects there. While other supercharger programs, like the ones in Germany, went off without a hitch, and we don't doubt Tesla's ability to do the same in China, we'd still like to see some results first. Then, we can begin to assess if Tesla can continue to grow as planned and as is already priced into the stock.
We continue to have worries about Tesla's warranty reserve numbers from the new drivetrain warranty that the company has just implemented. Without seeing how these are going to affect the financials going forward for the next few quarters, we'd be wary to scream bloody murder that Tesla is a buy here.
We continue to remain convinced that we're operating in a geopolitical climate that has not yet made its mark on the U.S. markets. While paper assets and equities continue to rise and commodities and fixed assets stay steady, we believe this to be a sign that the U.S. markets have gotten somewhat ahead of themselves in both gauging risk and valuation of equities.
On the China news, we reaffirm our RIPE (HOLD) rating on the company with a price target of $210.
Disclosure: The author has no positions in any stocks mentioned, and no plans to initiate any positions within the next 72 hours.
The author wrote this article themselves, and it expresses their own opinions. The author is not receiving compensation for it (other than from Seeking Alpha). The author has no business relationship with any company whose stock is mentioned in this article.