Migao (OTC:MIGGF) released its Q2 2014 financial figures on August 14, 2014. Its numbers show how Migao was able to get in the black through higher sales volumes, and scratch through a tiny profit of $400,000. Migao was in the red for the entire year of 2013 as the price of potash plummeted last year. Nowadays, the general mood seems to be potash prices are now holding steady. As well, the industrial giants such as Potash Corp (NYSE:POT), Uralkali (OTC:URALL) are showing no appetite to reduce prices further.
In my previous article, I had explained how Migao prospects may not be as dim as others believe. For this article, I want to understand how Migao is faring operationally and the management of its cash flow.
Cash Conversion Cycle Analysis
To understand the operations of Migao, I did a few ratio analyses to understand its efficiency so far. I calculated the cash conversion cycle where it looks at how efficiently Migao is converting its inventory to sales (Day Sales Inventory), collecting its receivables from sales (Day Sales Outstanding), and then to paying its suppliers (Day Sales Payable):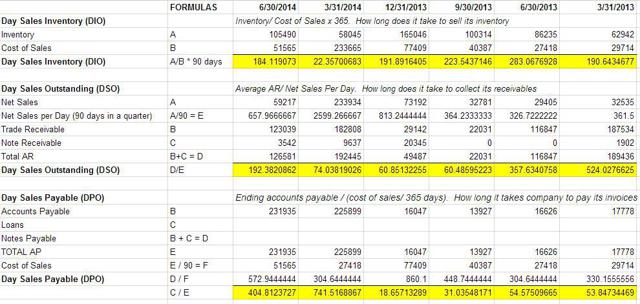 Click to enlarge

Click to enlarge
For a quick understanding of the graph. The figures are measured in number of days. For Day Sales Inventory (DIO) and Day Sales Outstanding (DSO), the lower the number, the better. For Sales Payable (DPO), the higher the number, the better.
In its 3/31/2014 financial statements, we see inventory suddenly dropping and cost of goods sold increased significantly. The DIO drops from 191 days from 12/31/2013 to 22 days the following quarter. The cash conversion cycle for 3/31/2014 was 9.38 days. This is significant because it shows Migao trying to offload as much inventory as possible as its fiscal year was ending.
On 6/30/2014, the inventory levels increase again and the sales begin to normalize. It looks like Migao had been stockpiling inventory as it has increased its profit through higher sales volumes while also doubling inventory from prior quarter.
In looking at the trends from 3/31/2013 to 6/30/2014, we do see Migao making an increasingly efficient use of its cash. The cash conversion cycle is negative in its most recent quarter. What this means is that Migao is collecting cash and making sales quicker than it takes to pay off its suppliers, and this is a good thing.
Disclosure: The 6/30/2014 financial statement states the current Day Sales Outstanding (DSO) to be 232 days and its 3/31/2014 at 183 days. I didn't arrive at those figures. I could be missing some figures myself.
Debt Level Analysis
As for the debt analysis, below is the debt ratio I calculated for the past 6 quarters:

Click to enlarge
In the quarter ending 3/31/2014 and 6/30/2014, the debt level has stabilized and remains steady at 0.55. In my previous article, I had mentioned that Migao was steadily increasing its debt levels for 2013 to fund its operations, we don't see this any more.
In looking at the operating cash flow to total debt, we see the following trends:

Click to enlarge
The numbers are reflective of the state of the potash industry for much of 2013. The prices in 2013 dropped significantly and Migao had to rely on its debt for much of 2013 to cover its liabilities. We see an uptake in 6/30/2014 (cash flow to debt ratio at 0.112) as the potash prices finally stabilized and sales volume increased for the quarter.
The operating cash flow to net sales (this measures Migao's ability to convert sales into cash) reinforces a similar argument:

Click to enlarge
For much of 2013, the operating cash flow to sales was negative. The 3/31/2014 figure at -0.142 was even lower than all the other quarters even though the net sales was highest. This shows that even though 3/31/2014 had one of the highest sales for Migao, most of those sales consist of sales on credit or sales through A/R. The 6/30/2014 quarter was significantly better as there was an increase in cash inflow with the associated net sales.
Overall Story for Migao:
It is clear that prices have stabilized and there is an expectation that prices may increase again albeit still lower than historic highs. For Migao, there are a few successes worth noting:
There is more cash flow coming into the company
Migao is making efficient use of that cash to generate further sales.
It has stopped utilizing its debt and its recent financials have stated it is looking to increase production further.
Heading towards the 9/30/2014 quarter, this is Migao's Q2-2015 fiscal year, the Q1-2015 fiscal year was 6/30/2014. Its busiest period is during Q3 and Q4 fiscal year; therefore Oct 1 to Mar 31 should be the most profitable period for Migao. Since Migao was able to break even on one of its slower quarters (6/30/2014), I anticipate Migao to be ramping up in sales in the next few quarters on the condition that prices continue to hold or increase slightly.
A Few Headwinds to Migao's Success Story:
Its most recent financials shows the company has turned over a new leaf but the stock price doesn't reflect this. It is hovering around a price of $1.40. My theory is that a lot of investors are still hesitant to invest in a Chinese company since there is still a stigma towards Chinese companies and their level of full disclosure.
Also, I think some investors still remain unconvinced of a turnaround in Migao. Here is why: Migao was able to break even by increasing its sales volume but I am not able to definitively determine what was Migao's overall operating capacity for 6/30/2014. Migao can only produce so much. The total operating output for its core products is 720,000 tonnes, and some of this product mix has lower profit margins. For Migao to significantly increase profit, prices will have to increase as well.
I continue to remain optimistic of Migao's future and believe Migao may have turned around. But there are a few headwinds in Migao's future beyond its control.
Disclosure: The author is long MIGGF.
The author wrote this article themselves, and it expresses their own opinions. The author is not receiving compensation for it (other than from Seeking Alpha). The author has no business relationship with any company whose stock is mentioned in this article.
Editor's Note: This article covers one or more stocks trading at less than $1 per share and/or with less than a $100 million market cap. Please be aware of the risks associated with these stocks.