Oilfield services companies have been generating big profits over the past three years due to the increase in drilling and production activities. The steady increase in demand for energy resources and the shift towards oil and liquid plays have resulted in most of the exploration and production [E&P] companies investing massive amounts of cash flows to boost production. This has further resulted in a very strong demand for oilfield services companies because they provide the technology, products and information solutions to the oil and gas industry worldwide. Further, market fundamentals are also strong as the demand for energy resources keeps rising and E&P companies keep investing in growth opportunities to enhance production.
Schlumberger (NYSE:SLB) is among the oilfield services companies that have set very strong footholds to keep capitalizing on the demand for oilfield products and services. Schlumberger has a diversified business model operating in three business segments including reservoir Characterization, production and drilling segments. In addition to that, it has extensive global foot-prints with around 126,000 employees working in over 85 countries.
Its reservoir characterization business segment provides technologies including wireline services and softwares to customers that reduces sub-surface risk and improves well production. Their drilling technologies enhances drilling efficiency, optimize well placement and assure wellbore integrity and production group provides new production group technologies, enhances operational efficiencies, maximize reservoir recovery and accelerate production. Its innovative product and technologies in each business segment has led it to generate, on average, a 17% growth in sales and a 16.4% growth in earnings in the past three years.
In the latest quarter, it posted $12.05B in sales as compared to $11.24B in Q1 of 2014 and $11.18 billion in the past year quarter. This represents a very strong growth of 7% sequentially and 8% on year-on-year basis. Strong growth in sales was led by its wireline services, seismic activity, pressure pumping and completions as well as the software sales which are also rising. Additionally, with the latest technologies and services in its portfolio combined with enhanced operational efficiencies, the company is getting higher margins on its sales. In the latest quarter, its income from continuing operations increased by 17% on a year-on-year basis and by 13% sequentially.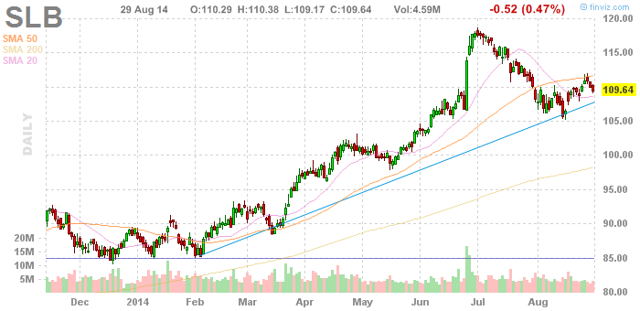 A massive surge in its share price clearly tells us that the company remains successful in enhancing investors' confidence in its worldwide operations, innovative technologies and strong financial performance. However, the stock is on a dip with the recent market correction and the fall in prices. Amidst all this, I believe this presents an attractive opportunity to initiate a position in a company because the market fundamentals look strong to me as the overall global economic outlook continues to stabilize. Moreover, it will be helped by the US recovery which was affected by the harsh weather conditions and it is anticipated that the U.S. land rig count will grow which will result in mid-single digit growth in revenue. Europe, Africa, CIS and Russia are also showing recovery from the effects of winter season. Both drilling and seismic activity in the key markets of Saudi Arabia and Australia has been increasing. In addition to that, companies in the E&P industry and the integrated oil and gas industry continue to invest more in growth opportunities to keep producing steady growths in their production level so as to meet the demand.
Furthermore, Schlumberger seems to be in a buying zone. This is based on its price to earnings ratio of 21 which is well below the industry average of 26. At the moment, it is trading around $110/share which is well below its 52-weeks high of around $118/share and analysts price target estimate of $132/share. Also, SLB's high forward price to earnings ratio of 16.3 signifies a strong upside potential. On the other hand, its closest industry peers including Halliburton Company (NYSE:HAL) and Baker Hughes (NYSE:BHI) are also producing strong growth with favorable business environment. However, Schlumberger has ability to convert higher revenue growth into higher profits compared to these two closest industry peers. In the past three year, Schlumberger has generated 16.8% growth in earnings while Baker Hughes earnings were at 10% and Halliburton's at only 5%. Further, Baker Hughes is trading well over its fair value estimate of $63/share and Halliburton is very close to its fair value estimate of $70/share.
One more advantage of buying and holding SLB's stock is its dividends and high dividend yield compared to the peers. The company has been regularly increasing its dividends at a high rate. Recently, the company has increased its quarterly dividend from $0.31 to $0.40/share. The company's cash generating potential looks strong enough to support increasing dividends. At the end of latest quarter, its free cash flows came at $1.6B when dividend payments were standing at only $522M. The huge gap between dividend payments and free cash flow offers a lot of room for potential dividend increases. I believe SLB will make another increase in dividends as it has a history of making increases in its dividends in the first quarter of each year. And, its free cash flows are offering a room for potential increases. Additionally, a strong cash generating potential allows it to keep reducing outstanding shares which further enhances its earnings per share and dividends.
In Conclusion
Schlumberger has set very strong footholds for future growth with its extensive footprint and innovative products and technologies. The demand for oilfield services is consistently increasing due to the increased drilling and production activities. Overall, the long-term fundamentals for the oil field services companies look strong. The only risk Schlumberger has been facing is worse weather conditions which are beyond its control. Schlumberger is in a sound financial and cash position. Thus, it is expected to generate double digit growth in earnings and its dividends also look sustainable. Therefore, I believe the dip in its share price presents an attractive buying opportunity.
Disclosure: The author has no positions in any stocks mentioned, and no plans to initiate any positions within the next 72 hours.
The author wrote this article themselves, and it expresses their own opinions. The author is not receiving compensation for it (other than from Seeking Alpha). The author has no business relationship with any company whose stock is mentioned in this article.