L-3 Communications Holdings Inc. (NYSE:LLL) acquired FUNA International, GmbH. The business will be a part of L-3 Communications' Electronic Systems segment.
Headquartered in Germany, FUNA is a leading supplier of control and safety systems, communication systems and entertainment solutions for cruise ships, ferries and mega yachts. FUNA's fire detection and suppression systems are also used in offshore wind turbines. FUNA is expected to generate approximately $60 million of sales for the year ended December 31, 2011 and to be immediately accretive to L-3's earnings. L-3 Communications' acquisition will expand the portfolio of products for its Marine & Power Systems customers and will also increase its customer base.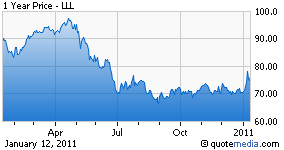 Headquartered in New York City, L-3 Communications is a prime contractor in C3ISR (Command, Control, Communications, Intelligence, Surveillance and Reconnaissance) systems, aircraft modernization and maintenance and government services. The company is also a leading provider of a broad range of electronic systems used on military and commercial platforms. The company reported 2009 sales of $15.6 billion.
L-3 Communications strong balance sheet provides financial flexibility in matters of incremental dividend, ongoing share repurchase and earnings accretive acquisitions. At the end of the first nine months of 2010, the company had a low long-term debt-to-capitalization of 32.9% (Zacks industry average was 93.5%) with a total long-term debt of $3.4 billion, along with cash holdings of approximately $650 million and an unutilized credit facility close to $973 million. In the first nine months of 2010, the company had already acquired three companies. In April 2010, it acquired the manufacturer of mission critical night vision and electro-optical equipment of Insight Technology Incorporated. Then in August it acquired Airborne Technologies, Inc. boosting its in-house capabilities for unmanned aircraft systems. Lastly in September, specialized communications provider 3Di Technologies was acquired by the company. The acquisitions expanded its product line, raised its expertise in niche fields, and expanded its reach to customers with specialized needs in the defense industry.
L-3 Communications remains a key player within the defense segment and mainly competes with FLIR Systems Inc. (NASDAQ:FLIR), Herley Industries Inc. (NASDAQ:HRLY), and Cyalume Technologies Holdings Inc. (OTCQB:CYLU). We believe it is one of the best-positioned pure defense plays by virtue of its non-platform focus, and broad diversification of programs.
Our bullish outlook for L-3 Communications is supported by its strong performance mainly from the C3ISR equipment, precision-guided weapons, unmanned aerial vehicles, and other electro-mechanical robotic capabilities, networked information technologies, special operations forces, and missile defense.
However, these are partially offset by risks related to key project execution, divestitures, higher pension funding, and declining Linguist and commercial businesses revenues. We maintain our market 'Neutral' recommendation on the Zacks #3 stock.